Post by skurren83 on May 7, 2015 4:29:23 GMT
hello it that link yes so if its not he lies to everyone
it clearly shows and says that it is a sasn mai lamination
so when i recive it and cant tell if the mettal on the edge differ from the folded its not san mai he even has this Picture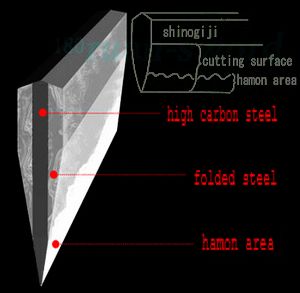 i wont say yes or know untill i see it. but if i should shipp it back can you guys please show me where i can by i proper sword.
thank you

full desciption
Blade: This data are base on our sword,you can see the details clearly and you can have a good Comparision! The Sword is made of the Tamahagane Steel and it is one of the to pest quality of katana sword. using the Tech of clay tempered Makes it Perfect! This katana can be taken apart fully anytime to maintenance. you can unassembled the blade from the handle by taking out the bamboo pin. The blade of this sword is extremely sharp and may cause serious injury.

The outer steel was made of folded steel, AISI 1060 High Carbon Steel are folded 12 times creating 4096 layers for superior strength and flexibility. the visible tenuous undulating grain on the blade was resulted from folded repeatedly during forging.

core steel was made of 1095 steel, The steel has been thoroughly refined and tempered, A special clay is applied to the blade by hand, using a thin covering near the edge and a thicker layer over the rest of the blade. this results in a relatively quicker cooling of the edge during quenching, producing a hard edge and softer back.

This blade has a shape in "Unokubi-Zukuri" style, There are two Hi on each side, one is longer and shallow which is from habaki to kissaki, one is shorter and deep which is from habaki to the middle of the blade, This not only allows for a lighter blade and audible feedback when swung. but also can balance the blade to achieve optimal performance.

Absorb the both advantage of the two kinds of high quality blade steel and folded into sword, It's very good for cutting test,The using of TECH of clay tempered will make the edage of the sword with 60HRC and the middle of the blade with 58-59 HRC.

This blade comes with a full length Tang which greatly enhances the strength of the sword. this sword is strong enough to cut through a thick bamboo tree with a single strike yet sharp enough to slice paper.

Tsuba: The Tsuba (guard) of the sword is High quality Alloy Tsuba. The Habiki (blade collar) is a one piece brass construction. Two Seppas (spacer) secure the Tsuba.

Tsuka: The Tsuka (handle) core is wooden and it is tightly wrapped over genuine Ray skin Samegawa with a synthetic silk Ito. The Fuchi (sleeve) and Kashira (buttcap) are alloy. The Tang of the sword is secured by two Mekugi (peg). Two alloy Menuki (ornament) are on each side of the Tsuka.

Saya:The saya (sheath) of the sword is hard wooden with a Black and gold high gloss finish. A cord Sage-O has been tied around the bright copper Kurigaga (knob) of the scabbard. the Koiguchi has been hardened.