Post by Adrian Jordan on Oct 4, 2011 21:48:36 GMT
Guide for New Katana Buyers.
Important: Read this graph so that you will be familiar with the terms associated with Japanese swords:
en.wikipedia.org/wiki/Japanese_sword_mountings
Other terms for a katana that you may run into while searching for a sword.
Nihonto: A sword made in Japan by a Japanese smith, using Japanese materials.
Shinken: A sharpened katana.
Iaito: A blunt katana used in training.
Gunto: A sword made for the soldiers and officers of the Japanese Military during WWII. Special care must be made when purchasing one of these, as this is a widely copied style and many of them are fakes passed of as Heirlooms.
Which Katana is Best for Me?
To discern which katana is best for you, consider what you want from it. Do you want a tough, functional piece that you can use for cutting? Or do you want a "nice enough" piece to use as a wall display or centerpiece? Do you want to do hard, heavy cutting? Or do you want to do slick, trick cuts?
Let's look at some common steel types and their fitness for use.
Stainless:
Stainless steel is commonly used in smaller knives and display swords. Due to its brittle nature, it lacks the properties needed to be used as a functional sword steel. Whereas a Carbon Steel blade will chip, bend or twist, a stainless blade will snap or even shatter. This can lead to injury or death.
Carbon:
Carbon steel is widely used in functional, useable swords. It comes in many different carbon levels, the lowest used in swords should be about 1045 and the highest should be around 1095. The higher the carbon score, the harder the steel. The lower content steels will be very tough, but not hard, therefore not able to take or keep a great edge. Higher content steels will take a fantastic edge, but will be more brittle. 1045 is seen as the lowest desirable level to be used and still be hard enough to take and hold an edge, as well as take the rigors of cutting without deformation. 1095 is very hard, but will lack the durability of lower scores. 1060 is commonly seen as a nice medium steel that can hold a good edge and maintain great toughness.
High Speed Tool Steels and Spring Steels:
These have really come into vogue in the last few years. Tool steels are very hard and have good durability. They are generally used everyday to make implements that cut metal. The most prevalent tool steel used in sword making is T10. A few others used in higher priced swords are W2, A2 and L6.
Spring steels are generally used in leaf-springs due to their durability and ability to flex. A couple types of springs steel that you will often see are 9260 and 5160.
Done well, either of these types of steel can make a great sword, but only if they are treated for such.
Here is a link to an interesting post on Tool steels.
forum.sword-buyers-guide.com/viewtopic.php?f=9&t=6750
Alloys:
Companies like Hanwei now use their own special alloys. Examples of these are the HWS-2S and HWS-1S alloys used in the Hanwei Bamboo Mat and Hanwei Lion Dog katanas. Not much is known about them yet, but they seem to be of reasonable quality, and hold up well to intended use.
Tamahagane:
This is the traditional steel used by ancient Japanese Smiths, and is still used by master smiths today. This is steel made in a specialized oven, known as a Tatara. The steel is then sent to sword smiths, who painstakingly test and sort the tamahagane into acceptable groups. While some Chinese manufacturers, like Hanwei, have made their own versions of tamahagane, Japanese smiths only work with true Japanese tamahagane.
Here is a good article on Tamahagane. It is several pages long, so be sure to read them all.
www.hitachi-metals.co.jp/e/tatara/nnp0108.htm
HEAT TREATMENT
Beyond just steel type, a good "heat treatment" is key in the quality of the sword. Heat treatment is the process of heating and then cooling the blade at precise times and intervals. A bad heat treatment will ruin even the best quality steels, and a great treatment can make a comparatively inferior steel a real performer.
TH or DH?
TH and DH are initials that stand for Through Hardened and Differentially Hardened. These refer to the tempering process used on the blade. A through hardened blade will have a complete, uniform coat of clay applied to the blade. This leads to the entire blade receiving a uniform tempering. It will have great durability, but not be able to keep or hold and edge as well as a DH blade. A differentially hardened blade will have either no clay or less clay applied to the edge of the blade. This will lead to the edge cooling much faster than the rest of the blade and so being much harder. Doing so will make the edge take and maintain a much sharper, more durable edge. This will also lead to the blade not being able to take as much abuse as a TH blade.
A blade given the DH process will also display a "Hamon."
www.ricecracker.com/info/hamon.htm
Different types of hamon:
There are several types of hamon, but not all of them are genuine.
Genuine hamon are a result of the DH process. These are a some examples of real hamon.
Acid etched. Acid etched are the most acceptable form of fake hamon. Some manufacturers will also use an etch over a true hamon in order to bring it out farther without having to go through an expensive polishing process.
Artificial acid etch: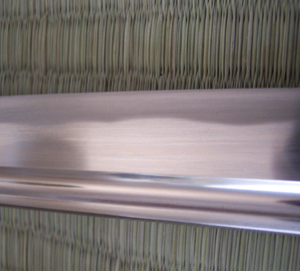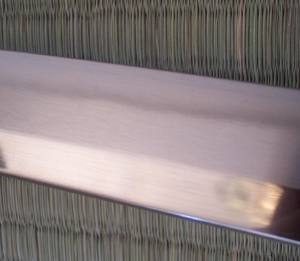 Etch over authentic hamon:
*1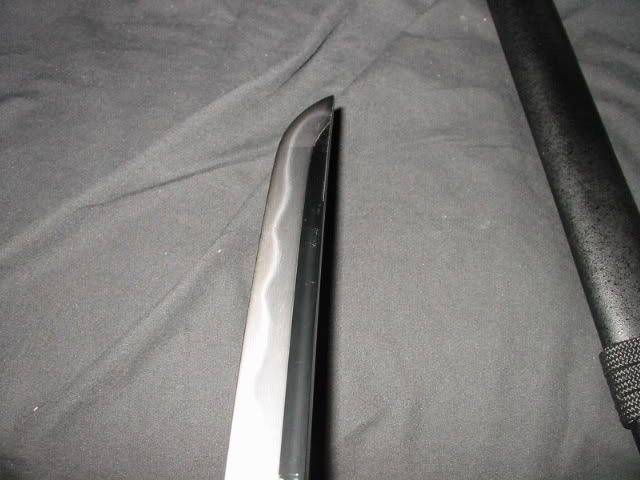 *2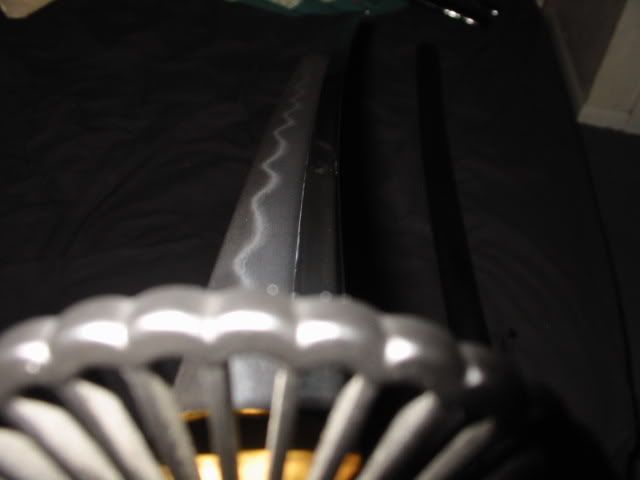 1.From Swashbucklers review of Hanwei Practical Pro.
2.From Swordmasters review of Hanwei Practical Plus.
Wire Brushed.
The worst kind of fake hamon. This has the potential to leave unattractive scratch patterns and damage the edge.
*A TH blade will sometimes display a "ghost hamon," as the edge will generally harden faster then the thicker body even with a uniform coat of clay.
*Thanks jerrymander.
Some blades are TH, but given a hamon via a wire brush or acid etch. Here is a simple guide to telling the difference.
www.chenessinc.com/hamon.htm
Here is a great page for viewing different forms of hamon.
www.ksky.ne.jp/~sumie99/hamonpatterns.html
*1 Folded Steel.
Some steel is folded. this means that the billet of steel used to create the blade has been hammered out, then folded and hammered out again. This process may be repeated up to 20 times and is also called "forge welding." This process was done in antiquity because the iron the Japanese smiths used, Tamahagane, was of low carbon content and filled with impurities. The forging and folding process, as well as adding carbon in the form of charcoal, made the steel much higher in quality and much more free of imperfections. This process is not needed anymore, as the steel used today is very pure and of very high quality. The folding process is now done simply for the attractive folding pattern, also called the grain or "hada," that it imparts. Folding todays steel can be dangerous, as the process makes the steel more brittle. A modern steel sword should only be folded 10 or 20 times at most, and closer to 10 is better. Beware any vendor who claims to have a sword "Folded 1000 times!" They are wrong. A sword may have over 1000
layers
, but that is just because the number of layers in the steel increases geometrically every time it is folded. So a blade folded 10 times will have 1024 layers, a blade folded 20 times will have 1,048,576 layers.
*2 It should be said that any sub-$300 folded 16 times or more should be looked at with caution, as more than 16 folds can lead to a brittle blade, difficulty in the DH process, and a higher occurrence in flaws within the blade.
*1Thanks Lobster Hunter.
*2Thanks Masahiro560.
Here are some pictures displaying Hada, or the grain of the steel in a folded sword.
www.nihontocraft.com/nihonto_jigane.html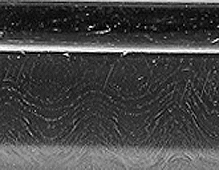 Lamination:
Some swords will feature a "laminated" blade. This means that it has been constructed from more than one piece of steel. The exception of this is the "Maru" lamination method, which is most commonly seen on sub-$300 katanas. With other types, a softer body, core or jacket of lower carbon steel will be fused with a core or jacket of harder, higher carbon steel. This allows for the body or spine of the blade to be softer and to cushion and absorb impact from the hard sharp edge, allowing it to strike and be struck with more ferocity than a blade made entirely of harder steel.
Here is a good graph showing different types of lamination.

TRADITIONAL OR PERFORMANCE GEOMETRY?
When choosing a blade, consider what you want. Do you want a blade that is super tough and can take on heavy targets like thick bamboo or multiple mats, or a blade that can easily cut through lighter, more common objects like mats and bottles?
All types of swords have different geometry. This refers to the overall shape of the blade, including to the width, thickness, length and tip of the blade. Niku also plays a part in how the blade performs. Niku is translated as "blade meat." It is steel that is found around the edge used to reinforce it so that it can take much more impact without damage. This gives the blade a "clamshell" shape. Heavy niku will give a very durable edge, capable of cutting very heavy targets, but will not be able to keep up with a blade with less niku on lighter targets. Performance geometry blades will be wider, thinner, lighter and have light niku. This gives the blade more of a wedge shape. This allows the blade to sail through lighter targets like single mats and bottles, but will be much more likely to suffer edge damage and take a bend.
Here are some of the shapes that you will see in a katana blade.
www.ksky.ne.jp/~sumie99/styles.html
Shinogi-Zukuri:
Has shinogi ridge and kissaki with yokote. Most prevalent style today.
Shobu-Zukuri:
Has shinogi ridge, but no yokote on the kissaki.
Hira-Zukuri:
Has neither shinogi nor a yokote.
Unokubi:
www.samurai-sword-shop.com/blog/wp-content/gallery/paul-chen-raptor-unokubi-zukuri-katana/16.jpg
Can come in multiple shapes, including Shinogi- and Hira-Zukuri.
Moroha-Zukuri:
Double edge blade. Edge is asymmetrical to the shinogi. Several styles available.
And the shapes of the tip of the blade, called a Kissaki.
www.ksky.ne.jp/~sumie99/kissaki.html
Ko-Kissaki:
Chu-Kissaki:
O-Kissaki:
Balance:
The point of balance(POB) on a blade will determine how the sword handles. The average range of the POB is between 4 and 6 inches out from the tsuba. A sword with a balance farther from the tsuba will have a more "blade heavy" feel. These are generally swords made for heavier, more direct cutting as opposed to quick, trick type cutting as the blade will strike the target with more force. A POB found closer to the tsuba will result in a lighter feeling blade. These are more made for training and trick cutting, as it promotes more control over the blade by the practitioner. Other factors on how the balance is felt is your choice of tsuka length and tsuba. A longer tsuka or larger/denser tsuba will be heavier, thus pulling the balance of the sword more towards the tsuka and making it feel less blade heavy, even though the overall weight has increased.
As a point if interest, if you ever feel that your katana is too blade heavy or light it is a simple matter of equipping it with a new tsuba to help remedy this.
*Bo-Hi:
A bo-hi is a fuller, or a groove that runs either partially or completely down the side if a blade. It is commonly known as a "blood-groove," but this is an incorrect description. A bo-hi serves to lighten and adjust the balance of a blade, as well as to provide audible feedback when swinging a blade. A bo-hi is designed to remove metal from a blade, but in a way that the blade is not significantly weakened. When swinging a blade that has a bo-hi, you will hear a whistle. This is known as a "tachi-kaze." By listening to this, you can hear how the alignment of your blade during a swing is. A single whistle will denote a swing that is out of alignment, a double-whistle denotes a straighter alignment, and a triple-whistling sound denotes perfect alignment. A bo-hi style blade is often recommended to the beginner as it has this feed back and helps the practitioner to keep proper alignment. A non bo-hi blade is good for people who are more interested in cutting heavier targets, as the extra weight and full body of the blade make it better suited for heavier cutting.
*Thanks Lobster Hunter.
A picture of a blade with bo-hi and without bo-hi.
www.bushidoboutique.net/yoshimasa.html
www.bushidoboutique.net/kunisadawaki.html
There is a slight disagreement about whether or not a bo-hi weakens a blade. Some say that the removal of material and creating of a groove causes a slight weakening of a blade, making it more susceptible to bends. Others say that this is not so. Here is a post from a while back. It has several good points made for either side, so I'll let you make your own decision.
sbgswordforum.proboards.com/index.cgi?board=japaneseswords&action=print&thread=3007
Sori:
Sori is the curvature of the blade. Sori usually will be in the range of .5 to 1 inch. In antiquity, most swords were designed to be used from horseback. They were very long and had a very deep curve. As time went on and methods of battle changed blades became straighter and shorter to compensate for personal battles not conducted on a horse.
meiboku.info/guide/form/sori/index.htm
*Sizes of blade:
Japanese blades come in several sizes. A few different types would be:
Tanto: Dagger sized blade, generally 6in to 12in.
Wakizashi: Blade that is generally around 12in to 24in in length. It generally has a shorter handle than a katana.
Ko-Katana: A wakizashi sized blade, but a full-sized katana tsuka and sometimes a full-sized katana saya.
Katana: Blade generally found to be in the 23in to 33in. category.
O-Katana: Blade generally found in the 30in to 33in category.
It is difficult to assign a size that would be most useful to a person of a certain size as it has everything to do with personal preference, but here is a loose guide.
5'-5'6": About 23" to 27"
5'6"-6': About 27" to 30"
6'+: About 30" to 33"
*Thanks Lobster Hunter.
Sharpness:
Since the geometry of a katana is different than, say, a pocket knife or machete, the feel of the edge can be misleading. A katanas edge includes the entire blade, there is no secondary bevel. This "clamshell" geometry is what allows the katana to slice through very heavy targets and not take excessive edge damage. A katana is designed to cut with a slicing motion, to be simultaneously pulled through a target as it is being pushed though. So, if you were to put your palm on the edge of a katana and lightly push, not much would happen. If you did this and then ran your palm down the edge, it would cut you badly. Just in case that it needs to be said, DO NOT DO THIS.
Here is a good page that illustrates several different geometries.
www.toyamaryu.org/edge_geometry.htm
Here are some examples of heavier and lighter niku bladed swords, all for under $300.
Some examples of swords that have heavier niku are:
Cheness Tenchi
sbg-sword-store.sword-buyers-guide.com/Tenchi.html
Cheness Kaze
sbg-sword-store.sword-buyers-guide.com/Kaze.html
Kris Cutlery 26 & 29
kriscutlery.com/documents/japanese.html
kriscutlery.com/documents/japanese.html
Some lighter niku/performance geometry blades.
Hanwei Practical Elite
kultofathena.com/product.asp?item=SH6000KPC
Hanwei Practical XL
kultofathena.com/product.asp?item=SH6000XPF
As a personal recommendation, the Ronin Katana Dojo Pro and Dojo Budget are both swords that are a good medium between heavy and light niku.
sbg-sword-store.sword-buyers-guide.com/ronin.html
Some Good Vendors:
Each of these vendors has been vetted and regularly used by either myself or a fellow forum member.
SBG Store
www.roninkatana.com/
Swordnarmory
Kult of Athena
True Swords
Tried and True Armory
Kris Cutlery
Paul Chen Hanwei Sword
swordcompany.com
www.swordnation.com/
There are more, but this is just a short list.
Also, here are some good brands for the beginner.
Hanwei
Ronin Katana
Musashi
Dynasty Forge
Kris Cutlery
Cheness
Sub-$400 Custom Vendors:
For people who are looking to get a custom or semi-custom blade, but won't/can't spend several thousand dollars on a "name" American or Japanese smith, here are a few companies that take custom orders. Just as a warning; all of these vendors offer fully custom katana for under $400. Because they are so inexpensive, sometimes they may botch a part of your order by accident or may swap a component you wanted for something similar but more inexpensive, so be aware.
SBG Store
sbg-sword-store.sword-buyers-guide.com/custom-katana.html
Huawei
stores.ebay.com/huaweiswords
Sinoswords
www.sinosword.com/
Upkeep
To ensure a long sword life, proper maintenance is key.
Checking After Purchase: Make sure to check the blade and fittings thoroughly when first received. This includes a visual inspection of the blade, looking for scratches, chips in the edge, rust or bends in the blade. Then, if it has a removable tsuka(handle,) take it off and check the wood core for damage.
*Removing the tsuka can be a tedious procedure. Remove the mekugi pegs. Mekugi pegs are small bamboo pins that secure the tsuka to the nakago. These can be removed with the Mekugi-nuki, the small brass hammer that comes in most cleaning kits. Use the brass pin that unscrews from the head of the hammer by placing it on the smaller side of the mekugi and taping the brass pin to force the mekugi out. The mekugi are designed to slide out only one way, as they are tapered. Make sure to note which way it slides out, as one side will be very slightly smaller than the other. After removing the pin, strongly hold the tsuka near the bottom and give your hand a strong jolt with your other hand. A few strong raps should see the blade slightly pop from the tsuka.
If it remains stubbornly in the tsuka, the best way that I have found is to take a small length of a 2x4, about 5in long, and place it on the tsuba(the hand-guard,) next to the blade. Always place it on the blade side as putting it on the side of the tsuka can lead to damage. Place the wood on the tsuba next to the blade and then tap it with a wooden or rubber mallet. Medium strength taps only, as strong taps can damage the tsuba, the seppa(small washer-like rings on either side of tsuba,) the tsuka core and/or the blade.
Here is a good video on how to properly remove a stubborn tsuka.
*Thanks Masahiro560
A damaged core can lead to injury. Also, look over the nakago(tang,) to make sure it is undamaged. It may have rust on it, but this is not bad and do not remove it. It helps to keep a proper fit in the tsuka and is useful in telling the age of the blade. Check it for bends or fractures.
If the sword exhibits any of these signs of damage, put it away and contact the seller. A reputable vendor will replace the piece with one free of defects.
*Many believe that removing the tsuka is not necessary, and due to the fact that most manufacturers do not carve out the tsuka in a way that ensures a safe and easy removal it may be tempting fate to remove it. This is an issue that you will have to consider carefully.
Cleaning the Blade:
There are better and worse kits, but this is an average cleaning kit:
www.amazon.com/Deluxe-11355-Sword-Cleaning-Kit/dp/B001F4S0NY/ref=sr_1_6?ie=UTF8&qid=1317763560&sr=8-6
Here is the routine I use
1.Wipe blade down with clean cloth or paper towel.
2.Re-wipe with a cloth saturated with a light coat of 91% alcohol. This should remove all dirt and gunk left on the blade from cutting. Then wipe again with a clean cloth or paper towel, making sure to remove all alcohol.
3.Tap blade with Uchiko Ball, about 5 or 6 times going down the blade, then thoroughly wipe off all powder.
4.Re-apply sword oil with to cleaned blade using a clean cloth. A very light coat is all that is needed. If there is enough oil to run or bead then there is too much.
Here is a video with another routine.
Should you find that there is rust or other material that is resisting removal, you can use a light polishing paste like Metal Glo or Mothers Mag and Aluminum to remove it. Just be sure that you clean all polish off of the blade afterwards by repeating steps 2-4. If the polish doesn't work, a very, very fine grit sandpaper can be used to remove debris. This will likely leave a bit of a mar on the blade, but that is preferable to rust.
Remember when cleaning to be very mindful to the edge. It is sharper than it feels and is designed to cut on the slice. So even if you can push with any pressure on the edge without damage, if you were to run your hand or finger along it it will cut you.
Remember to clean the blade directly after and cutting done. If you do not cut, cleaning the blade once or twice a month is adequate. If you live in a very humid area, check blade often for rust.
As far as which oil to use, a light machine oil or 3 in 1 oil is okay to use if you do not have Choji or Camellia oil.
Here is the oil I use, and I like it quite a bit.
sevenstarstrading.com/site/swdoil/
*Some also believe that the Uchiko ball may not be best for use, as it contains powdered Uchiko and is a very mild abrasive. I have used it quite a bit, and believe it is okay for these lower-tier sub-$300 katana, but if you do not want to take the chance just using the 91% or denatured alcohol is okay. Just be sure to wipe it off thoroughly.
*Thanks jerrymander
Cutting:
Here are some good videos for people looking to cut with a katana.
forum.sword-buyers-guide.com/viewtopic.php?f=32&t=6844
I strongly suggest watching at least the ones found on this page before any cutting. You can watch the entire series on youtube.
*Safety Basics:
Some safety basics.
*Do nothing that will harm you or damage the sword
Never hold or swing while holding the blade.
Never "play fight" with a sharpened blade.
Do not run any part of anatomy over the edge.
Do not leave sword where child can get to it.
Do not thrust into heavy objects.
Do not cut with a sword that has a damaged blade.
When cutting, never cut towards your lead leg.
Make sure grip is tight and firm.
If handle seems slick, dry off before cutting.
Do not walk around with blade out of saya.
Do not throw objects into the air and attempt to cut.
Make sure any bystanders are well away from cutting area.
Do not strike objects made of super hard materials like bricks, rocks, cinder-blocks, glass, metal or other swords.
*Thanks Masahiro560
Parts and Accessories:
Links are to used to illustrate item, not as a recommendation of the site they are shown on.
Samegawa: Shark or Ray skin used to wrap wooden core.
unitedbackyardcutter.com/forum/viewtopic.php?f=52&t=564
Ito: flat cord used to wrap handle. It comes in a variety of materials and sized.
www.samurai-sword-shop.com/ito-handle-wrap-tsuka-22-ctg.htm
Here is a great post on wrapping and tying ito.
forum.sword-buyers-guide.com/viewtopic.php?f=18&t=6825
Sageo: Thick cord found on saya used to secure the scabard to a belt or obi. Also used to tie back the thick, billowy wings found on traditional Japanese jackets.
www.nihonzashi.com/sageo.aspx
Here are some videos on tying the sageo.
Seppa: Washers used to improve fit of blade and handle parts.
www.japanese-swords.com/pages/seppa.htm
Menuki: Ornaments found under the ito. these help to adjust fit and cover mekugi.
www.nihonzashi.com/menuki.aspx
Fuchi/Kahira: Parts found at the butt and throat of a tsuka. These help reinforce the tsuka and keep parts in their place.
www.artsfeng.com/products/fuchi-kashira-for-sale?pagesize=40
Tsuba: Hand-guard.
www.artsfeng.com/products/tsuba-japanese-tsuba-sword-guard?pagesize=40
Saya: Scabbard. This is, in my opinion, the most difficult item to replace. Take care of it.
www.swordsoftheeast.com/assets/saya.jpg
Kogatana: Small utility knife fitted usually into the saya.
www.ncjsc.org/gloss_kogatana.htm
*Habaki: Blade collar that allows for proper fit of the blade to the handle and into the saya.
www.yamatobudogu.com/PhotoDetails.asp?ShowDESC=N&ProductCode=005-GSHON-HAB
*Thanks Masahiro560
In the event that your katana or saya is damaged, Nihonzashi offers repair services that are affordable and high quality.
www.nihonzashi.com/sword_repair.aspx
Some good sites to buy from:
Yamato Budogu
Tozandoshop
Nihonzashi
Namikawa Heibei Co.
Artsfeng
Swordnarmory
Justice Armory
Fred Lohman
Forum customizers:
If you get the itch to have some work done to your katana, there are some fellows right here on the forum who do outstanding work, and for prices that are beyond reasonable. Here are some. I will list their forum page, so if you have work you want done you can Private Message them. If they also have a website I will post that as well.
frankthebunny.
forum.sword-buyers-guide.com/memberlist.php?mode=viewprofile&u=339
cottontailcustoms.com/Home
Slav.
forum.sword-buyers-guide.com/memberlist.php?mode=viewprofile&u=364
As you can see, there is much to consider when buying a Katana. Here is a good article on some of the more prominent questions and setbacks found in buying a production sword.
www.chenessinc.com/production.htm
What to Avoid When Buying.
Here is a great article on things to avoid when buying, written by Paul Southern.
www.sword-buyers-guide.com/buy-swords-online.html
Some things to avoid when looking at a seller are things like excessive use of grand terms like "premium," or "unbreakable."
If a seller makes large claims, such as "Can cut through iron, trees and other swords like butter!"
Or claims that his $200, $300 or even $600 or $700 sword is made of Tamahagane and was made by actual Japanese Master Smiths. A real Nihonto will generally range in the thousands of dollars, so if a deal seems to good to be true, it probably is.
Sellers that insist on payment via Money Order, cash, or personal bank transfer tend to be scam artists as well.
Also, Ebay has some good deals, but is also fraught with peril when purchasing a Japanese sword. Make sure that any time you order from an Ebay seller that they have a high Positive rating, and with many purchases as well. Someone with a 100% rating is good, but if they've only had 2 transactions then beware.
Look closely at the hamon. If the seller claims that the sword he is selling for a few hundred bucks is genuine, folded and/or clay-tempered but has an obviously wire-brushed or acid etched hamon, it is likely worth considerably less than what they want for it.
If the hamon appears to be real, but drops off of the edge, it may have been improperly clayed. This has the potential to make the sword dangerous to cut with.
It can be hard to spot a fake hamon. If you don't feel confident in your ability to spot a fake hamon, please post here. there are forum members who will scope out your potential purchase and will give you their opinion on the authenticity of the blade, as well if the price is good or too high
Recommended Reading:
The Connoisseurs Book of Japanese Swords, by Kokan Nagayama
The Japanese Sword (Japanese Arts Library), by Kanzan Sato
Samurai Sword: A Handbook, by John M. Yumoto
The Craft of the Japanese Sword, by Leon Kapp
Lethal Elegance: Samurai Sword Fittings, By Joe Earle
List of Sub-$300 Swords:
Here is a list of good swords for under $300 and their qualities.
Musashi Shirakawa Series-
Can be had for under $100. Made of DH 1060 carbon steel, the heat treatment leaves something to be desired. It is fairly well built, with adequate quality fittings. It is suitable for light cutting. Attempting to cut multiple mats or bamboo is not advised.
Hanwei Practical/Practical Elite Series-
Can be had for under $200. Made of DH High Carbon Steel(I've read both 1065 and 1566 mentioned.) Generally come with very sharp blades. Blades are somewhat subject to criticism for being more brittle due to its thinner, sharper edge geometry. Fittings are plain but decent quality. Samegawa and leather/suede ito is artificial. It is built primarily as a mat cutter, though it can handle plastic bottles as well. Not recommended for harder targets.
Hanwei Practical Plus Series-
Can be had for between $200-$300. Same general blade recommendations as the Practical series, but made with more traditional fittings such as cotton ito and genuine samegawa.
Hanwei Practical Pro Series-
Can be had for under $250. Made with a longer and thicker blade than the others in the Practical series, as well as an extended tsuka. Made for heavier targets.
Hanwei Raptor Series-
Can be had for about $240. Made of TH 5160 Spring Steel. Fittings are of fairly good quality. Comes in multiple blade geometries, they have very tough blades. It is suitable for light to heavy cutting.
Ronin Dojo Budget Series-
Can be had for $175. Made of 1045 Carbon Steel with a very good heat treatment. Fittings are fairly good quality. It is suitable for light to medium targets. A very good beginners sword.
Ronin Dojo Pro-
Can be had for $275. Made of 1060 Carbon Steel with a very good heat treatment. Fittings are very good quality. It is suitable for light to heavy targets. A great overall sword.
Kris Cutlery 26/29 Models-
Can be had for $265-$295. Made of DH 5160 Spring steel with a very good heat treatment. Fittings are of good quality. Made for the person who has customization in mind. It is suitable for light to heavy targets.
Dynasty Forge 1060 Musha Series-
Can be had for about $240. Made of TH 1060 Carbon Steel with very good heat treatment. Fittings are of good quality. It is suitable for light to heavy targets.
Munetoshi-
Multiple models that can be had from $129 to over $300. Models such as the Take, Light Cutter, and T10 Mokko are made from DH T10 Tool Steel with good heat treatments. There is also the TH T8 Tool Steel series. All come with cotton or synthetic silk ito and genuine samegawa. DH T10 swords are suitable for light to medium targets, while the TH T8 swords are suitable for light to heavy targets.
Lastly, check out this post, by moderator James Gall, that has several links to very informative articles written by the staff here at SBG.
forum.sword-buyers-guide.com/viewtopic.php?f=32&t=29
There will undoubtedly be more added to all parts of this guide. Anybody who has any questions or suggestions please comment or send me a PM.