Post by Kane Shen on Jul 11, 2021 3:34:23 GMT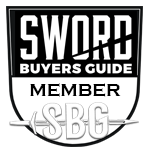 The point of the thread is awaiting the release of a non stainless fantasy sword. No more and little less. Will the construction prove good? Will it handle like the best longsword? These may seem valid but really only simple speculation without one in hand, or first hand comunique.
John Lundemo fulfilled several Anduril orders in a wave of "me, mine, better than yours" schoolyard antics and before that there was the Kevin Cashen, Patrick Hastings sword.
Why expect an obvious fantasy sword, such as the Jensen Kit Rae sword of torture to even equate as a functional sword (Just as Hitler was as he was). Obvious common sense has been lost in producing that video (without even much entertainment value).
Your mileage may vary.
Be alert, we need more lerts.
Cheers
GC
Like I have elaborated in the past 20 posts or so, releasing a sword with simply swapping out a stainless blade with everything else remaining the same is quite pointless. In fact, it's less than being pointless, it's counter-productive. As it would still just function as no more than a wallhanger, but now a carbon steel blade would increase the maintenance cost, while not making it any more functional if none of the other aspects of the old wallhangers are reviewed and modified. Such comment is not intended to be a speculation, but a form of communication with a known community liaison from the company that owns the official license, which could potentially have the interests in them rekindled with an upcoming high-budget series set in the same universe.
The licensed swords have strong potential to be functional with some small modifications, as they were designed by sword makers knowledgeable in historical and functional swords. Not doing so would be a waste of potential.
You also completely missed the point of Jensen's video as he more or less expected the wallhanger to fail that way, so he didn't expect it to to perform like a functional sword at all. I don't know how that obvious idea has not come across. The point of the video is to be comedic while demonstrating the minimal effort to cause that failure.