Post by sevicler on Jul 9, 2017 12:54:47 GMT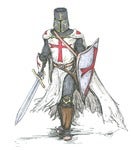 Unfortunately, this kind of disrupts Paul's note on the Land of the Dead and the Lich King's stance on technological progression. After all, if he's thousands of years old he should know better.
I'll post more ideas on magic and maybe design a magic system. I actually want to design 2 magic systems that work in tandem or exists at the same time in the world, instead of the more common single-system that most fantasy has. I think I'll consult with Vincent on this.
My $0.02
I agree with the medieval stasis thoughts except where discussing the Undead and the Orc/Goblin/Giant areas. The Lich has a vast amount of Ancient Magic(possibly even a forgotten Magic System that no one else knows: Necromancy) and a horde of undead. He doesn't need to update his equipment and the humans he has enslaved to maintain the Undead equipment would not be motivated to come up with new tech.
As far as the other group goes, Giants are typically thought of as "not too bright" and Orcs/Goblins are lazy bullies. Neither would come up with new tech. They'd use new tech if they took it in raids or combat but not create it themselves.
Regarding Magic Systems, we could take something like D&D's spells : magical and clerical or something like those described by Lyndon Hardy in his book Master of Five Magics or even go with something like the spell types used in Skyrim.
I could agree to your POV on the Orcs/Goblins. However, I still have a beef with the Lich King. We are going to assume that magic takes
years
of learning and dedication to master.
Right now, there is no info on whether or not the Lich King's undead horde has any other magic casters. If there isn't any, which is unlikely, then he's basically shooting his own foot. If there are magic casters, which I'm also going to assume came from the corpses of dead wizards and sorcerers, then he should still be upgrading his tech because every other wizard still alive would figure out that the backbone of the Lich King's army is his magic casters harvested from their corpses and will develop counter-measures, whether by spell or by technology. Once the counter-measures are established, then the Lich King is basically neutralized. Sending horde after hordes of undead at your enemies would be effective only for so long, especially if the Lich King is already established as a universal threat.
Thirdly, if the Lich King could
create
magic casters out of random corpses and the mere force of his magic, then why hasn't he conquered the world yet?
TLDR; he doesn't need to, but why wouldn't he
want
to?
Just my opinion