Post by ramses1079 on Jun 28, 2017 18:36:01 GMT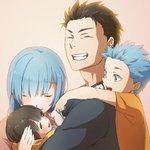 Another concept of fantasy I have always enjoyed is based on the way we interpret the past. The way we interpret it may be nothing like how it actually was. But our interpretation is a form of fantasy as well.
With this in mind, I always wanted to take a core concept, and based the entire world on how it might have been interpreted.
Here is an example: Someone goes back in the past with new technology. They get stranded and use their knowledge to share many advances in technology, wearing a modern day space suit, arriving in a flying time machine. But it is written as a man in bright white clothing comes to their lands on a cloud and uses his powers to make food sprout from the ground and he crafts them magic weapons that could break their primitive wood and stone weapons of the time. The reality? He came in a ship, planted seeds, wore a space suit and took pieces of his ship that he sharpened into crude swords to quickly defend against a rival tribe, the base of his ship being used as an observatory to see the stars for the next conjunction or to watch weather or whatever, but to them, it was a magic cavern which he could use to see the future,
We just make it exactly as they interpret it.
Doesn't gotta be a time traveler though
(Sorry for the double post, I just felt both were worth replying to individually.)
Might I point you to this movie?
en.wikipedia.org/wiki/Outlander_(film)
It's pretty unknown as far as I can tell, but it does most of the things you mentioned save swapping "time traveler" with "spaceman". It focuses more on the aspect of crafting superior weapons than anything due to being inspired by the tale of Beowulf, but it maintains that mystique of the advanced traveler arriving and presenting the natives with superior technology with his identity being misconstrued by their limited knowledge of the world.
Also, it's funny as hell that the first spoken word in the movie is the f-word.
Interesting you said that, I was about to say "sounds like a bad sci-fi movie I saw while I was drunk watching Mystery Science Theater 3000!!"