Post by Lord Newport on Feb 6, 2020 7:02:49 GMT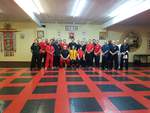 The problem is the teacher who taught us both was old school and had an old school approach to Combative and Classical sword work. Much more like the old standard of Batto do when it was first coming to the US. And I tend to gravitate towards that. Practical competency rather than slow zen art form performances. Things being what they are we parted ways because he wanted to teach a version of sword work that wasn't the original standard and I had no interest in learning it. There is more to it but it ties into the conversation in the sense that the art is taught often how the tool is sold "just buy what that guy says to". And that's such a narrow view lacking respect for the individual.
Sword trends being what they are the modern blades are like modern versions of the challenger, charger, corvette and so on... They are kinda like the originals... But just as different as they are alike. And that just isn't made clear to people. Same with steel hype. How much supposed steel performance data can you find actually proven in use and not just hypothesized on paper? Much of a lot of things in life are like manufacturers claims you see marked on a label as having not been evaluated. So they are just claims not really proven. And there are so many varables in mat type, grade, roll tightness, soak time, stand size ex. Same with bamboo species. Nothing is near as consistent as people think nor proven... But your paying for things often like they are.
Again motohara is worth it. You made a good buy in the sense that you get a blade as advertised rather than the China approach when you order it's "I hope I get lucky". But the motohara was over 170 hours of take home pay for me. And those hours were grinding shifts filled with alieve, blisters burst blood vessles... So a lot of swords won't pass that test. Ill review the one i chose wich was only 71 hours of my life.... A far cry from the Motohara... But a gap I can narrow with upgrades later if I want.
Something happened last week that sums this up. I was working outside in my cheap $10 rayban knockoffs and a friend at work walks buy in actual wayfarers mocking me. I told him I could never justify $160 on glasses in fear of loss damage or breaking. My friend replies "I gotta have my bans man"... Minutes later I slip on some lose gravel and fall snapping my glasse in half. Laughing I said "See this is why I can't have raybans"... My buddy replies the same "nah I'd have to have new bans"...
The old original JSA guys in the US were using cheap gunto from pawn shops. And the Chen blades Didn't start to get decent and reliable until the mid to late 2000s. People don't realize how lucky and spoiled they are to have SBG, KOA, Jason and other vendors. But I can look at posts from 2005 and older and find very much the same behavior with different people. It makes me sad to be honest. I would love to hang out and be sword nerds and talk shop all night with many guys here because every day people at work think me mad for spending the $700 I just spent on a sword... People here go " that's it?" 😂
So we do agree. And even where we don't I still respect you because you get it and made the best informed decision for you. I have a school motto my sifu is scrolling for me in Cantonese "if it works for you it's not wrong". Right is very relative and can be shot full of holes... Calorie counts on anything at the supermarket can be up to 50% off in any direction... Even bullets never chronograph at the advertised speeds due to variables... We all just do our best with what we "know".
But thanks for the reply. I appreciate the human moment you afforded me. Sending you a virtual hat tip
"
The problem is the teacher who taught us both was old school and had an old school approach to Combative and Classical sword work."

So I am curious, what JSA did/do you study? Who is/was your Sensei? Dojo?