Post by admin on Mar 29, 2019 5:55:34 GMT
EDIT and UPDATE (July 2019): A quick summary of the events of the past few months is in order - essentially it boils down to this. Shipping swords internationally has become harder in recent years. First there was the UK curved sword ban (with exceptions allowing traditionally hand made swords), then some carriers started to refuse sword shipments, as well as the various sword forwarders such as ship-to - all without warning. But the biggest blow occurred in March 2019.

There are no official announcements anywhere, so we have had to piece together what is going on using our contacts in the industry and the shared experiences of forum members. So what it boils down to is this - except for Germany, Poland and the UK, sending swords via USPS is more often than not ending in either the sword being returned to sender or disappearing into a black hole. At the same time, swords being shipped from China (which as of one year ago, all had to be routed via Hong Kong) are also being rejected.

As such, most sword shippers who ship overseas have switched to using Fed Ex or DHL - and so a sword that used to cost $60 to ship to Europe now costs from 3-6 times that price.. And even then, some branches refuse to carry swords while others are okay.

All in all, it means that shipping to Europe has suddenly become a lot harder and in many cases, is high risk and cost prohibitive and many sword sellers, unable to risk losing swords in transit or finding that ALL their shipments are being rejected (which is our exact situation) have been forced to stop offering shipping to Europe except on a per-inquiry basis simply because it is so risky and in many cases, the shipping is considerably more expensive than the sword itself..
Here in the original post.

---
It's not completely out of the blue..
There were big issues about a year ago, some rumblings recently - and now its hit with a SLAM - our own version of Brexit but with swords..
There's no explanation, but now ALL USPS shipments of Swords to Europe are being rejected - and it's not just swords coming from the USA, shipments from China have ALSO been halted and returned to sender (and that means, many will disappear in the black hole that is Shanghai customs).
Sword sellers all over the place are getting hit by this and losing shipments and taking hard hits in the process - and there are no workarounds left it would seem..

So without explanation, and regardless that swords are legal to own for collectors in most of Europe, it seems that you guys over there just had your rights to import swords clipped without recourse..
We will keep you updated of the situation as it becomes clearer - in the meantime if any European customers have any additional info please share with the community in this thread..
In the interim, we too have taken some hard hits with wasted shipping and now are attempting to clean up the mess the E.U. has gifted us all and like many other sellers, have no choice but to halt all European orders across all sword lines until the situation becomes clearer one way or the other..
Here is where we are at now - from an already much shorter dropdown list for shipping options and now, just 10..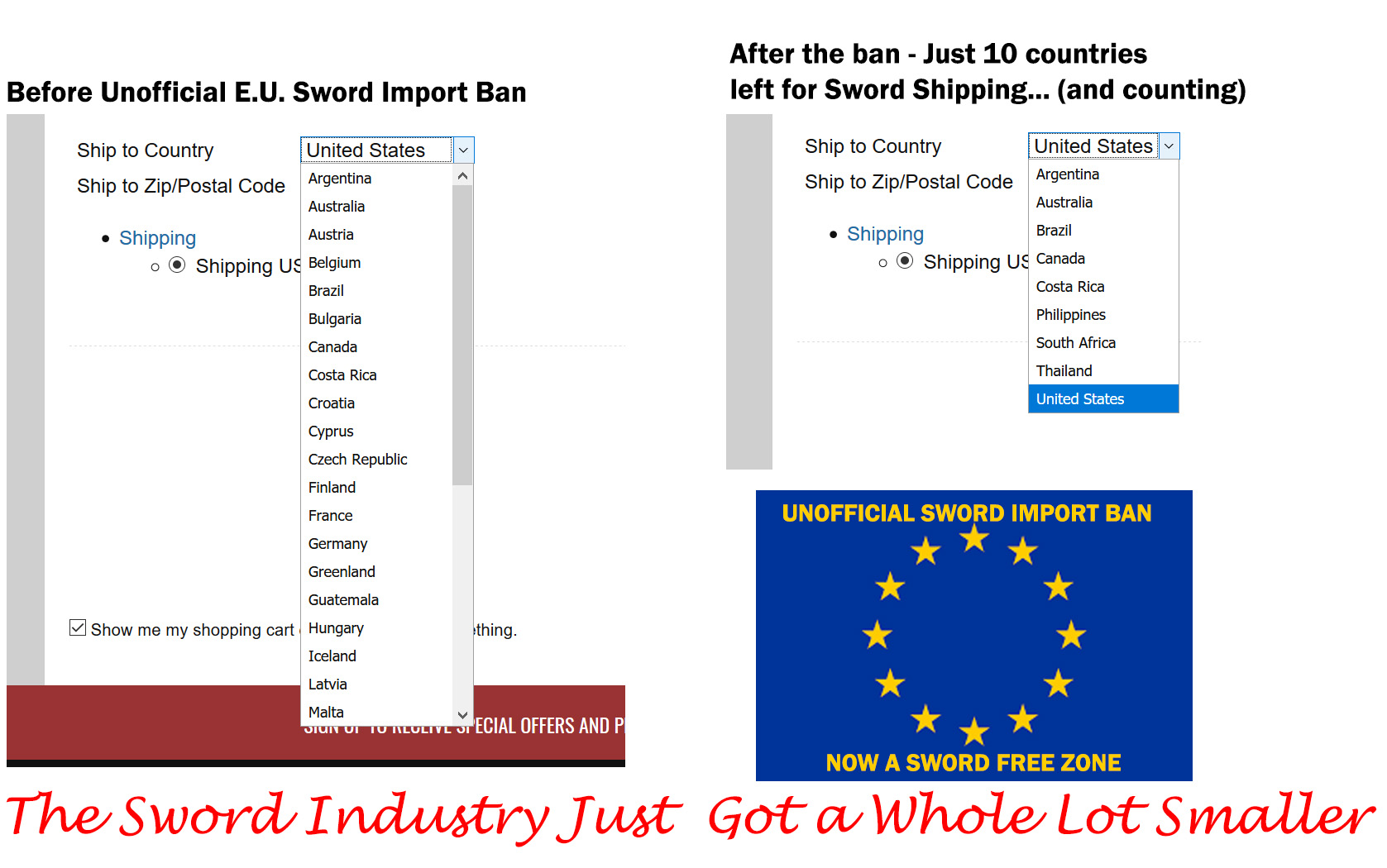 Not fun going over the whole store and striking down what was already a minority of our products. The golden age of sword collecting is most definitely far behind us...
The ONLY option on the table still left (if you can really call it an option)..

While USPS and all China based shipments are currently impossible, at the time of writing this post Fed Ex and DHL are still sometimes accepting sword shipments.. Unfortunately, starting at around $180 per sword, its pretty much a mute point - and no matter which way you look at it, European Sword Collectors have just been delivered a knockout punch..
The ONLY winners here are EU based sword sellers - as they can still import in bulk (as far as I know) and now with no international competition, can charge prices even HIGHER than they already are.. Just 1000 Euros for a Hanwei Practical Katana might soon be a bargain..
Let's do what we can to understand and defeat this stupidity.. The floor is open (and lets try to avoid too much political discussion - though we do understand if in this situation, it's a bit hard to avoid..)