Post by howler on Sept 16, 2016 22:00:43 GMT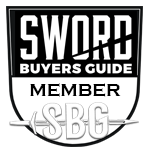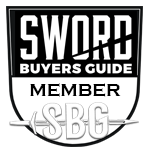 Pretty much agreeing, you either move the attack off your line or move yourself off the weapons line.
The thing seems to be that sword vs x isnt really that much more inteesting than sword vs sword. There's nuance like how a wobbly spear can decieve line or something on a chain or rope can flex around and hit assumedly closed off target, but this stuff doesnt really matter until you've got your fundamentals locked down.
I think the best starting point is learning how to overcome your own weapon. It doesnt sound like longsword guy is changing his approach because he is addressing a mysterious weapon, he's doing the same stuff he would do against another longsword. This is a sign that the kenjutsu needs work. A false edge, a longer reach, and a crossguard should not be that disruptive.
I beg to differ. In my case, overcoming the longsword's range to get into the katana's striking range is certainly doable, but it takes great footwork and timing. Though I do find that once I got inside his guard but not close enough for a bind I do manage to land a clean cut.
When he lent me his spare longsword it was a very even match. No bind involve since I didnt have to get too close, I generally kept my distance.
A longsword is NOT a spear and I dont think it can be treated in the same way.
1) A spear user is very vulnerable once you get inside his guard.
2) With a spear, your hands are not protected. We switched a bit last Sunday, he used my Jo staff and I used my katana, I got the upper hand slightly mainly because he kept forgetting that he dont have a crossguard, and because:
3) A spear/staff can be grabbed. In aikido and jujutsu we practice Jodori, aka grabbing the spear. Only doable when he is over extended though. You can not grab 2/3 of a longsword
While (I believe) all are in agreement with you that overcoming longsword or spear is "doable" (partly due to some of the reasons you gave), the general advantage of longsword/spear over Katana (for reasons given in thread) is clear. All polearms (main battlefield weapon...like the rifle) beat swords (side arms...like the handgun). The reach (25% longer though roughly 1/4lb heavier), double edge (doubling attack angles), guard, versatility (made for blade on blade binding/grappling attack), balance, all favor longsword over katana (a mainly ceremonial, forward weighted, dueling weapon...think old west gun fighter-fight over in less than 5 seconds...designed to cut flesh). Context is everything, which is why I have a Chenese specialized cutter Ko Katana under my bed (41oz, 21"bld. regular sized handle).