Post by nddave on Nov 10, 2015 20:26:55 GMT
Name
: NDDave  (David Burkhart) The "ND" stands for Ninja Dynamo, a Japanese Manga character and series I created.

Age
: 37
Location
: Emmett, ID USA
Collecting Since
: I've been collecting swords since I was four. Sure they were plastic toys but they were swords to me. A few years later I received my first "sword" which was an unsharpened Arkansas Toothpick my Uncle gifted me. After that I browsed through numerous martial arts magazines and mail order sword catalogues. All the while building and crafting wooden swords of various designs and shapes, mainly European and Fantasy type swords with a few Japanese styled swords too. I finally got my first real sword when I was sixteen, a Union Calvary Sabre replica my Grandpa got me for my birthday. After that I got my first "katana" a stainless steel flea market find and soon after began collecting various display swords from shops, flea markets and eventually online. My first real functional katana was a Hanwei Practical I purchased with my first substantial tax return back in 2003 in a local shop named Marto's Cutlery in the Boise Town Square mall. I paid $350.00 for it and owned it for around 8 months until it broke during cutting exercises. After that I decided to get fully into functional katana while still having interest in display type medieval swords. That was around the time I found SBG while searching around for reviews and info on quality made functional swords, specifically katana.
What I Collect:
My primary focus as of late has been Medieval swords but my range in collecting and interest is between European swords of all eras and Tokugawa era to Meiji period katana. I respect and enjoy learning and researching all sword types from around the world but those two sword types are what I choose to own and collect.
Why I Collect
: I've always been interested in swords since I was a child. Thanks to heavy influences of 80's fantasy pop culture in film and television as well as a later interest in comic books, videogames and even table top games like D&D. Some of my more known influences on my interest in swords would be The Masters of the Universe toyline and series, Conan the Barbarian comic line and movies, Dungeons and Dragons table top and board games, The Legend of Zelda videogame series as well as numerous other sword themed films such as Willow, Highlander and Excalibur. I was also a fan of the 80's Ninja films and other ninja themed cartoons and series such as Enter the Ninja, Pray for Death, Teenage Mutant Ninja Turtles and The 3 Ninjas. In the late nineties I got into Japanese Anime and also enjoyed the various sword themed Fantasy and Japanese movies and series. Some of my favorites are The Slayers, Ronin Warriors, Ninja Scroll, Vampire Hunter D and the Legend of Crystania.  
From those childhood fantasies and influences I became more interested in actual martial arts and eventually in my later teens began to fully invest in Kenjutsu and the study of the Japanese sword. After joining SBG I began to learn and become more interested in European swords and the study of them, especially the Oakeshott Typologies. As of late I have been trying to compile a group of sub $300 swords that represent each twelve types of the Oakeshott Typology, which has been my primary collecting focus.
Martial Arts Background
: I've been in and out of various martial arts for the last twenty three years or so. I first started being interested in martial arts due to movie and cultural influence as mentioned above. At the time a few of my neighborhood friends began studying Judo and Karate and after a little home practice with them began going to class with them. Due to financial situations at the time I was not able to pursue further classes but I began reading and learning what I could from books and instructional videos as well as visits to local classes where I'd watch the classes and practice at home. Later on in my early teens I was able to get back into martial arts and began studying Kung Fu and various other Chinese and Japanese martial arts. After introducing myself to Bruce Lee I began to really get into Kung Fu and after reading and researching Bruce's philosophies on martial arts and Jeet Kune Do I really got into developing my own style and mixing various martial arts to suit that goal. In my later teens after investing so much into hand to hand martial arts I decided to incorporate my old passion for swords into my martial arts studies and began learning Kenjutsu primarily by reading and learning forms through books. As of my late twenties I've kinda slowed down on my martial arts studies but it is still something I practice almost daily to keep the joints limber and mind sharp.
My Collection
As mentioned above my collection primarily consists of Sub-$300 Medieval and Japanese swords with a few others added in. Aside from two display Japanese sets I've sold or gifted all of my old display swords. I've also reacquired one katana I gifted my brother and most recently traded one of my medieval swords for another.

Japanese Style Swords
 Musashi Shirakawa 1060DH Dragon Katana
SwordnArmory 1060TH Ninja-To
(maker unknown) 1045TH Ronin Katana (technically one I gifted to my brother but he gave it back for clean up and polishing and hasn't asked for it back yet)
European Swords
Windlass European Sword
Windlass Oakeshott Type XIV
Windlass Effigy Sword
Windlass Sword of Homildon Hill
Windlass Sword of Roven
Windlass Hero's Warsword
Windlass Battlecry Culloden Basket Hilt Broadsword 
Windlass Classic Medieval Sword 
WindlassTowton Sword 

Military Swords
Depeeka 1860 Union Calvary Sabre
Practice Swords
Negrini Fencing Sabre
Custom Swords
Shop made Medieval/Fantasy Broad Sword
Display Swords
Brass Dragon Katana Set
Tiger Katana Set
BudK Galaxy dagger (technically not mine but my wife's)
Link to My
Collection
 Thread (Includes some of my older collection as well)
My Wish List
: My wish list is actually kind of small. Currently I have five swords on my "plan to buy" wishlist to complete my typology collection. These are my choices for representatives of each typology I've yet to fill,
H/T Early Medieval Sword (Type XII)
H/T Great Sword of War (Type XIII)
Windlass Great Ouse River Sword ( Type XVII or a comparable sub $300 Type XVII, cant seem find one, lol.)
Windlass 15th Century Long Sword (Type XIX)
Eventually I would like to get something more substantial and detailed from higher end sword manufactures, such as an Albion Talhoffer and customized Bugei Wave Daisho. I'd also like to get a representative of other European eras such as a Roman period sword, Dark Age period sword, Renaissance period sword and something early modern such as a basket hilt or small sword, preferably due to my budget and focus, in the Sub-$300 price range. I'd also like to at some time be able to purchase a fully custom sword from one of our custom smiths like Jeffery or Brendan of my own design or maybe something they have available like Jeffery's Master Sword.

 Aside from that I'm happy collecting in my sub-$300 price range and have found some very well made and handling swords in that price range.
 (Donations are always welcome too... LOL

)
About My reviews
: When I started writing reviews I pretty much just wanted to talk about and study my new sword and share the information regarding its construction, craftsmanship and functionality. That soon evolved into a more detailed study of the swords historical significance as well as trying to be more specific and detailed within those three information points with pics, descriptions and template. I hope that my reviews educate and also inform readers about the sword being reviewed but more importantly that they enjoy reading them. As my own research, knowledge and collection grows I will be happy to continue contributing to this forum through my reviews. Personally I find writing reviews very fun and do my best to keep them non-bias and informative.
My Reviews
:
Japanese Swords

Ronin Dojo Pro Model #15
SwordnArmory Ninja-To
Musashi Shirakawa Dragon Katana
Shinwa Imperial Dragon Katana
European Swords
Windlass Hero's Warsword
Hanwei Mercenary Sword
Windlass Sword of Roven
Windlass European Sword
Windlass Sword of Homildon Hill
Windlass Oakeshott Type XIV Sword

sbg-sword-forum.forums.net/thread/54388/windlass-battlecry-culloden-basket-broadsword?page=1&scrollTo=740079
sbg-sword-forum.forums.net/thread/54896/windlass-classic-medieval-sword-review
sbg-sword-forum.forums.net/thread/57027/windlass-towton-sword-review
Tactical/Fantasy Swords
sbg-sword-forum.forums.net/thread/57980/united-cutlery-honshu-broadsword-review
Hopefully this list of reviews will grow larger as does my collection.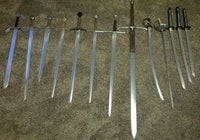 Thanks for reading, David