Post by Drunk Merchant on Aug 21, 2022 3:38:21 GMT
So I'll start this off by saying I'm a collector, not a martial artist. That means I'm (incompetent at using swords and) all for using modern swords to cut and sparing antiques that can't be replaced. There's just a small dilemma: I don't want to spend too much with a modern as that means less $$$$ for collecting, also, if cutting I'd want a sword that nails old katana traits: chiefly great geometry that helps you with cutting and great balance that helps you keep control of your blade. That seems like an impossible wish list huh? Cheap and great.
I've spoken highly of Kurin and Bugei swords as what came closest to nailing great and cheap but at 1000+ cheap is relative and their balance could be better. Also, not made anymore. So it's just some hopped-up pipe dream, right?
www.swordjp.com/product/kobuse-crucible-steel-katana
Well look at this: ridiculously good-looking and cheap, almost too good to be true so I went and gave it a try. I bought the very first of their new model and a couple of months later a box showed up.
So when grading swords as a collector you kinda take a gestalt approach: is the overall shape good, is the geometry good, is it quenched right, folded or made right (no damascus please) and polished right. Those all mesh into an initial impression and here I was blown away. They did deliver. So here's the goods:
Overall Shape (aka what collector dudes call sugata) 5/5
Probably the first thing you notice with a sword and along with quenching the most important: a very poor shape can aggravate other problems leading to breakage, easy edge wear, or merely impair cutting sword get stuck in the middle of thicker targets and all. A good one on the other hand protects a sword and helps it power through the cut.
This one is really, really good: shinogi zukuri geometry with an excellently made shinogi and geometric kissaki, some other swords suffer from shonogi ji that wobble around, this one though, nailed. The overall shape is wide mihaba, mild taper, moderate sori and niku , thick kassane, low shinogi, and chu-kisaki. The shape is very pleasing to look at and Koshi-Sori makes it stand out from other production swords. It reminds me of
my Showa era Hizen
. Cool robust shape that looks a damn lot like some nihonto I'm into.
Balance 5/5
It quickly became apparent the sword is superbly easy on the hands and easy to shift around, perhaps the combination of koshi sori, width at the motohaba and long but within Japanese proportions, nakago does the trick -my gunto has the same traits and handles easier than you'd think- but whatever the reason this sword is one of the best balanced I've held, better even than my surriage (cut down) nihonto. It is very easy to move around without weakening the grasp you have on the blade, it feels light on the hand despite being a fairly thick and long blade. Hats off to Z.sey, they balanced so well that not only is it much easier for me than Bugei and Kurin but even many of my Japanese swords.
Hamon and Hada 5/5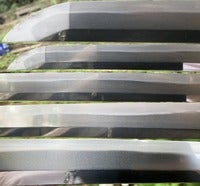 Heat treatment is also important: if uneven you get points for stress and possible failure, a subpar job can also leave the sword prone to edge wear.
Hada also matters to some extent if you get folded instead of mono: a very coarse folding like what "damascus" pattern swords have will leave the steel with sites that can open up from stress. In many production, it's hard to study these as the amateurish polish obscures.
Z.sey polish though? I was impressed: it's a very fine traditional style polish that makes the features visible in a natural kind of way.
no ferric chloride -which looks cheap and makes the grain coarse and rust-prone- Z.sey did it the hard way with stone and so all the features are visible honestly. The hamon is uniformly bright (aka well hardened) and an active suguha with whisps of ashi and nijuba blebbing out of the straightish line. This is a good thing, not only does it look cool but those asymmetric activities can make it harder for cracks to propagate, hence why japan used ashi to begin with. When speaking to the owner he mentioned they use water quenches despite the greater challenge to try and get activity and a nihonto kind of look. That probably explains why there are small nie scattered in the sword. So hats off again to acing something tough on a production.
The hada is also a very fine komokume a good thing since that means no risk of delamination failures, the hada is uniform and harmonious, a good thing in Japanese swords as that's a sign the smith had good control. Nugui probably the Shinsei brand sold by Namikawa also seems to have been used to give the steel (jigane) a deep blue hue, FYI that color is what japan considered ideal on a sword (it naturally shows up in some old Koto with famed regional steel). The polish features seem to be a bit stronger than average Japanese art polish but I think this is a calculated move with a production sword that is expected to face heavy use, if the hada and hamon stand out better and the shinogi is more mirrory, they'll look good even after cutting fades them somewhat. Superb polish, is the best I've seen outside art polishes and still, this was only supposed to be their midrange option.
Handling 5/5
So like I've said it's a great looker, has a lot of traits indicating quality, but can it be a good martial arts sword? Well, like I said, the balance is superb, but I was worried the koshi sori might slow drawing (extreme koshisori like on some tachi does) so took it outdoors to try batto/Noto. Was quick and easy to draw despite my having minimal formal background. At some point I aimed high by mistake and didn't notice till some leaves fluttered down in halves, Hollywood style. It also effortlessly kesaagirid a giant hogweed near the woods. Stupid action should have bought tatami but I forgot. I used some of Robert Benson's nihonto grade uchiko so no rust but without it it will stain your sword. That said I'm sure martial artists will appreciate the handling.
If people demand it I will buy some tatami and cut them down but initial impression is very sharp and shaped to go through obstacles.
Fittings 4.9/5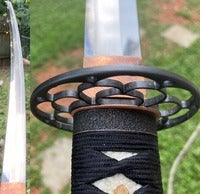 So the fittings I chose were the basic, mass-produced saya a bit Japanese made iaito like which is okay as that's quite good at this price level. The ito was well done with proper diamonds a style of wrap similar to some of my antiques and an attractive replica of these edo period menuki
world.seiyudo.com/product/me-010115/
Fuchi and kashira are blackened brass again shaped rightly, tsuba is iron with an attractive patina. the seppa and cat scratch habaki which I had originally planned to dunk in rokusho already came with a nice patina and look higher class than the usual bright brass fare.
So a very Japanese look and I think the parts were sourced from Japanese suppliers. So good looking by my book. But what about the fit? Fit is arguably the most important as a poor fit can lead to saya rub and wear or a loose saya that pops out and can lead to disaster. A loose tsuka/tsuba also weakens control over the blade and can lead to breaking out of the pin.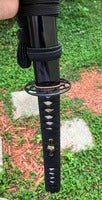 I'm glad to say the fit was superb: no saya rattle or rub, the fit was so good the blade is secured snuggly by the habaki when in the saya without being so tight as to lead to rub. The ito, tsuka, and tsuba also fit superbly with no movement. This is superb: even Bugei and Kurin had some degree of rattle. The fit was so superb I was able to hold the sheathed sword pointing to the ground. If the fit weren't perfect it could pop out and lead to terrible injury. The Z.sey fit though was so perfect it held, just like how swords with custom fittings should. Good job guys.
The only disappointment I had was that the mekugi pin was fitted on too tightly. Normally I like to remove it to inspect my nakago and see if the large batch of gendai era tsuba and other fittings I keep in a box will fit. I know there are many other people here who like to do that too so I would suggest keeping the pin more removable in future batches. It's a minor problem given the superb fit of the current fittings though.
Shipping 4/5
The sword came shipped in a canvas wrapped foam box cut to fit the sword specifically, a good thing as that means rattling damage while shipping or crushing can't happen. The sword itself was wrapped with film and oiled and they clearly took care in shipping. The only real negative of this entire experience was that the sword came with some surface rust in the kissaki. The rust was very superficial and came off with a nickel and ten minutes of uchiko (hence why I mentioned using it) removing all but some stains. Because my collecting background I see many swords with varying degrees of rust and this one is totally benign, run a finger over the stain and you feel nothing. With some more uchiko they'll fade to white spots. Totally harmless and not going to affect performance. That said even though they used oil I would recommend more anti-rust precautions.
Delivery was about two months from order, fairly quick given Covid slowdowns. As I said given the effort they took in keeping the sword safe it's hard to hold anything against them.
Overall rating 5/5
So if I ever go back to taking classes and need a shinken this will be what I bring. No risk to my prized antiques, but god it looks almost as good as them and handles just as good. The combination of superb handling and balance, a hamon, hada and polish faithful to the antique swords that inspired it and a unique for production swords but properly done koshi sori and its Hizen inspired looks mean I'd be proud to take this with me to a Dojo.
When I spoke with the owner of Z.sey he mentioned his interest in collecting nihonto, how he and his smiths all base their blades off old samurai blades. It shows.
This is absolutely the best sword at this price level you will find. If you have a sub-1000$ budget and want a good cutter with really good handling and looks this is your sword. The superb job Z.sey did with what is supposed to be a "budget" sword (really a premium in disguise) makes me wonder just what the higher-end nihonto clones they offer can do. Good job guys, you might just be the Abilon of Japanese swords.