Post by seth on Jan 6, 2023 17:43:19 GMT
Happy New Year! I hope Santa brought many of you new shiny and sharp objects. I have a Nami Wakizashi from KOA which I have been wanting to pair with a katana for some time. It's one of my favorite little swords.

One thing about it is that it has a fairly long blade and a leather ito. So I wanted to 29"-30" blade katana with a brown leather ito to match. I couldn't find an off-the-shelf offering so I thought I would give Ryan Sword a try.
I asked for a 76 cm T10 blade (Shape A) with a real hamon, brown leather ito, and with wave themed fittings which goes well with the Nami (Nami is a Japanese word for "wave"). I wasn't concerned with historical accuracy. I wanted it to look good and be somewhat functional.
I input all my specs into Ryan Sword's website and they quickly got me a quote back. Full price including shipping was a hair under $300--which is pretty reasonable IMHO. They estimated about a month to make it which was very accurate. They sent some follow-up questions such as menuki placement.
They sent me pictures of the completed sword before shipping to let me make sure it was what I envisioned. I used the pictures they sent me here because they are better than what I can take. It turned out beautifully!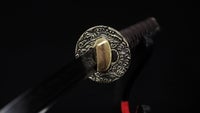 It was about a 5 weeks from ordering to arrival. Shipping was through SF and UPS. The pictures they sent accurately portrayed the sword.
It handles great. I have taken some very basic Japanese sword classes, and I really like the longer blade. The false edge and short bo-hi make a noticeable difference in the weight, and I can make it whistle through the air with ease. I haven't cut with it, but it came very sharp. The saya fit is perfectly tight.
I really love the blade on this sword. The shape is very appealing to me. The length is perfect, and I much prefer it over 28" blades. It has a great finish, and I like the hamon (though with T10--not really a requirement). It seems extra ocean wavey to me. The tsuka and fittings are all tight. The ito wrap is very tight. It's a slightly darker brown than the Nami, but I am sure I can darken the Nami with some wax or shoe polish. (I am betting had I sent a picture of the Nami grip, Ryan Sword would have done their best to match it). It has two pegs. It came with some extra pegs and a bag.
I am not sure if this technically a "custom" sword, but with all the options--you can definitely get a beautiful and unique sword. Ryan Sword's customer service was great--they were very responsive and kept me updated. The price was also fantastic.