Post by Ryzamurai⚔️ on Aug 20, 2022 10:49:31 GMT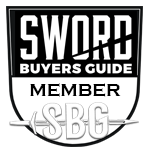 With a bit of fear and a whole heap of anticipation after some of the story's I had heard on the sbgforum ..on the 12th of July my blade had been put in for production and I was given a approx date of the 28th of July for the blade to be finished.
.an anxious 10-11days went past and I was contacted and informed my blade had been finished (22ndjuly)and it was getting fitted up with koshirae tsuka etc..etc… with a bit a communication from ryansword to me back and forward we were able to find a nice copper koshirae set that was in stock and was to my liking it's a tiger theme which actually ends up working good for me as I allreafy have a Tanto with tiger theme I can make a nice Daisho set just by getting a tiger themed Wakizashi later on…
so my katana was off to get fitted and on the 28th I received a message containing photos of my katana ok I'm starting to get a little bit excited now the photos look quite good one small problem the menuki were wrong now this is where the customer service from Ryan sword was A++ 5star through good communication. The correct menuki were put in rewrapping the entire tsuka for me.. I was sent more photos to confirm it was all correct b4 been shipped
…it was all there in the photos the mei on the tang, full rayskin wrap on the tsuka the correct menuki the koshirae set I asked for and a blade that looked to be laminated and clay tempered with no bo-hi in shinogi zukuri geometry…the part rayskin wrapped saya the golden coloured ito and sageo I wanted
..could this be the same ryansword they spoke badly of on this forum????I guess only time would tell….on the 3rd of august my order had been packaged and shipped.this was going well looking like it would arrive in time for my birthday 🎂…
fastfoward to the 15th of august doorbell rings and the courier has yep you guessed a long rectangle shaped box…so over to my box opening spot I have a rug where I set up and video all parcels I open just in case anything arrives broken so I have video of me opening the parcel and inspecting… anyway so I sit down to opens the box cut the tape and open the box b4 was a beautiful golden silk brocade bag inside was my katana ..
first impressions as I slid of the saya which indeed was rayskin part wrapped revealed a blade and yes this blade indeed is laminated and clay tempered has the fittings I ordered and of course the first thing I checked was to try and slide the ito a little bit to see if my tsuka was rayskin full wrapped as hard as it was to move as it was wrapped very tightly I managed to move it just enuf to confirm it was defiantly full rayskin wrapped also the rayskin looked of quite decent quality also and even had a emperors node and another large one just near it (sweet)..the blade was covered in a heavy coating of oils which I was glad for as it protected the blade on its journey to me as I would later discover the tang had rusted a little on the way here but I'll talk about that a bit later.as I removed the oil the true beauty of this blade was b4 me how could I cut with this hahahaha i don't want to scratch it 🤣😂😅..the lamination lines are clear and distinct the hazuya polish is quite nice and the hamon runs all the way thru the full length of the blade from habaki thru the kisaki giving it a nice Boshi…
so the blade is in fact laminated clay tempered and polished with sum hazuya at least…how did the katana feel in my hands good fits my hands well I could feel the extra bit of weight from not having bohi and can almost feel the extra strength it gives the blade…so the next thing for me to do was to check the tang and make sure there was a mei on the tang so tap tap tap out with the mekugi and a little tap on the tsuba with my woood block with some cloth folded over it off it came and to further reinforce my initial investigation into the full rayskin wrap when I lifted off the fuchira you could easily see it was full rayskin.. ok so the mei on the tang now this was probably the only thing I didn't so much like not for a new sword anyways the tang had surface rusted a bit since I was shown the photos of the mei b4 shipping now I know a lot of people will say it's supposed to be rusty personally I would of liked if it had been greased b4 the tsuka been put on to at least preserve the tang till I could see it in person (this is something I might mention to ryansword when I order next time but yes there was a mei on the tang it looks like a name on one side and a date on the other properly carved not laser engraved like other request for a mei I had with some other sellers for me this is awesome I love it one other thing the certificate that comes with the sword has a serial number on the tang they laser engraved their logo and the number however it's at the top of the tang where the seppa and tsuba scratch over when they are put on and off also next time now I know they do this I would suggest a better spot so it's preserved and not half scratched off…maybe at the bottom ??ok that's a small thing and over the last few days I've cleaned the rustof the tang very very carefully so as not to remove metal why it took so long.
.sacralige I Can hear you saying it now)however for me and it been new I at least want it to start rust free and greased hahahaha😜..the tang it self was extremely nicely executed there were no burs no grind marks very neat all straight lines very very good ryansword I hope I see more of your Work done like that.the habaki fits like a glove honestly it doesn't move not at all…overall I am very happy with my experience and felt the need to review it here and at least share it with you .. hope you enjoyed reading link to pictures here there's about 30 photos so take a couple minutes copy the link and check them out they are at imgur
ibb.co/album/VjxW7T