Post by jester on Aug 15, 2022 18:57:31 GMT
This is a piece I had my eyes on for long time.
I think the Matsu theme (pine tree) is my absolute favourite for a sword and I was almost about to get a Dragon King Pine Crane (although I am not fond of the tsuba), when I had this idea: buying the FeiLong (about $585, almost half the price of the DKPC) and powder coat the fittings in brown.
The Matsu fittings are still quite good for what I had in mind, and FeiLong has a good reputation, so I was sold.
Communication with the seller (Dave, from Belgium) was excellent and he provided me all the pictures and videos to show me the sword.
He did a quality control himself, showing via video the only issue was saya retention but a little shim will suffice.
The sword came in a nice yellow brocade storage bag and was oiled and well secured in bubblewrap and shaped polystyrene.
Tsuka: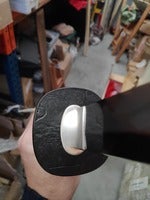 The 10" tsuka is VERY comfortable, a nice slim shape with a very tight ito (seems silk, not sure about). The fittings show good details and I really like that style.
Samegawa is in panels and shows a hint of aged patina, although the nodules are very small as one can expect at this price point.
The fuchi has a great transition with the ito on both sides but it feels it might be glued on top of the tsuka as I was unable to remove it.
The kashira has instead a small bulge on the ha side, while is perfect on the mune side.
Transition with the saya is also perfect.
Seppa and habaki seem silver-plated but they might be white brass, not sure.
Proper hishigami.
Nakago: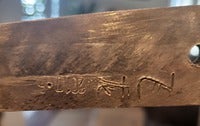 The nakago isn't great. There are some file marks but quite random and the bottom mekugi hana needs filing. A rough mei and a production number are also present.
Blade: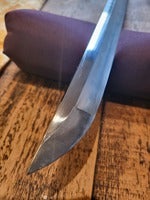 The 28 3/8" T10 blade has a gunome midare hamon. It tapers from 31mm to 21mm on the haba and from 7mm to 5mm on the kasane.
The chu kissaki has a cosmetic yokote but quite well done and precise on both sides.
It feels quite lively in the hands, well balanced (about 5 1/2" POB) and a weight of about 2.3lbs.
The edge is very sharp. Overall, the blade is pristine with no scratches nor marks.
Saya:
A typical black lacquered saya with black sageo, nothing to say about it. It came with no scratches nor bumps. The koiguchi as said is quite loose and needs shimming. There's no rattle with blade inside.
General thoughts:
For $585 this sword has a lot to offer in terms of quality. The tsuka is definitely a big selling point for comfort and shape, as well as the excellent customer service provided by Dave. It ticks a lot of boxes that many higher end sword actually tend to fail quite often. I think the nakago was the only big let down, considering both kashira transition and koiguchi can be easily fixed. It's my understanding the model I received was an old one and more recent models have much better attention for the nakago (which anyway wasn't "bad", but considering all the good this sword offers, having a nice nakago would have really been outstanding).
Definitely worth the price.