Post by pgandy on Oct 9, 2021 20:54:47 GMT
I have no investment in KHHI and paid the asking price. This is their standard khukuri that I made four request on; a raw grip, minor engraving on the grip, a one hand draw capability, and for a blessing. More on each will be found throughout the review.
My general impression is that it's one of my better knives. I chose wisely with my modifications, admittedly my feelings are subjective. For me a 13" blade gives the best all-around handling making for a good GP (General Purpose) kukri considering everything.
Below are the specifications: Those with the heading KHHI are from the Aitihasik belonging to KHHI that is presently in my custody and those in parentheses are from the advertisement.
KHHI Mine
OAL/in 18 18⅛
Blade length/in 13⅛ (13) 13⅛
PoB/in 4⅛ * 3½
CoP/in
Blade Thickness/mm 8-4 (8) 8.3-5.0
Blade width/mm 60 61
Weight/g 660 (625) 680
Grip cir/cm 11.0 11.7
Grip length/in 4½ (4½) 4¼
HRC (55-57)
* When I originally measured this I got 4½". I remember that I had a hard time as the knife rotated to edge down making my finger uncomfortable to put it mildly. This time I balanced on the edge of a scabbard. I measured both kukris side by side at the same time under the same conditions and feel the above more accurate than my original measurement.
A comparison of three similar kukris. An antique at top, followed by mine in the middle, and KHHI's at bottom. I hadn't noticed until viewing the photo, Bishowkarma did a better job of capturing that graceful curve than Rasaily did with his. Also note the difference in grip size.
Maker

This was made by Milan Bishowkarma.
His poop sheet His mark a "J" KHHI's stamp a cho
Blade

It's their standard sharpening, and both Aitihasiks came newspaper cutting sharp. Mine is holding its edge well but then I run a chakmak over it after each session. It has a stick tang that penetrates through the grip and peened. It is unpolished as is standard on this model.
Grip

This involved two of the modifications, being engraved and raw. The engraving was a simple cross pattern which was well done. The raw part was ordered in error on my part. I was looking for the finish provided on my GI4 from KHHI, that is the standard finish less the varnish or overcoat. When it arrived it was broken with a less than pleasing finish.
sbg-sword-forum.forums.net/thread/65785/broken-kukri?page=1&scrollTo=876335
Following the guarantee which is generous "A Full Refund within 1 week of delivery date…" mainly to check the system. After a few weeks delay while KHHI was communicating with the carrier I received a message that he, Saroj Lama Tamang the Managing Director, was in the process of making me a new one. This was after losing out because his shipping department sent me one in error and now he was willing to lose again to satisfy me. I explained that wasn't necessary as I had repaired the grip. I've dealt with Saroj Lama Tamang before and found him to be helpful and a pleasure to deal with. This shows him to be an honourable man as well. As for the appearance after some light sanding to remove the grain that had begun to rise and several applications of oil it began to come more alive. All in all I like the finish, not from a visual stand point although that is completely acceptable to me it locks into my hand well with no slippage even in the wet. I am seriously considering that on the next one. But I have to admit that isn't for everyone. Aside from the finish, the shape fits my size 8 hand extremely well. There is no butt plate only a peen cap.
The intended finish at bottom Standard finish on top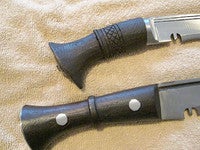 Scabbard

They couldn't have come closer to what I wanted. The kukri fell in and out freely. But the fit was close enough to easily shim to my liking. I can easily draw and return the kukri, also I can easily secure it and break it free with my thumb similar to way one does with a katana/saya. I slipped it free of the frog which was well made but I don't like that carry.
Blesssing

I thought it was going to be blessed by a Buddhist Monk but it turned to be a Dharma Guru. That might explain his informal attire. I have no problem with that, but if I had my rathers it would have been a Buddhist Monk. Artefacts from the blessing are the red silk scarf known as a khada. It is worn around the neck to respect and honor somehow, to show one's gratitude. The other packs are what are called in Nepal "Achata". After blessing, the guru gives these as blessings to the kukri. It mainly has red tika, rice seeds and tea-leaf water. Sorry for the poor photos of the later but they are in two small zip-lock bags both sealed in a plastic sleeve and all appear to be under a vacuum that I prefer not to break.
About the blessing: ... can have his knife/ves worshipped and blessed by a Dharma Guru (religious monk). After the knife is completed it is taken to a monastery to get worshipped and blessed by the holy man who will try to give life to the item or at least give a spiritual energy to the blade to always safe guard and serve the beholder. In the long tradition of Nepal, there is a custom of worshipping a khukuri as it is considered to be like an Alpha Male that would always protect and serve a family. It is also believed to chase away any evil and demon spirits and bad curse. The khukuri is also worshiped before sacrificing an animal in a procession called "Khukuri Pooja" in ceremonies like Dashain, Utghatan, Bishwakarma etc...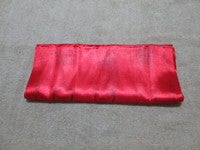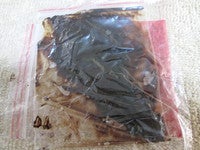 I couldn't be more pleased.