Post by pgandy on Aug 7, 2021 21:19:54 GMT
Genuine Regimental Kukri is what Windlass chose to call it. I prefer Mk3 Kukri. Perhaps they chose the name in order not to be accused of making an inaccurate replica. I suspect the differences reflect modern production techniques and equipment plus Windlass may have dressed it up a little for sales purposes, such as adding the small knives that didn't exist on the original. For the record, I bought this because I liked what I saw and not for any historical reason and was aware of deviations. I'll explain as we go through the review, it's a bit long. I've rewritten this several times and have cut it to the bare bones substituting more photos for words. I have no connection with MRL, Windlass nor their rivals and purchased from MRL at full price using my promotion code.
Here are the specs:
OAL 16.875"
Blade 12"
Wt 710 g (25 oz)
Total wt. 1.10 kg (39 oz)
Thickness 6.4mm-3.7mm
Grip 5.25"
Grip cir 11.6 cm in front of ring
Grip cir 13.6cm distal end
PoB 2.125"
HRC ≈55
GENERAL

I found several issues and don't know whether to blame COVID-19 for possibly attacking the work force, or a design problem, I suspect probably some of each. I'll address those as we progress. I don't know if these issues are singular to my kukri. From MRL's web page "The full profile tang blade is an impressive 1/4" thick" [¼"=6.35mm], see my stats above. Also from that page "this is the only Kukri on the market that comes with a copy of the government contract, the ordinance drawing, and spec sheet.", none of which I got. The karda was missing, instead I received two chakmaks. Scholagadiataoria did a review, posted at the bottom, that may add missing details here. I believe they wanted his opinion before making the final production. There are some differences between ours and it was many months from his review until the knife reached the market. The virus?
An original New Windlass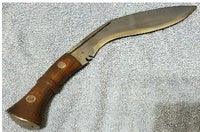 BLADE

It came factory sharpened. The tip I estimated capable of cutting butter and becomes duller as it proceeds to the notch. The cutting edge there I estimate >2mm. It appears someone started to sharpen it putting somewhat of a secondary bevel on it then quitting time came. For some reason I had a difficult time putting a good edge on this one. The fact that I re-profiled didn't help but now it'll slice paper. The HRC is about 55 measured on cutting edge.
GRIP

Fits my #8 hand nicely. The distal end appears smaller than the one Easton had, but that could be photography. It's made of unstained wood, type unknown. I looks it to have a sealer or overcoat but the MRL rep said no. The scales of the original were screwed on and of brass these are of magnetic white metal rivets. The butt plate, a better term in this case than pommel, has an outstanding polish. I had extreme difficulty in finding the peens, there appears to be two. The wood to metal fit is excellent. All in all I like it.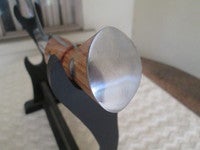 SCABBARD

This is my main complaint. The scabbard is the typical leather covered wooden core. In this case I have to say kukri/scabbard fit is poor, the worst I've seen on any sword, knife, or... The scabbard will hold the knife but with no retention what so ever and rattles like crazy especially when walking. I corrected some of the problem by shimming with a tongue depressor. I could have gone a little thicker but there are too many other problems. This only worked on the throat, the tip needs attention. Not only was the rattle loud and offensive, I believe the scabbard maybe acting as a sound box, but the kukri would shift in the scabbard throwing the scabbard more off balance going into a nearly horizontal position, sometimes passed and rotating to its side, and it tends to swing laterally. This became worse after receiving the karda, but the two knives together would sandwich the kukri's grip tending to stabilize it some, but with other issues such as more off balance. With the angle the scabbard sometimes obtains and the way it swings I question the security it offers to its contents. I blame this on a number things, which I'm sure all contributed to this but in the end it was the fact is that the scabbard rides too high in the frog making it top heavy. While the knives help in one respect they add to the top heaviness. Slung from a belt is a useless and miserable carry. It carries best tucked into my pants or belt. The small knives with their large diameter grips make the kit fatter and uncomfortable in that manner, however it's quieter and the contents are more secure carried in that manner.
Showing balance as is vs should be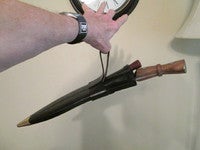 Showing carry position. You can see how it's aleading trying to rotate. When moving it becomes worse.
The frog attachment as is and compared to two other kukris picked at random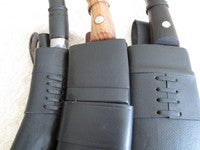 Shim before blackning
FROG

The belt loop is off centre adding to the instability. This frog follows a more contemporary design using rivets with no adjustments. The original was laced.
The off centre loop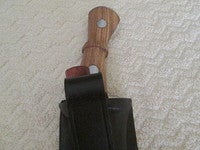 THE TWO SMALL KNIVES

I didn't get them. I received two chakmaks instead. The blade is larger than I'm use to being 33/16" x 13/13". The grip fat with a 15/16" dia. As for the missing karda, MRL graciously volunteered to send a replacement free of charge and gifting a chakmak. There is no question about the grips being raw, no sealer on the wood with these. When the two are in place they will provide a valley that the kukri's grip will nestle in securing the kukri more. I like the chakmak as it fits my hand better to the ones I'm used to. As for the karda, that is going to take some getting use to. While I like using the chakmak the scabbard would be better off without them. Another issue not mentioned with those large small knives the kit sets out away from the body too far to be comfortable or for the best carry causing the scabbard to get in the way often.
HANDLING

The kukri handles very well, about the best handling kukri I have and should carry well with a proper fitting kit. I haven't had nearly as much opportunity to play with it as I would like to. It is easy to control and fast. The thin blade may have the advantage of passing through some targets easier than a thicker one. I should state here I've done no more than cut the standard backyard targets with it. I haven't had a real job for it. In short I'm finding it a fun knife. It does appear to be more of a tool than weapon, but don't sell the later short. I raided a neighbour's trash and came up with the following and gave four consecutive cuts. It works fine. I messed up on the 1.8 L carton on your right by clipping the cutting board, nevertheless its working days are over.
CONCLUSION

The poorly designed scabbard is a turn off it sucks royally if one plans on wearing it suspended from the belt. It is also overly thick to comfortably shove in a belt. I think Windlass should have omitted the smaller knives as the Brits originally designed, just my personal opinion though. Hopefully mine is not representative concerning the issues it has. The kukri itself is a good and well put together not to mention fun one to use. To sum it up overall disappointing. The first Windlass I've felt that way about.
Below is scholagladiatoria's video that will shed more light.