Post by pgandy on Apr 24, 2021 17:50:36 GMT
I am not connected with KHHI other than being a full paying customer who recently received their Mk3, aka GI4 (Gurkha Issue 4) kukri.
Overall I like the GI4 (aka Mk3) and find that it will make a good substitute for my antique 15" jobby which is an all time favourite of mine. Both are a bit ponderous to be a good GP (general purpose) knife though. I thought that one very large but this one is larger having a 4" PoB and the antique 5.5" but both handle very similar, the big difference is in the grip. I had been wrestling with what would make a replacement for that as the original's metal is on the soft side (that has its advantages and even desirable at times) and was made in another age not to be replaced if damaged. I ordered the GI4 for other reasons and happened to luck out finding my substitute. The original Mk3s were a war time expediency with no frills as can be seen below.
An original KHHI's version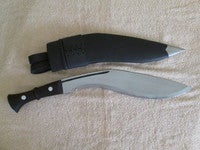 I had been looking at military inspired kukris and narrowed my search down to less than 6. The deciding factor on this one was that Saroj Lama Tamang stating he thought it to be in the top 5 best kukris of all times, but didn't state the configuration I assume with a 13" blade. Saroj Lama Tamang incidentally is the founder of KHHI and is a pleasure to deal with. That statement was not the deciding factor but made me take notice. The fact that this was offered with a 15" blade option did the trick, none of the others had that option While I think 13" would be the best handling all around knife my favourite as a kukri has a 15" blade and I thought that I could always go back later and get one of the others. What I got was better than expected and found that KHHI has matured since my purchases 15 years or more ago. For one, I received papers on the correct draw, return, etc. I was already familiar with the procedures but like that they are now giving instructions. I really like the idea they are now giving a poop sheet about the craftsman who made the knife.
The man that made this knife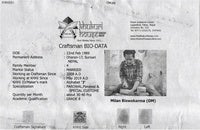 The blade is now stamped with KHHI stamp, a kuadi, as well as the maker. Both added since my last dealings, which were sterile from a military stand point.
Milan Biswokarma's stamp KHHI's stamp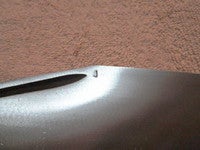 I don't know if what I got is typical of their current production but this kukri shows more attention to details such as a tapered tang than previously.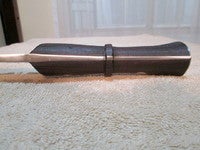 I don't like their web page. Overall it's excellent but with a problem, in those cases where they offer choices one clicks on the desired option and the new price is immediately reflected. That's great. But with the knife's statistics nothing updates. For an example an 8" knife will weigh the same as the 13" version. And what's more they don't state to which version the statistics were defining. The Mk3 is listed at 675g (unknown as to which of the three blade lengths that was referring to) and mine came in at 1070g. No problem though as my antique counterpart is 960g. In the review when I mention a statistic I'll give my knife's then factory's listing also, in parenthesis. I did request two modifications and that was for an unpolished blade and no finish (overcoat) on the wood grip. Both proved themselves of value the first day.
Blade

That measures 15½" (15"). It has a distal taper measuring 8mm-4.3mm (7mm). KHHI offers their blades in addition to standard sharpness with a "Super Sharp" version. I was troubled as to which way to go although KHHI strongly recommends standard which they claim to be "very sharp". What was bothering me was possibly their standard was what I received years ago that I can describe in one word as 'beefy', measuring 5.5mm at the start of the secondary bevel. I crossed my fingers and went with standard. This tuned out to be 4.9mm at the start of the bevel. I would have opted for something slightly thinner but not 2.1mm as on the antique, but I'm satisfied and will probably ask for this the next time. As it turned out the standard as received cut copy paper with no issues out of the box. I did hone and strop the edge later and while not completely removing the factory grind marks they were reduced, after which it cut better. I didn't completely finish the job as it was cutting fine and I take the attitude if it's not broken don't fix it. During the process I did find the blade to be hard. HKKI states a HRC of 55-57 and of 5160 steel.
Grip

The grip shows the war time expediency of the original with the two scales riveted to the tang, but the wood stained. There is a butt cap to strengthen the pommel along with a peen cap. I chose the shorter grip and it arrived at 5½" (5"). At first I preferred the grip on the antique. No reflection on KHHI as this is a copy of a previous knife and they had no choice. The older one fit my hand better and was more comfortable (familiarity?). This grip has a circumference of 11mm in front of the ring and has a wider cross section filling my #8 size hand. Later that day when running it through some test cuts I began to appreciate the new grips. Both antiques (the grips very similar) would frequently torque in my hand. I have tried a numbers hold and strike areas along the blade, some more productive than others, but was never able to satisfactory eliminate the twisting. I finally warped them with friction tape and that put a stop to that nonsense. When I got to the hard wood with the Mk3 I could feel the knife at times wanting to torque but due to the size and shape of the grip I retained control. I had specified no finish (overcoat) and that is as it came. The wood was stained though which I have no objection to. The alcohols that I now use frequently dissolved some stain. This happened during unpacking and in no way ruined the finish but did make me glad that I had specified no finish. The alcohol also removed some finish and stain to the stand that I had ordered. The no finish request was not because of alcohol or other disinfectants that now use but I find an oil finish easier to maintain, beside I prefer the feel of wood. I was expecting no overcoat but the grip to be sanded as in preparation for it. That is smooth and well sanded but it was rather rough with the file marks evident. Hehe. I do believe that Biswokarma, the maker, knew exactly what I was after. I could not have made it clearer if requested. That finish provides more friction than a smooth one. The first coat of oil (Teak) soaked in quickly. The wood was drier than I thought and am glad that I started oiling before splitting started. The grips have already begun to take on a dull lustre and starting to look alive.
Scabbard

The scabbard is the typical leather covered wood core with frog. It has a white metal tip. This kukri came without the two smaller knives and therefore the scabbard is thinner. The knife would not enter the scabbard at first. With numerous tries, some bad words, and an oiled blade I finally got it in. It's a tight fit, the knife has never fully gone home correctly leaving about ⅛" of the blade exposed. I have some concerns of what the long term effects our humid climate here in the topics may have.
Stand

I ordered a stand along with the knife. I wanted one of the same pattern as the first two kukris have. To my surprise they are now offering a choice of three finishes. Over time they have added more detail to the stand. Both the quality of finish and detail to the stand has improved whereas frequently over time a company will start taking short cuts to keep the overhead down. While the foregoing is true I'd be remiss if I didn't say that the fit of the various parts is not as good, having gone downhill. It also arrived broken but repairable.
Differences in the stands over time As new one arrived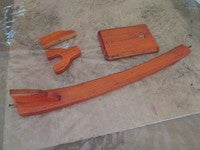 Handling

It handles very well but is too large and heavy to be a good GP knife. Like its older my counterpart it appears to be made for the purpose of combat. I haven't fully tested it, mainly due to lack of targets and time, nor have I replaced my rugs that the two original issue kukris destroyed. Dry handling I could get both hands to the grip suggesting additional power. I did some pruning and it came through with flying colours. On light branches it felt like just fanning air due to its massive >1kg weight. On larger tree branches and well cured dried wood at times I could feel it wanting to torque but maintained control due to its handle. Somewhere along the way I got into some very corrosive stuff and the blade rusted within a 20 minute period. I think Pellius can relate to that. The light was failing but I could see dark junk on the blade. I tried unsuccessfully to wash it off with water, then WD-40, after taking it into better light used Scotch-Brite, which removed some but I could now see and feel definite rust. It had been a full and demanding day and I was too tired and hungry to take my normal additional steps deciding to apply oil and tackle it fresh the next day, then since I already was in the kitchen I took aluminium foil and water and it cleaned right up. I've known of that trick for years but this is the first time I used it and it works. There's no pitting and it will still cut paper.
I am more than satisfied with my new toy. A cut I made this morning, it's a gallon cloro jug with lower half remaining in place, only the top portion hit the deck.
Not bad for a knife, I've got swords that won't do that. Then the SOB bite me while wiping it down. Hehe. I think we're going to get along just fine. The more I use it the more I like it.