Post by Sir Thorfinn on Jul 13, 2020 18:55:44 GMT
Not sure where to start.
So I'm not a Windlass employee or supported by them, heck, they're too smart, they'd MAYBE trust me with a broom in the parking lot.
So this was with my own money.
I have had this thought to remake a heirloom spear I made for a reenacting group about 20 years ago, this is where my plan went awry, or maybe extra right. These have been out of stock forever, so I found one in the warehouse finds section. (just one- this will be fun later)
The jury is still out.
This is a pretty classic Type 1a, 2a spear, you could argue the blade needs rounding nearer the socket.
All pics scraped from Windlass' site.
I'll add my own if I find anything noteworthy.
The Text:
www.museumreplicas.com/winged-viking-spear-head
This Spear Head is hand forged from high carbon steel and is capable of retaining a razor sharp edge. Pole not included. Made by Windlass Steelcrafts.
WAREHOUSE FIND! Used as throwing weapons and pikes, spears were an indispensable part of every Northman's gear, whether he was Norwegian, Dane, Swede, Finn, or Icelander. In fact, some of the earliest Viking proverbs admonished men to always have their spears within an inch's reach in case of an unforeseen threat. Hand-forged of tough, high carbon steel by the master armorers at Windlass Steelcrafts. The wings prevented the spear from penetrating too deep for easy retrieval. It can be mounted on a wooden dowel from your local hardware or home supply store. LIMITED QUANTITIES.
(just the one)
$34.95
Weighs
3 lbs
(no, really. 3 LBS!!)23 3/4"
long overall
From bottom of wings to blade tip is approximately
16"

Wings are
4"
wide
Spear cutting edge is 13"
Socket is 1 3/8" wide
Edges are not sharpened
Does Not Include Pole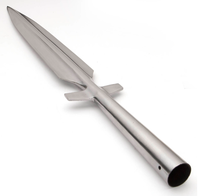 Thoughts.
This is a HUGE winged spear. HUGE.
Kinda beautiful in an overbuilt way.
When you hold it by the socket, it feels like you're holding a 2' bar mace.
All in all, I both LOVE and hate it, I'm not in the middle at all.
My gut instinct is that this is the half step cousin in law on Gator Steroids from Cold Steel that they were seeing if they wanted to market.
What they seem to have made, is a boar spear shaped like an over build hewing spear.
Maybe to lighten and make it slash better, it really does not need the HUGE reinforcing ridge. If I keep, blending that out, the blade is plenty thick.
So: is it a 35.00 spear head? You bet! Historically accurate, No way! Too heavy! Will it make a fun project or spear to hunt cryptids? YOU BET!
More if I think of it...
PS: I wonder if this is about the weight of a bill hook or halberd...hmmm...