Post by pellius on Aug 21, 2019 21:23:12 GMT
Zombie Tools Para Bellum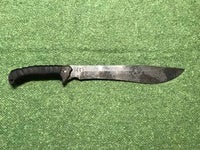 I know I tend to kinda ramble on and on, so I'll begin this review with:
TLDR
I bought this little guy new from the ZT Website.
It is a pretty sweet bolo knife sporting excellent materials and craftsmanship, rugged construction, good balance and feel, and a nice overall shape with elegant lines and a not-too over-the-top aesthetic.
www.zombietools.net/shop/para-bellum/
Okay. If you're still with me, here we go!
Introduction
Zombie Tools has hammered out its own prominent space among the lower-end semi-custom blade makers by offering high value, good quality knives and short swords in the post-apocalyptic style.
ZT enjoys a well-earned reputation for delivering an excellent product that is more than up to the abuse casual users can dish out, all while maintaining a cool factor that makes an asset of the common materials and basic construction at the heart of every ZT piece.
I personally find a number of their designs to be a bit sophomoric, juvenile, and even bordering on unsightly. However, over the years, they have produced a few designs that the ancient primitive paleo-jurassic part of my brain just finds irresistibly appealing.
This iteration of the ZT Para Bellum is just such a design. Curvy in all the right places, but reserved in demeanor. Attitude without vulgarity. Self confident. Deadly serious. Yeah, I had to have one.
Historical overview
I am only a moderately enthusiastic knife collector. Typically, any knife I own either has particular personal significance to me, is genuinely very useful in some day-to-day activity, or is unusually beautiful or of outstanding craftsmanship offered at a price so ridiculously low that I can actually afford it. So, as always, I'm not an expert.
ZT describes this knife as their take on the Filipino bolo knife, "A working tool that could drop a fool." Somewhat similarly, Wikipedia describes the bolo as full-tang knife characterized by a single edge blade that curves and widens toward the tip, primarily intended for agricultural and bushcraft use, but often also suitable for combat and even incorporation into formal martial arts systems.
en.wikipedia.org/wiki/Bolo_knife
The Para Bellum eschews the traditional horn or hardwood grip in favor of the typical ZT leather-wrapped aluminum grip scales, and throws in a nice acid washed finish for flavor.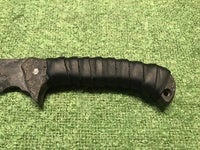 Full Disclosure
I paid full price up front for this knife. ZT has yet to offer me a sponsorship deal.
Initial Impressions
I had pretty high expectations for this knife. It arrived securely packaged a couple of weeks ahead of schedule. So far, so good.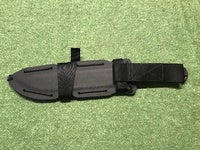 As advertised, the knife was dark gray on slightly darker gray. The blade had that trademark ZT splotched look of a random acid rinse, and the darkened grip scales had been faithfully hammered and scratched up a bit. The dark gray leather grip wrap had the look of post-apocalyptic improvisation. It looked pretty convincing as the cobbled-together companion of a world-weary survivor on the crumbling edge of a long collapsed civilization.
Of course, closer inspection revealed the state-of-the-art high tech craftsmanship built into every aspect of this knife. From the perfect fit of the scales to the tang and the ultra-tight leather grip wrap, to the laser-straight perfectly symmetrical mirror flat saber grind, the piece was CNC perfect. No gaps. Nothing loose. Clinical precision. Ready for war.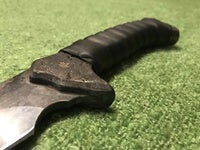 In short, initial dry handling revealed a very pleasing package that far exceeded my unreasonably high expectations.
Statistics
Blade Length: 12"
Handle Length: 6"
Overall Length: 18"
Blade Width at Widest Point: 1 7/8"
Blade Width at Narrowest Point: 1 3/8"
Thickness: 0.2"
Point of Balance: 7/8" from the guard
Weight of Knife: 1lb 7.6oz
Weight with Sheath: 2lbs 2.4oz
Components
The knife is made and assembled in Missoula, Montana, USA. ZT does not identify the source of the materials they use. Though I'm no expert, judging by the uniformity and symmetry of this particular knife, the limited product line ZT offers, and the price point, I suspect this is a CNC produced, hand finished and sharpened piece.
The Blade
I would generally describe the knife as a large recurved drop point with a true full tang.
The steel is 5160. Based on their reputation and the numerous internet videos of ZT blades surviving grotesque abuse, I fully trust the heat treat/temper. ZT claims it to be heat treated to yield a 55 Rockwell hardness.
The knife arrived with a blade that was hair-shaving sharp along its entire length. It has a high saber grind with an easily maintained apple seed secondary bevel. ZT claims the bevel to be about 19 degrees. I lack the tools to check any of this, but it seems about right.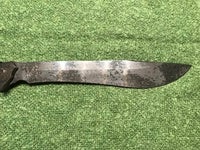 The 4 5/8" false edge is blunt for most of its length, tapering to the tip. The last 1/2" or so is almost paper cutting sharp, and supports a reasonably robust tip that is quite sharp and suited to penetrating resistant materials. This geometry will also accommodate future sharpening of the blade to the tip.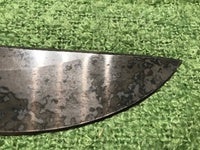 The blade belly is modest both in width and length, and the recurve is slight. That and the high saber grind make for a blade much lighter than its profile first suggests.
The plunge line is a very precise compound curve that is perfectly symmetrical from one side of the blade to the other.
The blade features a shallow choil with a precision compound curve that is bisected by the elegantly curved plunge line. While the choil is large enough to accommodate the first finger and the guard is shaped to comfortably function as a sub-hilt, the choil is not really deep enough to be functional as anything beyond a visual anchor to the recurve and as a sharpening choil. Also, with the blade being shaving sharp right to the choil, choking up on the blade is not recommended.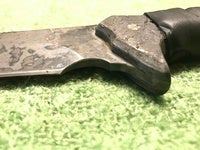 I went with the acid washed finish mostly because it is what ZT is known for, and all the cool kids seem to like it. Also, ZT claims it offers some minor protection against rust. Word on the street is that you can order the blade with a satin finish.
It also has the ZT makers mark logo.
The Handle
Overall, the grip is very comfortable and fits the hand securely.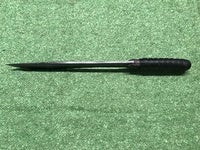 The fine-grain leather grip is supple to the touch with a pleasing surface texture. It still has that wonderful "new leather" smell. The leather grips the hand with confidence. The rounded rectangular cross-section intuitively communicates the blade's location and orientation in space. For a zombie themed post-apocalyptic piece, the leather wrap is downright luxurious.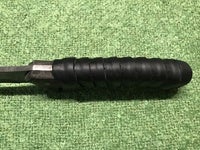 To my hand, the handle feels like it is about an inch too long overall.
The hilt, with its generous length and girth clad in T-6 aluminum scales, is significantly heavier than a more traditional design with wood or micarta scales. I do not know whether ZT skeletonized the full tang, but it doesn't feel like they did. It doesn't feel overly heavy or anything, but it pulls the point of balance way back.
Despite its shape, proportions, and nearly one and-a-half pound weight, this knife is almost neutral in the hand, with a very fast and precise blade presence. It maneuvers much more like a fighting knife than a brush chopper.
The Guard
The guard has a pleasing overall shape with comfortably rounded edges and an appropriate size and shape to ensure the user's had doesn't slip up onto the blade. It fits the overall aesthetic of the knife without being too gimmicky.
As previously mentioned, while the guard is shaped in a way that permits it to be used as a sub-hilt, the choil is not well suited for fingering.
The Pommel
There is no formal pommel or butt-cap, but the aluminum-clad full tang protrudes from the leather wrap in a small bird head shape complete with a lanyard hole. It is a subtle touch that nicely finishes the graceful curves that define the knife's attractive profile.
The Scabbard
This knife came with the standard kydex sheath. It is very effective, holds the knife very securely and safely, and is consistent with the overall theme. However, it is just not attractive. At all.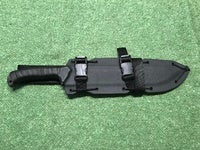 Like many riveted kydex sheaths, this one is overly bulky and clunky. The nylon belt hanger and leg attachment belt are about as elegant as zip ties and duct tape. It smacks of mall ninja tacti-cool nonsense.
Don't get me wrong - I'm not complaining. It is really nice to have a sheath, especially at this price point. Just be warned; it makes a terrible first impression.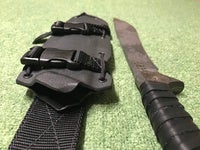 ZT used to offer a leather sheath as an add-on. The maker has apparently gone out on her own, but is still endorsed by ZT. Imho, the leather sheath she offers for the Para Bellum looks fantastic while preserving the overall theme. It is priced very very reasonably, too. Unfortunately, one of the big features of the Para Bellum is how much value ZT offers for the money. With a price approaching half the cost of the knife, the leather sheath is a tough sell in the budget market.
www.warlanderleather.com/zombie-tools-sheaths
Handling Characteristics
The knife maintains some forward presence, making it a useful cutting and chopping tool. Indeed, various online videos show this model being used to chop and split wood and the like very effectively. Yet it is also a suitably large and reasonably fast cut and thrust blade.
It is not as superb in trapping, maneuvering, and cutting as a dedicated fighting knife of equal size. However, it can earn its keep as a useful reliable blade for numerous mundane chores during the 99.9% of the time the owner is not engaged in a knife fight. And it would be quite handy in a scrap.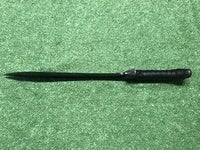 For the modern world, I think the Para Bellum strikes an impressive balance.
Conclusions
Overall, this is a very nice knife. It is not particularly cheap, but it is inexpensive enough that you need not feel guilty taking out into the wilderness to use, and possibly damage. It embraces the zombie theme, but stays within adult bounds. It is very high quality for its price point. It has it where it counts, and is a very decent knife to keep in the truck or backpack.
Pros
- Very reasonable price for its quality
- Excellent craftsmanship, construction, ergonomics, fit and finish.
- Excellent materials.
- Legendary durability and reliability
- Comes sharp with a nice cutting edge geometry
- Comes with a functional sheath
- Sweet leather sheath is available
- Very reasonable price (yes, again)
Cons
- The style isn't for everyone, and is not for showing off to snooty neighbors or in-laws
- The gray on gray color scheme is kinda the point, but isn't all that visually appealing
- The sheath is basic but not terrible
The Bottom Line
Buy a couple before they are discontinued.
No one is ever going to sell you theirs.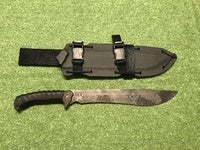 Thank you for taking the time to read this.