Post by Ifrit on Mar 12, 2019 5:45:05 GMT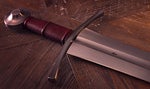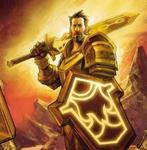 Sure thing, I can throw out a few I know of, a lot of armorers deal through facebook and don't have websites, so they can actually be really difficult to find by google searches or anything than word of mouth.
As with anything custom expect about a years wait time.

For historical stuff:
AD1410 is great for historical custom gambesons and arming garments, but he's not cheap.

Tom Biliter makes some amazing mail, but it's not cheap, labor intensive as heck.

Really good brigandines from the UK, also makes some armor.

And then we have more SCA and that style of armor, often you can buy fairly priced stuff from ukranian armorers, they're good at what they are doing, just aren't fully historical at all, it's cheaper for a reason but fully functional for fighting, you don't want to use a $20k armor for SCA anyway. (Yes, properly made, fully historical armors really do cost that, and more.)
Armorysmith I have personal experience with, communication can be a bit slow (About 2 weeks between emails) but the products are good and fit is very nice, at least on my items.
They have some very fairly priced items as well as more expensive ones, these guys participate in BOTN and similar events themselves so you can trust that it works.
Do what Christain said and do your homework before you order anything, I thought I had when I ordered, but during the year of waiting I learned a lot more and wish I had gone more historical, I mixed and matched a bit with my timeframes.
You have to think of the clothes and armor you wear as one big article of clothing that has to work together, everything matters.
If your clothing is badly fit it does not matter how well the armor is fit, if the armor is badly fit it does not matter how well the clothes fit.
Plan your entire getup from the ground up, ALWAYS start with soft kit, you -need- it to take measurements for your actual armor, and you must know where your arming points are, you should also learn to put in your own arming points, because you will possibly have to for perfect fit.

then for armor you work legs up or breastplate and out.
Arms always have to be made to fit with whatever torso armor you plan to use so it is imperative to have it made first or at the same time, I bought arms first when I should not have, learned this later.
And lastly I'm shamelessly gonna put in my own video of the pieces I got from Armorysmith, it's a nice kit but the gauntlets are about 80 years earlier than the arm harness, and I kind of regret that. Gambeson is from medieval-market, I ordered mine without a closure and made my own.

Holy hell that looks dope. I'm mad jealous
Do they restrict movement a lot? Is it easy enough to perform good cutting mechanics?