Post by admin on Aug 29, 2017 8:44:31 GMT
This will need some major refinement, because the numbers I came up with were not really all that well thought out and were just to give some rough guidelines, so feeback here would be invaluable,
Here is a map of Eletreues with all the major active human civilizations marked on it.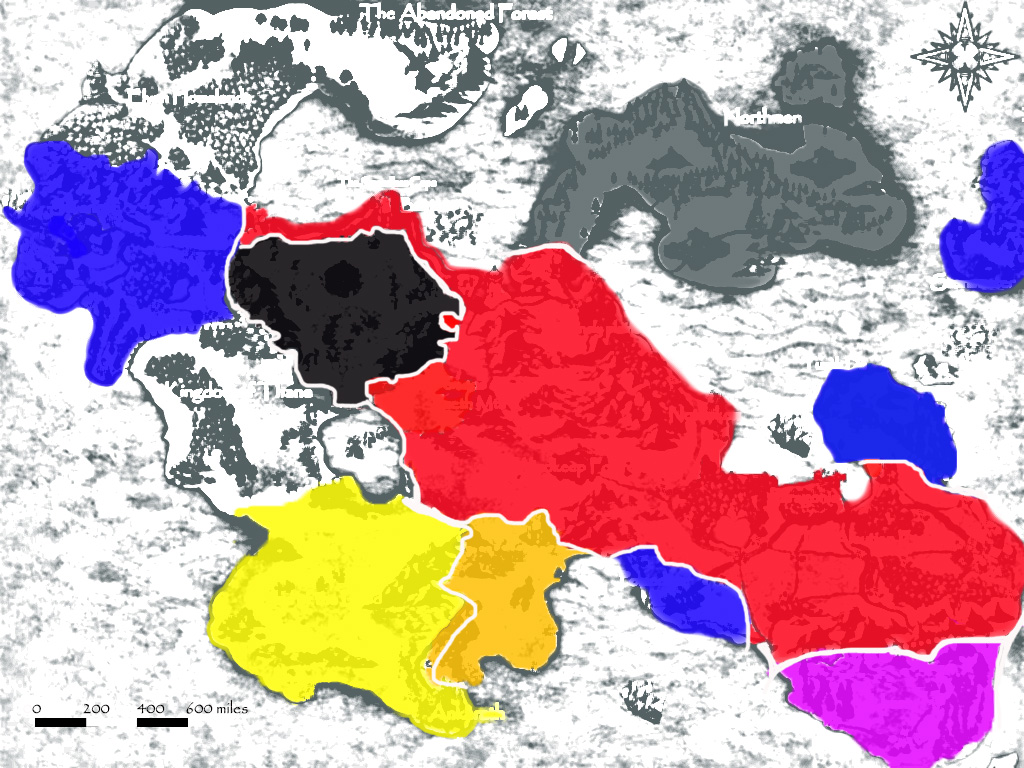 The Empire is in red, the Suzerain states in blue, Escia is orange, Land of the Dead is Yellow, Lhasa purple and the Northmen grey (and badlands, black).
Now here are my rough first draft notes of army and population sizes..
AELUTIAN EMPIRE
Population: Approx 35 million souls
Military: 6 Legions of 10,000 highly trained, professional soldiers, knights and skirmishers per legion (total army size approx 60,000). Able to double the size of the military with militias and reservists (120,000).
TUATH DE
Population: Approx 1 million half elves, 50,000 halflings.
Military: Standing militia of 10,000 semi to highly trained archers, skirmishers and foot-soldiers. 300 members of the elite and distinguished Centaur VIII Cavalry Brigade with a reservist force in their ancestral lands of another 500 in training.
STORMWATER
Population: Approx 1 million
Military: Standing Militia "the River Guard" of 10,000 experienced and battle hardened guardians plus 100 Imperial Legionaries stationed at the Lochton embassy, 1 Galleass, 2 War Galley and 6 scout ships
ESCIA
Population: Approx 5 million, mostly concentrated along the fertile arterial river and the cities of ocean hold and the capital, which next to Lhasa, is one of the most densely populated cities on Eletreus. 45,000 Lhasian immigrants.
Military: 30 units of 1,000 battle hardened men and women born into the warrior caste.
BADLANDS
Population: No one really knows, and it changes continually, but approx 100,000 'residents'
Military: Approx 3,000 heavily armed and armored Hobgoblin warriors. Numerous mercenary groups and heavily armed militias. A Legion of 10,000 Imperial troops stationed at the fortress town of Batrion.
NORTHMEN
Population: Approx 650,000 Northmen with 10,000 slaves of various surrounding nations.
Military: Between 5,000-10,000 warriors at any given time.
LHASA
Population: 37 million
Military: 2,000 soldiers in each province (14,000 total). Strong, but mostly private navy protecting the Lhasian treasure ships.
SILVERLEAF
Population: Approx 3 million humans, 500,000 half elves and 250,00 pure blood high elves.
Military: Approx 20,000 soldiers and reservists with a particular emphasis on archers. Strong defensive navy.
LAND OF THE DEAD
Population: Approx 2 million living citizens and 40 million undead..
Military: 5,000 human soldiers. 150,000 'terracotta' warriors (animated skeletons cased in a flexible terracotta like coating that serves as armor and covers their bones).
---
Eletreus is roughly the size of continental Europe, total population around 85 million people.. Which countries do you guys feel are overpopulated or underpopulated - and how do you feel that the armies compare to the size of the total populations.
It definitely needs to be more refined, so let me know what you guys think and we can try to get it as realistic as possible.