Post by admin on Jul 19, 2017 10:30:20 GMT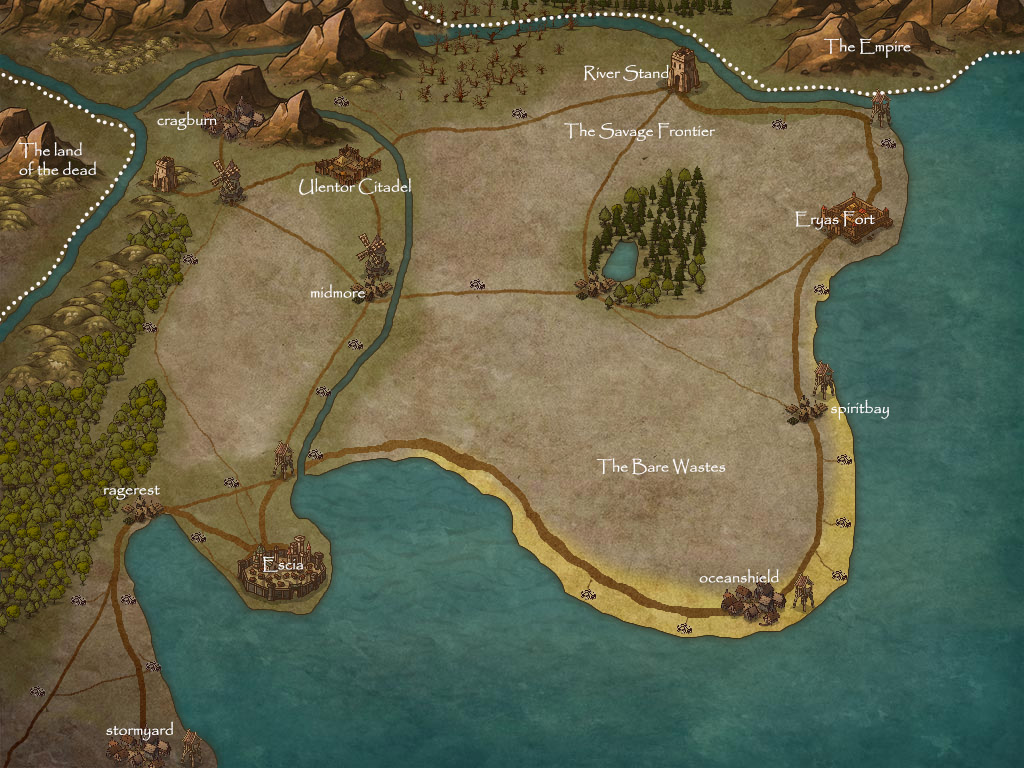 OVERVIEW: A militant society fundamentally opposed to the Empire and any outside forces that threaten their sovereignty, the people of Escia have a reputation for stubbornness, bravery and indifference in the face of death - thanks in part to the warrior monk philosophy imported from Lhasa several hundred years ago. Physically, the people of Escia are related to the peoples of the Lands of the Dead, with dark skin, hair and eyes but slightly shorter and stockier of build. Due to good relations with Lhasa, it has a large Lhasian community and many people of mixed ancestry.
NAMED AREAS
STORMYARD: Named thusly due to the frequent gale force winds that assault it from across the seas, it is the second largest city in Escia and has strong trade ties to the Land of the Dead and the entire West coast up to Silverleaf.
RAGEREST: Primary supply for Lumber and a nexus point for grain crops in the surrounding region.
ESCIA: The walled capital, with walls almost as impressive as their bitter rivals in Paragonia - the city of Escia is home to the Royal Escian Military Acadamy, and the Grand Temple of the West in the Lhasian monastic tradition and 'Lhasa town' which is home to some 15,000 Lhasian immigrants. Total population, approx 250,000.
MIDMORE: Large town bordering on a city. Center of the bread basket in Escia with barges bringing supplies from the town and surrounding villages, hamlets and farmsteads.
ULENTOR CITADEL: Positioned to allow garrisoned troops to respond to threats from either the East or the West. Equal size and exact same appearance as its twin, the Eryas Fort.
ERYAS FORT: Positioned to defend against invaders from the land and the sea and has the largest deployment of Naval forces and is physically an identical copy of Ulentor Citadel (both were made at the same time).
CRAGBURN: A large town/small city that serves as the nexus point for several nearby mining towns extracting average quality iron ore and rich gold deposits. As the quality of the steel in Escia is not particularly high, most of their steel for making weapons is imported from Lhasa.
OCEANSHIELD: Basically a naval base with a small city that grew up along side it, the primary industry is fishing, diving for pearls and copper and Opal mining (the Opal being found exclusively to Escia and highly valued by their nobility).
SPIRITBAY: Another seaside town, though slightly more vulnerable to coastal raids that Oceanshield or Eryas Fort. The people of Spiritbay are well known for their stoic nature and many of Escias champions, both past and present, hail from this small but infamous town.
THE BARE WASTES: A trade wind desert, the land of the Bare Wastes is dry and solid, almost like concrete and melted glass. The land and climate is so harsh that plant and animal life has a hard time making a foothold here and the only human inhabitants are small tribes of Dervishes who have eked out a miserable existence here since time immemorial.
THE SAVAGE FRONTIER: Another band of desert with a single road winding its way to the capital, the Savage frontier is only slightly more hospitable to life than the Bare Wastes and contains many an unmarked grave of Imperial soldiers who attempted to invade the Kingdom.
RIVERSTAND: Riverstand is dominated by a massive fortified tower that has clear line of sight for miles around the only ford in the river (only cross-able at low tide) and has been and continues to be the scene of countless battles between the Escian Army and Imperial Forces. To the West in impassible swampland. Despite being besieged more than a dozen times, the tower has never fallen. These days it is used as a forward base as the Escians have driven the Imperial forces far from the border and continue to gather momentum, pushing them back towards Windkeep Fortress to the North East..
ADDITIONAL NOTES ON ESCIAN CULTURE
While warlike to their core, the Escian gentry are also expected to be highly literate and are famous for 'battle poems' which are short, Haiku like poems written by a warrior when he does not expect to come back from a given battle (indeed, nothing is more frightening on the field of battle than an Escian warrior who has made peace with death - coming back after having compiled a battle poem is a disgrace).
Nothing is more important to an Escian than his sense of honor and a man who breaks a promise loses all social standing. Marriage is for life, though a wealthy man may take several wives if he can afford to keep them, and their society is highly heirarical, with various levels of Royalty, Nobility, Gentry and professional classes in a specialized caste system.
ESCIAN WARRIORS ON THE SAVAGE FRONTIER HOLD A POSITION