Post by admin on Jul 17, 2017 7:08:49 GMT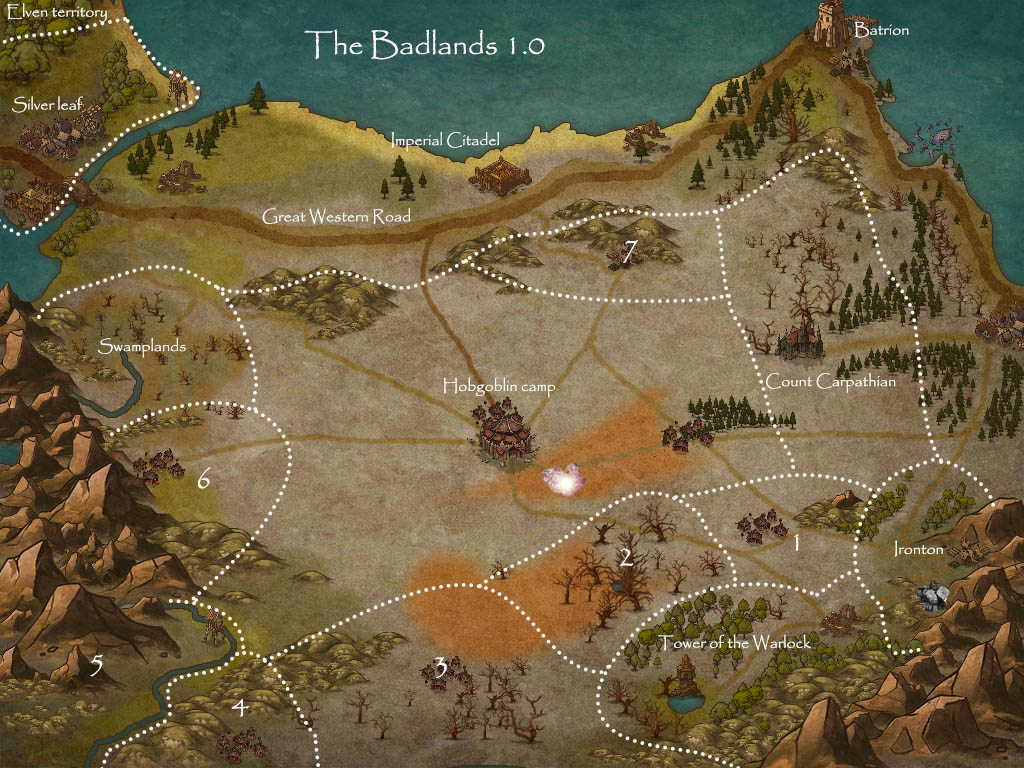 OVERVIEW: The Badlands is in a state of constant flux as various factions compete and war to control the last known deposit of 'Unobtanium' (marked as the shining lump of Meteoric rock on the map near the middle).
In the center by the Unobtanium deposit is the 'Arena of Doom' and the Hobgoblin Camp. The Hobgoblins currently control the deposit and have for several decades now - but their dominance is not assured to continue and they face serious challenges to their authority.
NAMED AREAS
SILVERLEAF: The Easternmost town has a heavily fortified bridge and war barges to protect against incursions from the Badlands. They work closely with Imperial forces to achieve this and have been known to conduct joint raiding operations in the Badlands when attacks along the Great Western road threaten to close this important trade route.
GREAT WESTERN ROAD: Runs from Silverleaf to the Imperial Capital and is VERY well patrolled, both along the coast and the road itself - with Imperial troops stationed at the Citadel and Batrion.
BATRION: In addition to providing protection to travelers and merchants on the road, in addition to a roadside fortress, Batrion is also the home of one of the most talented swordsmiths in the Empire and a large 'Ulfbert' style workshop where the majority of the Imperial Gladius are made.
COUNT CARPATHIAN: Female Vampire Count and her retainers control these dark and brooding lands. Her troops and her ladyship largely keep to themselves and receive few visiors, but she is believed to hunt isolated travelers on dark and moonless nights, though no-one has ever lived to provide eyewitness accounts..
TOWER OF THE WARLOCK: The Warlock is also a maker of magical weapons, specializing in wickedly evil enchanted daggers. Like Count Carpathian, he receives few visitors (only one unknown merchant is trusted or brave enough to distribute his creations) but unlike her, is believed to never leaves his tower. What the Warlock looks like is unknown, but there are rumors that he is half Drow and has been there for over 200 years..
IRONTON: A freetown of ruffians, wanderers, fugitives and other colorful characters, Ironton gets its name from the large deposit of pure iron ore that gives it its name and runs a successful mining operation there. The town is heavily defended and has resisted any and all attempts to take it over by the Empire and would be raiders from the Badlands.
HOBGOBLIN CAMP AND THE ARENA OF DOOM: Here the Hobgoblin King rules with an iron fist - running a major mining operation on the deposits of Unobtanium he controls utilizing goblin slave labor (and giant ants). Here is also to be found the 'Arena of Doom' where disputes are settled in blood from all over the Badlands (and even beyond) under the watchful and insane bloodshot eye of the mad demi-god of violence who settled there millenia ago and whose evolution is guided and tamed by his wicked and cruel Priesthood (rumors state that this cult actually CREATED this evil god from their dark and violent thoughts). It is said that every fight in the arena summons the demi-god to material form on his throne of skulls and his mericless laugh echoes through the Badlands everytime someone is mortally wounded..
The evil demi-god has one extra talent. When he is not watching men being ripped limb from limb in the arena, he forges cursed swords..
SWAMPLANDS: No-one goes in here. Or if they do, they don't come back.. There is SOMETHING nasty in the swamp. Some say that it has no form but takes the shape of your worst nightmare. Don't go in here. Seriously..
UNNAMED AREAS
These areas are up to you guys. Pick a suitable location for the Centipede riders, the Wild Barbarian tribes, and everything else you want to put in the Badlands to make it, well, Bad..
Here are some ideas:
1: Tribal settlement - maybe barbarian, maybe orcs or rival hobgoblins. Has access to a deposit of average to poor grade iron ore.
2: A haunted wood or bogland? Home of some terrible monster(s). There is something here, probably a monster or nest of monsters, and it is not going to be nice...
3: Another tribal settlement - maybe primitive humans.
4: Probably Orcs or Goblins that are not big enough to present a real challenge and keep to themselves as much as possible. Maybe a Half Orc town or town of mutants, freaks and other untouchables..
5: Part of a large territory - where some type of mounted raiders come from.
6: Probably stubborn Orcs who want to take over from the Hobgoblins..
7: Likely some 'grey area' town in between the Empire and the Badlands. Could be the place where the Empire and the Hobgoblins meet to buy their Unobtanium.. Could be a town that ends up getting rebuilt a lot.