Post by admin on Jul 17, 2017 7:08:03 GMT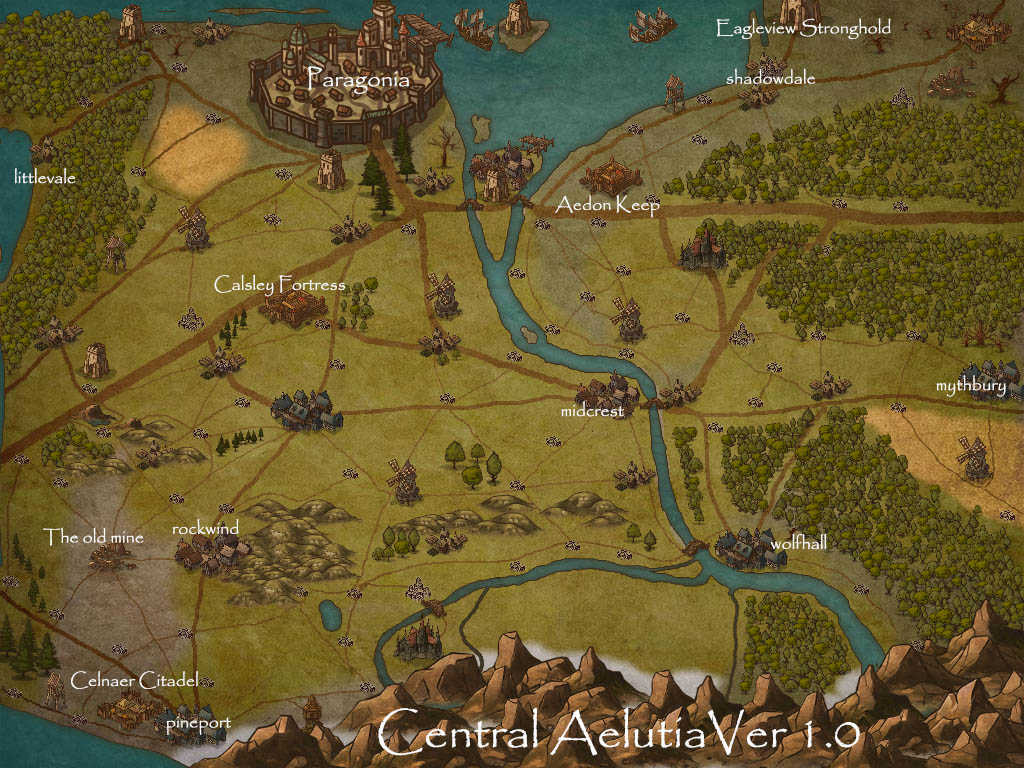 OVERVIEW: The heart and origin of the Aeultian Empire, central Aelutia is dominated by rich, fertile lands, mineral deposits and glorious town and cities, though none are more glorious than the Capital, Paragonia. With a huge military presence, the lands these days are peaceful and untroubled.
NAMED AREAS
THE OLD MINE: Now ruined, the old mine was the original source of the Empires early supply of Unobtanium.
ROCKWIND: Once the major trading town for Unobtanium, it was saved once the supply ran out when huge gold deposits were found in the nearby hills.
CELNAER CASTLE: Naval Seaport and South Western road bastion.
PINEPORT: Primary Southern coastal city-port, has strong trade relations with Lhasa and a large Lhasian community.
LITTLEVALE: Land of the Halflings.
MIDCREST: River city that serves as the major marketplace for riverfish and wheat processing, with barges going north and south along the river.
CALSLEY FORTRESS: Major fortress along the great western road and home to the great Imperial Military Academy.
PARAGONIA: The great walled capital of the Empire, all roads lead to Paragonia.. Massive coastal city home to the Imperial Palace, the Temple of the All Father, and the great market which sells goods from all over the continent. Population approx 500,000 souls.. The walls are over 300ft high, 60 feet thick and are rimmed by 200 defensive towers it has never been impregnated in its 1500 year history (it was founded as a port town some 500 years before the Empire was founded).
AEDON KEEP: In something of a state of disrepair, was originally a bastion against the Tuath De.
SHADOWDALE: Despite its sinister name, Shadowdale is a major hub town for the lands immediately North East of the capital.
EAGLEVIEW STRONGHOLD: Again, originally used to defend against the Tuath De, it is now primarily used to protect against Northman and Pirate raiders.
MYTHBURY: Nexus point for the regions production of wheat crops.
WOLFHALL: Primary supplier of the best quality lumber used to make the Imperial navy, it was named Wolfhall when the Duke contracted Lycanthropy 300 years ago.