Post by Bushido on Apr 1, 2016 22:50:49 GMT
Introduction:
I've been a fan of Ronin Katana for a long while, ever since the "Good old days" on the forum when I first read Marc Kaden Ridgeways review of a Ronin Elite have I wanted one for myself. Unfortunately, being a student on a fixed low income doesn't really allow for spontaneous sword shopping extravaganzas so the dream of an Elite had to remain a dream... Now though, fresh out of school, got a job with a decent pay and all of it just so happens to coincide with the annual Ronin Scratch and Dent sale... Too good of an opportunity to pass up, if I were a superstitious man I would almost call it fate! And since I've been without an Elite for so long, I thought it best to properly compensate by getting three of them! I almost got four since i had trouble choosing between the designs and since the prices are oh so very tempting, but at the last moment I managed to regain some amount of sense and I settled on two fully dressed Elites and a bare blade. So here is the first of my three Ronin Elite reviews, featuring the bare blade! I hope you'll like it!
Historical overview:
The Japanese Katana is off course well known in the sword society. Not only because it was the weapon of the noble Samurai, but also because it embodies the pinnacle of metallurgical perfection and craftsmanship. It is a case in point when it comes to making the best use of whatever means you have available, and I'll tell you why:
Japan was poor when it came to natural resources such as iron ore, so instead the smiths turned to iron sand for their sword materials. Iron sand however has a very low carbon content and has to be smelted in a large coal fired furnace known as Tatara in order to imbue it with enough carbon to make it into a usable sword steel. The fire in these furnaces raged for days, and the master smelter had to stay awake for the entire procedure to oversee the process and add fuel and iron sand to the flame until at last is formed in the bottom of the furnace a large lump of steel known as Tamahagane. At this stage the large lump of steel it has a varying and unevenly distributed carbon content, and to solve this problem the smiths had to test small pieces of steel one by one, parting it up into small piles of steel with little or more carbon content until finally they can mix enough pieces of steel and forge it into a billet with a suitable overall carbon content. The billet is then drawn out, folded and forge welded back together over and over until the carbon has been more or less evenly distributed throughout the billet. Only then have you achieved a piece of steel which is actually suited to be forged into a sword. But that's not all! Instead of making just one uniform billet into a sword, some smiths would repeat that process of handpicking pieces of steel all over again and forge several more billets out of pieces of steel with either higher or lower carbon content than the first one to form uniform billets of tailored carbon content to be used in complex lamination techniques. That way they could make a blade with more or less carbon in different areas of the blade to best suit that individual areas intended use (IE more carbon in the edge to make it harder and have better edge retaining capabilities, and less carbon in the sword core to make it more flexible and less prone to breaking). It's no wonder katanas are surrounded by a certain kind of mysticism, considering how much work goes into the process of making one. The process I have just described only covers the procuring of the base materials necessary. After that comes the creation of the sword itself...
Suffice to say the creation of a katana from beginning to end is a very long and complicated process demanding both skill, experience and tenacity from both the master smelter, the swordsmith and the polisher and they all had to lay their very heart and sould into every single sword made. The final result was nothing short of astonishing considering the crap materials they started out with... They really took whatever they had at hand, and made the very best they could out of it.
The Ronin Katana Elite line utilizes modern materials rather than traditional iron sand, but the forging is made with that same traditional forge lamination method the japanese invented to create swords with exactly the right properties where they are needed. The lamination process used by Ronin Katana is known as Soshu Kitae, or seven panel steel lamination, and was invented and perfected by the legendary swordsmith Masamune, who combined seven pieces of steel with varying carbon content into a single sword in order to tailor the properties of various parts of the blade to best suit its intended use. The core of the swords is made from softer and more flexible steel with lower carbon content in order to absorb shocks and maintain flexibility to prevent the sword from breaking under stress, while the edge, sides and back of the blade is made from harder steel with higher carbon cointent in order to add durability and keep a sharp hard edge. Like I said, a great example of doing the best with what you have...
Ronin Katanas are forged in the Doutanuki style, which means they are a bit wider and thicker and have more niku (a meatier edge) compared to other katana, making them into brutal heavy duty performance cleavers with lots of cutting presence. They were made for one thing and one thing only: Battle toughness. They were intended to be sturdy, sharp and reliable, and meant survive the harsh conditions of ongoing fighting for as long as possible and continue to perform during the entire battle no matter what. They are literally like the Juggernaut of katana, once they build momentum they stop at nothing and just cleave straight through the target!
I like to think of the Ronin Elite line as a modern incarnation of a historical mindset of traditional swordsmiths. The materials and tools may be modern, but the mentality remains true to tradition. They utilize modern means to manufacture traditional complex lamination techniques and forge traditionally tough doutanuki style swords in order to provide the sword community with affordable pieces of quality equipment rich in both heritage and performance. They may not be a 100% historically accurate, as i said they use modern materials and tools, they have two mekugi pins instead of one as would have been historically accurate... But these are not made to be exact historical replicas, they are made to be performance swords. And modern steel and double mekugi pins for added safety just add to that! And with that in mind I still think they make a pretty good job of using a traditional mindset in a modern industry. You get both a piece of history and a piece of modern performance! How they can manufacture such complex swords while retaining affordability is impressive to say the least if you ask me, and then consider the fact that they sell these scratched and dented pieces at half of that already affordable price... The value for money should by all logic be simply astonishing, am I right? Well, that's what we're here to find out!

Full Disclosure:
I bought this sword at the annual Ronin Katana Scratch and Dent sale at half of the normal retail price expecting it to be somewhat flawed. I paid for it using my own money, and I am in no way affiliated with the Ronin Katana sword company. I have however bought a scratch and dent Ronin Dojo Pro at a previous S&D sale and I had a very good buying experience that time so I'd be lying if i said I didn't have high hopes for this sword as well. I like my Dojo Pro katana very much, and I have read a lot of positive Elite reviews which may have raised my expectations slightly. But that's about as biased as this review can get, I get no personal gain from writing it but I do it simply because I want to show you guys what you can expect when buying from the Ronin S&D sale!
Enough talk, here we go!
Initial Impressions:
I dunno if it is Daniel or Chris who is actually hands on responsible for keeping things running and handling orders over at Ronin Katana nowadays, but whoever handled mine has my deepest gratitude for doing me a huge personal favor without me even asking for it and without any obligation to do so. Let's just say it has to do with me being an overseas buyer and leave it at that, but that was a very positive initial impression right there I tell ya!
The swords were shipped to me in a large brown box, and inside of that box were three smaller boxes. Contained in these smaller boxes, suspended in U-shaped styrofoam pieces, were the swords, each wrapped in a sword bag. The smaller boxes had quite a bit of wiggle room inside the larger box and could easily slide back and forth in there, so perhaps there could have been a bit more packing material to fill the void just to be on the safe side. It may however be that the swedish customs department is responsible for the lack of extra packing material since they had opened the package upon arrival, but the box didn't look like it had taken a lot of abuse anyhow so in the end it doesn't really matter. Everything got here safe and sound. Just thought I'd mention it.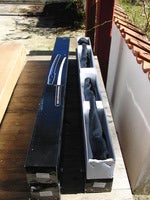 I quickly opened the big box, then the small box, took the sword out of the styrofoam suspenders and unwrapped it from the sword bag. Shiny lacquer and light colored wood first caught my attention and I simply thought to myself: "Mmm, shiny...".
At this moment I realised that I had chosen a dull, grey, dirty wooden table for my unwrapping, and that simply won't do. I quickly fetched a red felt blanket to provide a soft resting place and a nicer background for my swords, and then the unwrapping could recommence.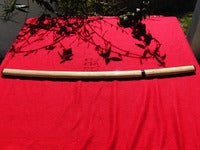 I closely inspected the shirasaya, and one of the first things I noticed was that there was a slight gap between the saya and the tsuka. Maybe one of the reasons why this sword was rejected and placed in the Scratch and Dent section? I also noticed some messy spots of either glue or lacquer around the koiguchi (the horn piece around the mouth of the Saya), but maybe that too contributed to the rejection. Both are very minor and hardly som,ething that is unexpected from a scratch and dent reject.
I unsheathed the sword, wiped the characteristic Ronin wax residue off and started examining the blade. Now this is what I'm talking about right there... What a blade... The Hamon is prominent and vivid, the geometric yokote is well defined, the lines are crisp, the kissaki is very well shaped (although the kissaki polish is quite rough and scratched, also grounds for the S&D label and completely within my expectations), the blade is nice and straight... I think it's absolutely beautiful. If anything, I'm surprised by how good it is. I expected something more in accordance with the scratch and dent disclaimer stating that you should expect dings, dents, light rust, small chips etc.. This is a fully functional blade. No dings, no dents, no chips, no bends, no rust... A little rough polish around the kissaki yes, and some minor cosmetical flaws on the shirasaya. That's it. And for that they take half the price off!! How amazing is that!? I'm absolutely stunned by the quality of this sword, how is this not a bargain at $200??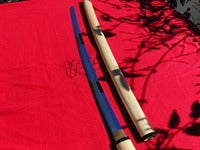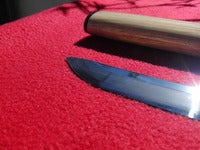 The only thing that confuses me slightly is the lack of lamination lines. This is a laminated blade, logically there should be a thin but visible line where the steels of varying carbon content meet... But on this bare blade I can't find any. This means either that I am misinformed and that lamination lines are not always clearly visible (perhaps they could be hidden in the milky area of the Hamon?), or it means that the lamination is flawed and that the side panels actually cover the harder edge steel which may impact the edge retaining capabilities of the blade... OR it means that this is not a soshu kitae laminated blade but in fact something else. A gomai laminated blade would for instance not have any lamination lines along the edge as the edge and sides are made from the same kind of steel. But as far as I know all Ronin Elite bare blades should soshu Kitae so that option seems kinda farfetched... One can only speculate... Perhaps a Ronin representative would care to comment on this? The way I see it, worst case scenario would be if the edge steel was covered up and surrounded by the softer side panel steel. But even in this worst case scenario I should end up with an edge of at least medium carbon content (1060 steel) which is still definitely usable either way, so it's not that big of a deal. All it really would mean is that the edge won't be able to retain quite as sharp an edge as it would if the edge was high carbon steel (1095 as intended), and in the event of a bad cut the edge would be more likely to roll or bend rather than chip and break. It's still a beautiful sword, and most definitely functional. But a bad lamination would probably be the main reason why this is a scratch and dent item, so that is my guess. If anyone (from Ronin) knows more about this than I do, please feel free to educate me!
Statistics and specifications:
Blade/Nagasa Length: ca 731mm
Blade/Nagasa width: 31mm at the habaki, 23mm just prior the kissaki.
Blade/Nagasa thickness: 7.5mm at the habaki, 5.5mm just prior the kissaki
Handle/Tsuka Length: ca 288mm
Overall Length: ca 1020mm (1050 with saya)
Guard/Tsuba Width: Nil.
POB (Point of Balance): ca 160mm from the tsuka.
Sori (spine curvature height): Hard to say since I haven't dissassembled the sword and can't meassure exactly from the end of the nakago, but I've made a rough estimated meassurement of about 35mm based on the location of the rear mekugi and guessing where the nakago ends inside the tsuka...
Weight: ca 1050g (not including saya).
Components:
The Blade/Nagasa
Like I've already said, the blade is fantastic and since this is a bare blade in shirasaya that's the focus of this review. Just look at it... It's prefectly straight with no bends as far as I can see, the lines are crisp and defined, the geometric yokote and kissaki are properly shaped and prominent and the hamon is beautifully sharp with a vivid wavy pattern in the Gunome style. The blade is papercutting sharp on around 2/3 of the entire length of the blade with the inner 1/3 being not quite as sharp... That area too will cut paper with a bit of technique, but it's definitely easier a bit further out from the habaki. I'll let the pictures do the talking.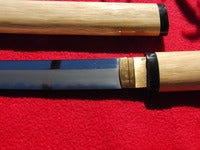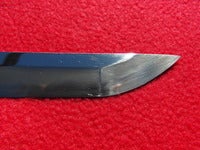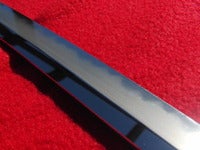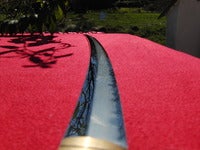 The Handle/Tsuka
The handle is a Shirasaya tsuka, it's nice and smooth with a glossy lacquer and blöack horn fittings. The fittings themselves are very nice, but the glue has splattered a bit and made some not so nice stains on the horn. A minor cosmetical flaw. The mekugi seem to be encased in the lacquer (which is why I won't dissassemble this sword for now) and protrude about a mm each on the palm sides of the tsuka. Not really enough to be felt while holding the sword as they are sanded down to a smoth edge.
The Guard/Tsuba
Does not exist.
The Pommel/Fuchi-Kashira
I don't know if it's still called that since this is a shirasaya, but I guess I'll just speak about what there is rather than what there isn't. The fittings are made out of black horn and look really nice, smooth and shiny and fits well on the tsuka with no major gaps, but on the other hand a bit of glue splatter which looks a bit so so.
The Scabbard/Saya
Shirasaya scabbard with no nicks or dings, nice and glossy lacquer (same as the tsuka) with no visible scratches, same black horn fittings as the tsuka which are well fitted, but again some glue splatter around the Koiguchi (saya mouth). The habaki fits snuggly in the saya and there is no rattle from the blade!
Handling Characteristics:
No real handling to speak of since this is a bare blade in shirasaya. The balance is probably off due to the lack of fittings, and I do not wish to have the slippery glossy tsuka slide out of my hands during a swing so there will be no test cutting either. Remember kids, safety first!
Conclusions:
Honestly, what can I say? It is my honest opinion that this blade is quite simply awesome, despite the flaws. Even if the lack of lamination lines remains a mystery and poses a potential semi serious issue, I still find that this sword is excellent value for money anbd I would recommend it to anyone looking for a project blade. I mean come on, it's a genuine laminated blade with a genuine hamon and proper geometric yokote in a very nice shirasaya for just $200! That's not only awesome, it's possitively insane! I mean even if you just want a nice shirasaya for display purposes this sword would give you good value for money, even with the cosmetical flaws that it has! And you get a fully functional Ronin Elite blade to go with that! Sure you could go for a musashi shirasaya retailing at $58 at kult of athena, but then you get a simulated hamon, no geometric yokote, no lamination, no horn end caps on the shirasaya even. Compared to that, a scratch and dent Ronin elite bare blade seems like the bargain of the centure to me! I honestly struggle for words, I mean how can they even sell something like this that cheap!? It's absolutely mental... God I love this sword...
So, to sum it up:
Pros
- Everything!! Including:
- Geometric yokote.
- Genuine complex laminated blade.
- Genuine and prominent hamon.
- Simply absolutely beautiful blade.
- Nice quality Shirasaya.
- Surprisingly few flaws for a Scratch and Dent item. I don't know of any other vendor in this business who is as self-critical when it comes to quality inspection as Ronin Katana is!
- I honestly don't think you can get better value for money anywhere. If you want a project bare blade, a Ronin S&D Elite blade is the blade to get. Even if you expect it to be flawed, I think you'll be surprised at how non-flawed it actually is.
-Everything else!
Cons
I mean sure, if I have to nitpick there are some flaws... Although I really don't feel like doing it, nitpick I mean. I knew it would have flaws when I bought it, I got it really cheap because it had flaws! And it's simply not flawed enough to motivate the sale price if you ask me! It's a bare blade for gods sake, it's supposed to be a project and you're supposed to fix it up yourself! This has no unfixable flaws what so ever so what more could you want from a project blade? But sure, there are some minor flaws. Including:
- Glue splatter around horn fittings on shirasaya.
- Lamination lines missing, but maybe that's not even a real flaw so don't take my word for it.
- Bad polish and scratch lines on the Kissaki.
- Habaki fit around the blade is so so, little bit of a gap on both sides.
- classic Ronin wax resin inside the saya that sticks to the blade everytime you sheath it... Seriously guys at Ronin, what is that and why? Wouldn't sword oil be way better?
The Bottom Line:

I would recommend this sword to anyone and everyone who's looking for a nice project blade, or even just as a shirasaya sword for display purposes. This is about as genuine as it gets (unless you opt for a true Nihontou), what with the complex traditional lamination forging, clay hardening, genuine geometry and everything. And you get it for a ridiculously low price! Outstanding value for money, and surprisingly few flaws for a scratch and dent item! What's there not to like about this!? I bought this sword expecting flaws, but with high hopes both from reading positive S&D reviews and from personal previous experience with the S&D sale. And it turned out to be everything I had hoped for! I simply cannot recommend the Ronin Katana S&D sale enough, I honestly don't think you'll find better value for moiney anywhere no matter if you buy an Elite, a bare blade, a Dojo Pro or an entry level RK. Ronin Katana will deliver something that goes above and beyond your expectations, that's just how tough they are when it comes to quality control. I'm quite certain of it.
So there you have it guys, I hope you enjoyed this review! Stay tuned for part two and three where I thoroughly go through my other two fully Dressed Elites! Thanks for reading, and be sure to let me know if I've missed anything! In that case I'll make sure to update it in order to include every piece of information that is of interest to you!
Regards,
Anton.