Post by themagicalmark on Jan 13, 2016 3:26:25 GMT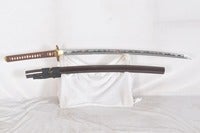 Intro:
So last November i was hunting around for a good Katana for under $300 USD or so. I remember watched a video by Youtube channel Vscauce3 which took me to the
Swords of Northsire website
.
Swords of Northshire is run by a merchant named Bryce who handles all the logistics to my knowledge. They communicate out of Texas with select forges in Longquan China. They also sell blades from other known forges such as Ten Ryu.
After browsing the site for some days i took their 'Custom Sword' option which ill be reviewing.
Historical Overview
As you probably know the methods for smithing Japanese blades takes a lot of work and time. Good Tamahagane can be extremely pricey however, so i opted for the 1060 carbon steel option which is completely non traditional of course. The alloy fittings you can choose are a mix of historical and non historical designs, i just went with what i liked without too much regard for accuracy, but its definitely an option.
Disclosure
This was my first sword purchase ever so i'm probably not as experienced at knowing good balance on a blade and such, but I have a good understanding of ideal craftsmanship from reading as well as watching videos. I may have made a terrible mistake buying from SoN but it is what it is.
Also i have no connection with the merchant or forges and all of this is my own conclusions on the sword I purchased.
Also should be mentioned that this is a review from someone who doesn't know too much about swords with a very critical eye so this'll be a learning experience for everyone.
Initial Impressions
Right on arrival i could tell this thing was packed pretty solidly. What you can expect is a solid styrofoam block completely wrapped in packing tape with a cutout in the middle that fit the blade. My only complaint is that not knowing where everything is positioned inside you run the risk of cutting into the handle wrap or some other part when you try to open it, but that's more of a nitpick. Its packaged very well.
The sword with the Saya (scabbard) came in a layer of plastic. If you get a sword bag with the purchase it will be inside of that as well.
Unsheathing the sword the first time the blade was pretty generously coated in grease. After removing that i could see the blades mirrored finish which i brought out with a museum wax polish. I noted a couple scratches on the blade but they were fairly minor. Checking the fit of all the fittings everything was pretty much perfect. The leather wrap was super tight and really satisfying
Ordering this was very easy, the website is easily navigated and everything is well explained save for a few questions i had about the forging process, i was very pleasantly surprised with the customer service.
The vendor replied to my emails within the hour i sent them with very helpful replies, and they kept me updated with other steps in the ordering process. Once the sword was done they sent me several pictures of it (which I've attached) so i could confirm everything was to my satisfaction.
Going with the custom option i had to wait about a month for the sword to actually be made so it'll take a bit to get there from overseas. Surprisingly i got free shipping which is normally pretty pricey for something like this, as i understand.
Before we get into it ill list some of the options you can choose from when getting a custom Katana from this site.
-Blade material.
-Handle wrap colors and materials.
-Tsuaba design.
-Fitting design.
-Saya colors.
-Tempering options. (clay tempering)
-False hamon.
-Engraving words or designs.
Specifications
(from their website, i should probably get around to doing this myself.)
Blade length / 28 inches.
Handle length / 11 inches.
Overall Length / 39.2 inches.
Tsuba width / (varies) 3 inches.
POB. / 3.5 inches from handle.
Weight / 3 pounds.
Components

Blade
: Nice curved Katana blade, I ordered mine with a fuller and a fake hamon line, which doesn't look that great but its passable. It rubs off with little effort so i'm glad the feature had no additional cost. The blade itself is very well made, very ridged, but it does flex a bit. Its mirror polished and has no visible forging marks. Again there was a couple scratches but nothing huge. There's also an option for engraving which I took. It came relatively sharp but there's room for improvement, it has no secondary bevel, which is a feature I prefer.
Handle:
Wonderfully solid handle construction, very tightly fit, the leather wrap is as good as i could ask for as well. I haven't a single complaint about the handle construction. The mekugei were fitted and cast nicely as well. (Edit) These are made from iron, brass, and copper alloys according to their website.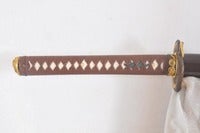 Tsuba:
I went for a snake design they offered, i really like the coloration and the texture. Its very well cast, good solid construction.
Fittings:
Similar to the tsuba these have great construction and a really visually pleasing look to them. The other brass fittings holding the parts together are fitted nicely.
Saya / scabbard
: While usual saya have fittings made from horns, this is completely a hardwood construction. It was a nice lacquered finish and the saya as a whole is very light. The cord wrap on the saya is Nylon and had a bit of fraying in a couple places, since i got it I've had to retie it once but its overall pretty good. The cord is held in place by two brass fittings on the saya. It fits the blade really well however, even shaking it upside down a few times doesn't make the sword fall out.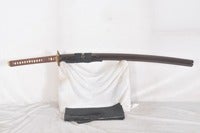 Handling:
As mentioned earlier i don't have too much experience handling swords at the time of writing this review, but from what I do know this handles well for me. This sword feels good in the hands and swings around pretty effortlessly.
Cutting:
I did further cutting an abuse testing Cut through milk jugs cleanly with the factory edge and suffered no damage or looseness from being hit against a dead tree repeatedly.
Conclusion:
This sword only cost me $160 USD (at a discount i received, without it would have been around $180) The base price for the custom katana is $80 minimum an it costs more depending on what options you pick. I think its good for the price, i don't feel like i wasted any money and it has yet to fail me so far.
Pros:
-Solid construction.
-Very good looking sword, no real flaws in appearance.
-Tough and durable blade.
-Excellent handling in regards to how it fits in the hands.
Cons:
-A few scratches, minor.
-Saya is fairly minimal in construction.
-False hamon line doesn't look authentic
-A bit pricey
Bottom line:

I can recommend purchasing from Swords of Northshire overall, while i'd be comfortable buying from them again i'll probably try out other forges in the future.
If you're looking for a reliable custom vendor this is a pretty good option, i'm sure there are better ones out there but for what it is, this is just fine.
If you're more of a high end collector this will do fine as well, it may not impress you however.
(EDIT) I am told that $180 is actually pretty expensive for some people, while i dont have a problem with it its good to be aware of.
Link to custom Katana page:
www.swordsofnorthshire.com/custom-made-hand-forged-samurai-sword-japanese-katana
Hope this is useful for you guys!