Post by Rob C on Jan 13, 2015 3:27:30 GMT
Introduction: I bought this sword because I lacked an arming sword for sword and buckler practice, despite being somewhat suspicious of Hanwei's quality control I ended up buying this one mainly out of having a low budget and there are a few other alternatives on the sharp market to this but I wanted something blunt to do light sparring with. I was concerned at first but it seems that Hanwei has improved their quality control, in fact I was surprised by the sword's performance overall.
Historical overview: The sword is not based off an original and does not have a traditional method of construction as it uses a hex nut, it is however a type XII blade, a type of blade used for a long time during the medieval period, from the 11th century until the early 15th century. If one could travel back in time and found a knight, chances are he would be carrying one of these as it is one of the most popular blade types from the middle ages and it had a long timespan of widespread use.
It is weird that Hanwei calls this sword "early medieval" it is more of a mid-high middle ages, but that's beside the point.
Full disclosure: I'm not sponsored or financed by Hanwei or any sword manufacturer, the sword was bought from my own money from Kult of Athena.
Initial impressions: As I took the sword out of the scabbard for the first time I was expecting a somewhat flimsy and very light blade, immediately I was proven wrong, this blade does have some authority, but not overly so, it felt like it wanted to hit hard and fast, it just felt good. Also I like the way the tinker line looks overall but in my opinion this is the most handsome of the bunch, I like simple and utilitary looks, and this one looks like that kind of sword. The fittings have a very nice finish for the price and I see an improvement on overall finish from Hanwei's products. The fittings came tight and with no rattle at all, it feels so solid. So far so good.
Statistics:
Overall length: 98.5cm / 38.8 in
Blade length: 81cm / 31.9 in
Handle length: 10.8cm / 4.24in
Hilt length:17cm / 6.7in
weight: 1033 grams / 2.28lb
POB: 13cm / 5.12 in
POP: 53 cm / 20.87 in
The blade: The blade has no imperfections worth mentioning, it has a nice satin finish and the fuller is well executed, however the edges are a bit too thin for full sparring, but I'm happy with everything else.
The scabbard: I have mixed feelings about it, previously I had a hanwei which had a slightly loose scabbard, this one is tight, which would be a good thing except it is too tight, it does take some struggle to take the sword out of the scabbard. It seems that it is because hanwei modified the scabbards so the blades don't get into contact with the metallic chape which is a good thing, the problem is that they overdid. It is a minor complaint but it has room for improvement.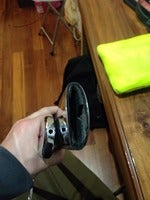 Fittings: As previously said, Hanwei has improved the quality of the finish of the fittings, there are very few scratches that are barely visible.
Handle: This is my least favorite part of the sword, it's not bad it's just not so good as the rest of the sword. The grip rather thin, even for my rather small hands (seriously, most girls have bigger hands than me), the leather quality is ok, however it is glued, not stitched which makes the leather less durable. Another complaint is that the handle is a bit too long for a one hander, I can already hear "what a nitpicker! he's worse than my grandma" but continue reading I do have my reasons. On longswords, a long handle is something desirable trait as it helps to do leverage, however on single handed swords I think it is more desirable to have a slightly tight handle so it can't slip much to the back, affecting the sword's balance, on this case the point of balance is already on the far side for a sword of this type at a little over 5 in and then the hand slipping to the back about an inch makes the sword feel slightly heavier, granted as I already said, my hands are small so it might just be me.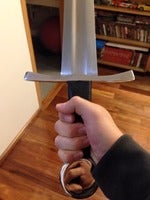 Handling: This is where this sword shines, it feels like it wants to punch the heck out of anyone who is in front of it, I like how it is agile yet still has authority, doing some I:33 movements feels just right despite being more blade heavy than I imagined, I also tried handling it as fast as I could if there was any hint of rattle and I had a nice surprise, it does not rattle at all. The blade is flexible enough but I don't perceive whippiness while handling it.
Conclusions: I was expecting another sword, despite that I'm happy with it, it does have minor flaws but nothing that ruins the whole thing. The fittings feel solid despite being a hex nut construction, has authority but not overly so and I find it aesthetically pleasing. The only real issue that I have is the rather thin handle and (for me at least) it would be a better sword if it had a tighter handle, but I will not list that on the con list as a tighter handle could mean that a person with bigger hands would not be able to hold it comfortably.
Overall a good sword with just minor issues.
Pros:
Nice finish for the price.
Aesthetically pleasing.
Good handling.
Tight fittings.
Accesible price.
Cons:
The handle is rather thin.
The scabbard is very tight.
The edges are too thing for full sparring.
The bottomline:
I would recommend this sword for light sparring and people who want a sword that handles well with a relatively accesible price.