Post by Barahir on Jan 13, 2023 22:32:30 GMT
The Crusader Sword by Erik Steelcrafts
Battle Ready #126 (BR-126)
(*also in Red Dragon Collection)
Introduction


A 46-year-old Canadian, I have been collecting swords since 2003. I own all sorts of weapons… ranging from movie replicas, historical replicas, fantasy weapons and a mix of all of these at the same time! I am by no means a weapons expert, nor a historian, nor a time traveler who thinks I know everything (like some folks on internet). I'm just a fan who likes to add shiny steel items to his armory. I am not used to making very elaborate reviews, but I am launching here to present this magnificent sword which had piqued my curiosity. Here is the Crusader Templar Sword BR-126 from Erik Steelcrafts.


Full Disclosure


This is one of my first OTC / Erik Steelcrafts sword. In fact, I discover at the same time as you this new collection of swords which seems very promising to me. Knowing my great interest in swords in general, Shahzeb Ansari (owner of Erik Steelcraft) sent me this sword so that I could also review it. We concluded that I would do an honest review. I was not asked anything specific. I therefore have no affiliation with them and I am in no way an expert in weapons, as mentioned in my introduction. So, let's start.

Manufacturer Overview

Erik Steelcrafts is the new project of the workshop of Shahzeb Ansari of Overseas Trading Corporation (OTC) in India. Shahzeb has been in the business of making swords for several years for several companies around the world based on the research and patterns made by his 3D developers. We particularly knew him as the first manufacturer of the Balaur Arms brand.


Shahzeb chose the name 'Erik' because it is an old norse name referring to Vikings. It is from 1060 carbon steel that they will manufacture a whole new line of swords for collectors and HEMA fighters. The main focus of Erik Steelcrafts will be for the moment to produce swords of as good quality as Albion for example, but offered at a better price range (300-500$ USD). They have a vision to also produce military weapons for the future. These swords will soon be available at several online retailers or recognized stores around the world.


From the mouth of the owner …


''Erik Steelcrafts produce best quality swords in India and even competitors of our country cannot compete with our quality''
We're excited to see how far this line of swords goes.
Historical Overview

This sword is not particularly a historical replica according to my research, but I could be wrong too. It is inspired by a sword that a knight might have owned during the Crusades. Aussi vendue comme un produit de Red Dragon mais fabriquée par la forge de OTC/Erik Steelcrafts à Dehra Dun en Indes. This sword is also freely inspired by a model given to us by the Italian arms manufacturer Fulvio Del Tin several years ago. She is very similar. The Crusader Sword from Erik Steelcrafts is therefore a type XII medieval longsword, cruciform style with the hilt large 3''1/2 quillons angled a little downward. The pommel is octagonal in shape and we find the cross of the crusaders there. It is a very beautiful sword, with a varnished wooden grip, engraved with a latticework pattern. I look forward to examining in more details the various components as well as the craftmanship. With that, let's get started.


Initial Impressions


I received this sword along with 5 other models all wrapped up in a big box full of shredded paper which kept the swords safe. Yes, I needed the vacuum cleaner to pick it all up afterwards! Each sword was wrapped in very tight film paper. It is very tedious and difficult to remove all that. I have to use a knife being very careful not to damage the leather of the grip or scratch any other surface. So the swords are very well protected and well oiled in the package!


I am at first sight impressed with the quality of this sword. I was roughly expecting to find something similar to Windlass Steelcrafts. It seems to be, and maybe even a little more refined. Everything seems fine and no major flaws jump out at me at first glance. I had concerns about some past problems with the gap between the guard and the blade but it's very good, no worse than other manufacturers. The craftmanship seems to live up to my expectations. So let's start the deserved analysis of this beautiful templar sword .
Actual Statistics


Blade Length : 33''
Overall Length : 40 ¾''
Handle: 7 ¾''
Grip Length : 5''
Weight : 2 lb 10 oz
Edge : Unsharpened
Pommel : Penned
Width : 48mm
Distal Taper : 4.7mm-3.9mm-2.8mm
Sweet Spot (Centre of Percussion) : 14'' from the Tip
P.O.B. : 4'' Below Hilt


COMPONENTS
The Blade


According to Oakeshott's blade typology, the blade is type XII. Oakeshott characterized the Type XII as "having a broad, flat, evenly tapering blade, generally with a good sharp point and tending to widen perceptibly below the hilt." The fuller will be well defined, generally extending from below the guard for two-thirds to three-quarters of the blade's length. The blade's cross-section will be of lenticular design and the blade will typically be from thirty to thirty-two inches long.


The blade is made of 1060 carbon steel. 1060 carbon steel is good because when it is properly heat treated it becomes resilient. It is quite tough and can keep its edge fairly well. Since I'm not a metallurgy expert, I can't verify if this is really what Erik Steelcrafts used in the India forge. It sports a high level of resistance to fatigue, has high ductility, and has good spring qualities useful for applications where flexibility is desired. In order to lighten and help a blade perform, it is often said that there must be a distal taper. Distal tapering refers to a blade's cross-section thinning from its base to its tip. I measured using a caliper and indeed, there is a distal taper on this blade. The thickest part of the blade is 4.7mm at the guard, reaches 3.9mm in the middle and ends at 2.8mm near the tip (where the fuller end). The blade of this sword comes unsharpened from the manufacturer. There is no visible wave in the blade, no forging mark and it is straight. Maybe some minor traces of grinding but nothing more. The finish is on the satin side, not too mirrored. Just perfect like that. The length of the blade is 33'' and there is a fuller (well centered) running from guard to 25'' from the tip. When you play with the sword a bit, you find a sturdy blade and not whippy. I don't know how the tang is but when hitting the blade on the flat against our knee you hear no rattling at all. Everything look solid. There is also a good flex to this blade, bent it in both directions and it wents back to true. The 2mm edges are suitable for blade on blade work. There is Erik Steelcrafts maker's mark on the blade (OTC India). It is very well made and well placed. I am not against manufacturers putting their mark. I think it gives character to the sword.
The Handle/Grip


The hilt is one of the components that attracted me the most when I first saw this sword. I tought that the grip was leather but I was wrong, it was wood. The grip is made of Indian Teak Wood. Very solid and durable wood. They engraved intertwining lines in the shape of tiles and it is very beautiful, probably by machine and not by hand because the lines are very well defined. Quite a unique design. It feels a little weird in the hand but you get used to it pretty quickly, quite comfortable. The ends of the grip are embellished with gold colored rings. Probably made of brass (?).The grip is rocket shaped (wider towards the guard and shorter towards the pommel) which usually gives a good grip. The grip is rather flat too, so the sword won't tend to roll in the hand because the grip is too round. As for the length, it's still quite long at 5 ''. There is room for the hand! You could almost say when it's more of a one-and-a-half-handed sword instead of a one-handed one. Everything is well-aligned and solid. Well fixed, no rattling. The hilt fit nicely to the blade. Not so much gap.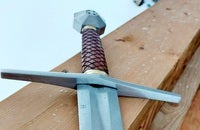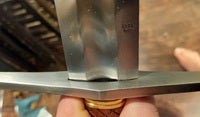 The Guard


As mentioned at the beginning of the review, the guard is quite wide (8 ½ '') and is slightly curved, which is different from the straighter guards that we are used to seeing. This also adds even more space for the "hand and a half". It appears to be a Type 7 guard according to Oakeshott's classification. The guard is straight, clean and tight, as was the pommel.



The Pommel


The pommel appears to be Type 11, is octagonal in shape and measures 2" wide. In the center, there is the cross of the Templars which is encrusted. It gives a lot of character. The tang is peened, and runs trough a circular peen block type construct. This block is a separate part of the pommel. The peen is well made and soft. The pommel is firmly attached, no movement, and well aligned with the guard.


The Scabbard


As of this writing (January 2023), there has yet to be an official Erik Steelcrafts scabbard that comes with this sword unless you buy it as a Red Dragon product. It's a prototype for now. Rest assured that Erik Steelcrafts will come to decorate this beautiful sword with the scabbard it deserves. To be continued.


Handling


Honestly, I did not do any cutting or strength test with this sword. I know that many collectors like to see water bottles waltzing into pieces in the air, but it is often only the sharpening of the blade that we analyze in these cases in my opinion, which can be very different from blade to blade for the same model. Also, I treat my swords like oeuvre d'art, and I don't see the point in testing for destruction. There are other ways to analyze the handling of swords than trying to destroy them. That's my personal opinion.


Now concerning the Tempar Sword, as we saw earlier in the review, despite the relatively light weight of 2 lb 10 oz, I find it handle very well for a 41'' sword. The handle offers a good and secure grip. The blade is sturdy and not whippy. The balance point is still quite close to the guard at 4 ''. I don't find that the sword feels unbalanced. Anyway I couldn't do any test cuts because I received this blunt sword. Nevertheless, overall, I enjoy wielding this sword.
Conclusions

Overall, I love this sword. The Quality/Control is better than I would have imagined with this Indian Foundry.


This sword will be available soon from your favorite retailer on behalf of Erik Steelcrafts, all over the world. For the moment (early 2023) this sword can still be purchased everywhere under the Red Dragon brand at a price of around $250 USD (200 sterling pounds). Especially at theknightshop.com.
Do I recommend this sword? Yes, without any hesitation. For the quality of the craftsmanship, the materials, the relative historical representation, and above all the price. The OTC / Erik Steelcrafts Templar Sword is extremely handsome, somewhat unique with the carved wooden handle. Because nothing is perfect in this world, I give a nice 4.5 stars out of 5 for the BR-126 Sword by OTC/Erik Steelcrafts.