Post by jack88 on Dec 19, 2022 18:08:41 GMT
Hello all!
I am back after a hiatus with a new piece I'd like to share and discuss one of the most high-profile French units of the Napoleonic wars—Les Mameluks de la Garde Impériale.
I've been earning a master's degree in military history while teaching military history and no longer flying. Information about the Mameluke Guard is scarce, but the little we know about this fascinating unit is enough.
My new sword is NOT from the Mameluke Guard, although mounted by Duc, who did swords for various units of the Imperial Guard; this sword does not fit any of the few examples we've seen, which I'll discuss below.
On July 1, 1798, Napoleon Bonaparte invaded Egypt in an attempt to cut trade between Britain and her colonies. This expedition echoed Caesar, whom Napoleon revered, and brought the French into direct conflict with the ruling Mamluke elite of Egypt, who ruled under the purview of the Ottoman Turks. Napoleon famously defeated them at the Battle of the Pyramids. Still, the impetuous ferocity of the Mamlukes impressed him and planted the idea to form a Mameluke unit within the French army.
Initially, three companies of roughly 100 men each formed under the name of the "Mamluks de la Republique," but eventually, roughly 150 men would form the core of Mamluke guardsmen. All officers consisted of Frenchmen, but the troopers "were a mixture of Syrians, Greeks, Circassians, Crimeans, Armenians, Egyptians, Georgians, Arabs, Turks, Albanians, Hungarians, Maltese, and Tunisians.
The Mamlukes matched with the chasseurs à cheval de la Garde impériale and formed the basis of Napoleon's bodyguards. In 1813, a second company consisting of Frenchman was formed, with Young Guard status.
Monsieur Ducel—one of the last survivors of the Napoleonic Wars—colorized. Notice his blade does not fit the troopers model shown below, which questions whether this elite unit had capability to equip as pleased.
The Mamelukes carried various weapons, similar to chasseurs, but each had an assortment that could include: a carbine, two pistols, a saber, a dagger, mace, and eventually a battle axe. The official pattern of the Mameluke Guard now represents the holy grail of First Empire sword collecting, and the officers model even more so.
Here is the troopers version:

www.bertrand-malvaux.com/fr/p/8303/sabre-troupe-des-mamelouks-de-la-garde-imperiale-premier-modele-1802-consulat-premier-empire.html
Here is the incredibly rare officers model: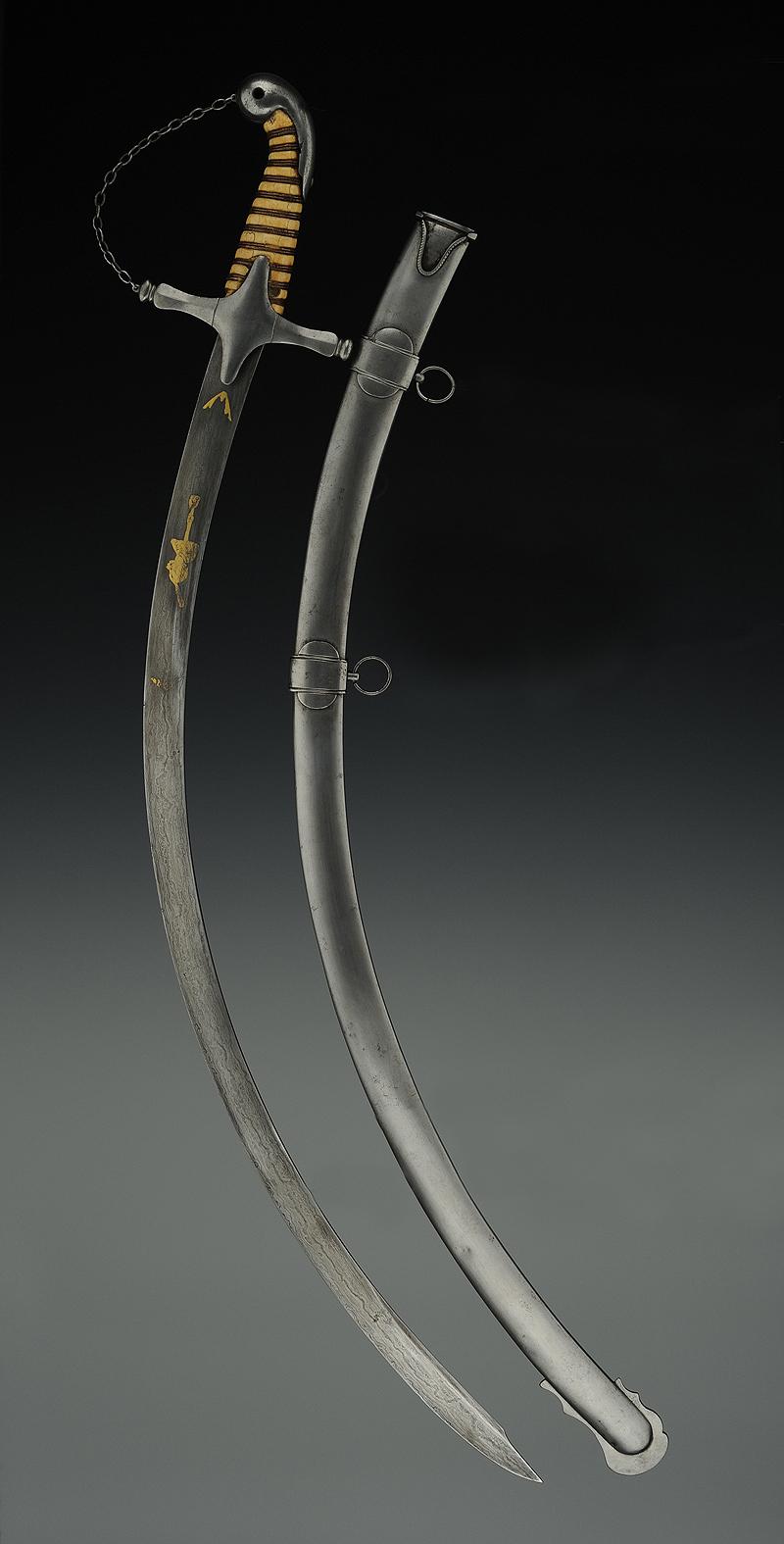 www.bertrand-malvaux.com/p/7238/sabre-d-officier-des-mamelouks-de-la-garde-imperiale-premier-empire.html
This begs to questions whether the officer's model was actually a pattern or if the officers simply had their own swords, with all of the looted blades from Egypt.
The Mamelukes famously showed their ferocity during the revolt of Madrid, where they massacred the local population and gained the animosity of the Spaniards.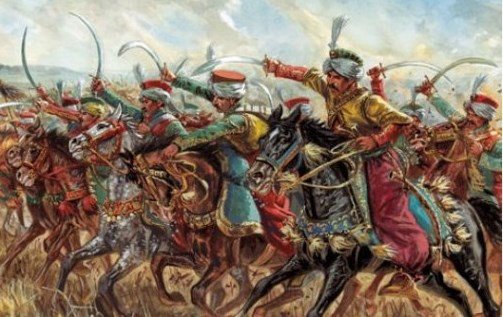 The Mameluke Guard fought at Austerlitz bravely and bolstered their fierce reputation.
I recognize the history lesson is light, but little is written about this illustrious unit.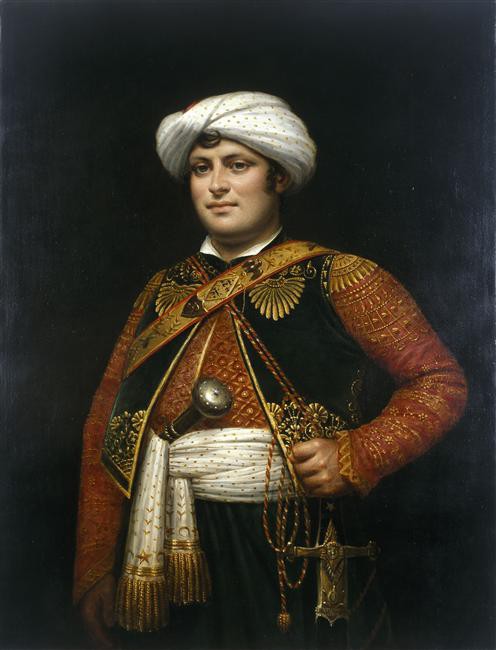 My sword:
When first seeing this sword listed on the merchant's website, I suspected the blade was not of French origin. After passing the image around a bit, a friend backed my suspicion, and I decided my collection was short a First Empire Mameluke.
The missing langets and scabbard appear post-Napoleonic to me, but some attributes are controversial, and I've never shied away from controversy.
The blade is 18th-early 19th century Ottoman-made; this was determined by the grain of wootz called "sham" wootz.
Now for the seriously controversial part: the two Klingenthal inspection stamps on a wootz blade. One is Bisch, and the other is Marion, which provides a narrow window to when Klingenthal tested this blade—1809-1811. This is controversial because Klingenthal rarely stamped officer's blades and never a foreign blade. The stamps indicate a "pass" of a two-part test. The sword was smacked against wood and bent to ensure it would spring back to its natural form. This logically causes a couple of problems. Why would Klingenthal test a wootz blade? And would a wootz blade pass the second test of bending? Wootz steel is notoriously stiff and unbending, which enabled the ability to sharpen them incredibly at the cost of brittleness. Surely some of the hundreds (likely thousands) of Egyptian campaign looted wootz blades were tested, but would Klingenthal stamp a blade they didn't make?
The guard is stamped "Duc" who furbished swords for both the Imperial and Royal Guards.
The sheath has this interesting advanced drawing mechanism, enabling smooth sword drawing.
The scabbard has traces of the original bluing, with obvious wear.
Now this sword caused a bit of consternation on the French forum. I noticed some of the more knowledgeable posters stayed away, likely due to the unknown variable. Others got angry that I was right about the sword being wootz and Ottoman (I wouldn't ask a Frenchman about Ottoman blade provenance.) There seems to be a language confusion, maybe because of the translator about the difference between damascus and wootz in Western languages. Notice the difference in appearance from the officer's model: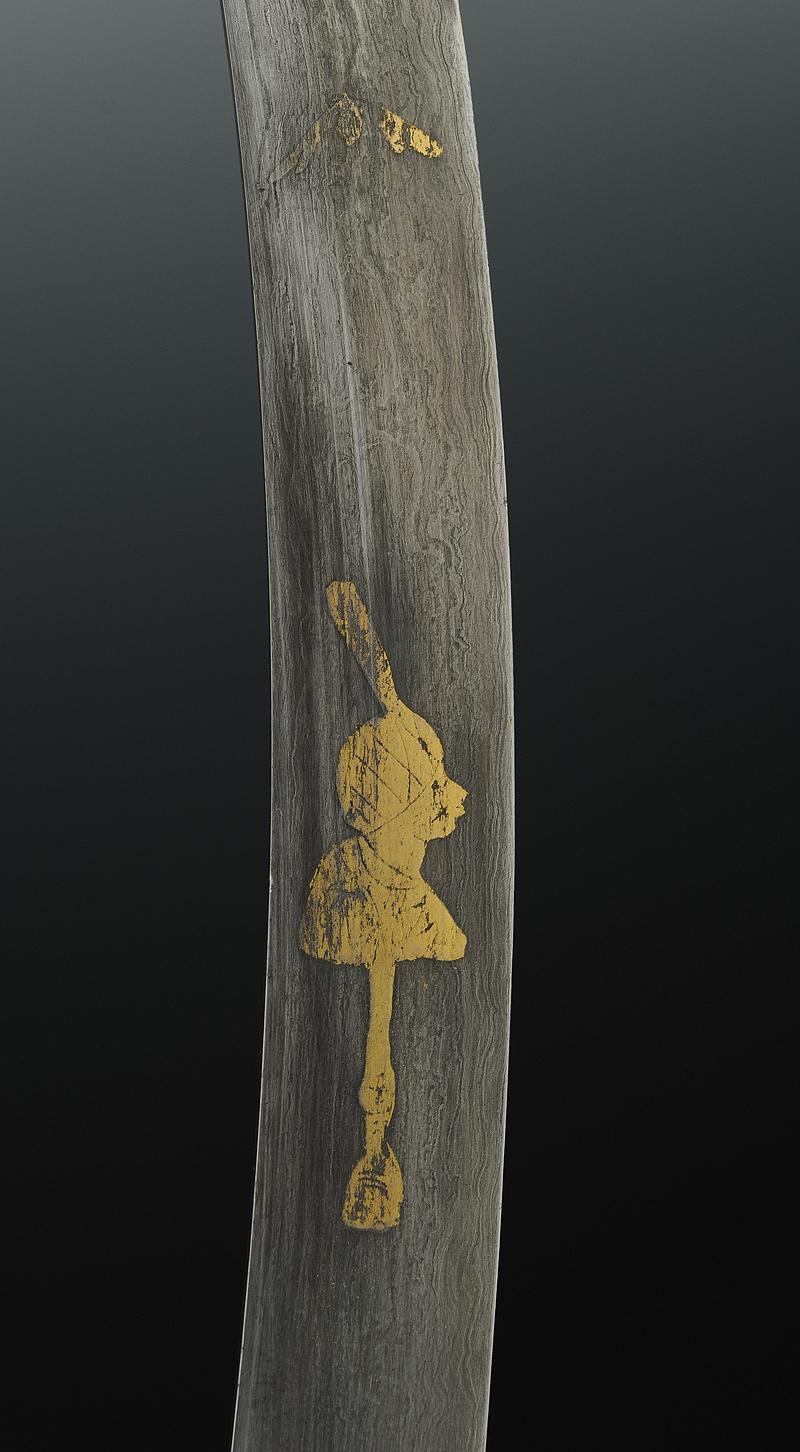 Klingenthal made "damascus" steel blades (which is really laminated or folded steel) and tested working with real wootz, but never imitated Ottoman work well enough to pass off a sword like this. (If they did, this is maybe the only one in existence.)
So what is this sword!? I have concluded with a few options which I've ordered in my believed probability:
The blade is Ottoman, either looted from Egypt or bought and brought back to France. Tested by Klingenthal at the request of a cavalry officer and mounted by Duc. Anything mounted by Duc cost big bucks for the luxury brand name, so I don't see a problem with the blade being tested by Klingenthal inspectors.
The blade is domestic French made with a wootz ingot acquired from the east. The yelman is small enough that maybe the French actually got it correct. Then the stamps are all correct in line with production.
The stamps are faked. The Duc stamp is close enough to some other examples that we'll never know if it's real or not. The inspector stamps are perfect, match other swords with the same stamps exactly. But why would a forger stamp a wootz blade? Wootz blades fetch high dollar without stamps in their original form. Forgers know antique swords well enough not to mess that up because they could charge more otherwise. Maybe stupid forgers? I find this possibility very unlikely; anyone capable of replicating inspector stamps perfectly would know how to recognize a non-French blade.
Above all, this sword is an incredibly well-made battle sword. Whether Duc mounted it or not, the purchaser spent top dollar to have an Ottoman blade mounted in quality western fittings. The blade is very skinny, less than an inch wide in most places and only just over an inch at the yelman, but 31" long. I no longer have an accurate scale and will have to add the weight in later, but its perhaps my lightest sword.
Thanks all for the read! Looking forward to any more opinions brought forward. I've been busy writing strategic analysis and modern history, so reaching back to Napoleonic was different. Too bad so little is known about the Mameluke Guard.
www.napolun.com/mirror/napoleonistyka.atspace.com/IMPERIAL_GUARD_cavalry_1.html#frenchguardcavalrymamelukes
www.napoleon.org/en/history-of-the-two-empires/paintings/portrait-of-raza-roustam-mamluk-and-napoleons-bodyguard/
military-history.fandom.com/wiki/Mamelukes_of_the_Imperial_Guard
en.wikipedia.org/wiki/French_campaign_in_Egypt_and_Syria
en.wikipedia.org/wiki/Mamelukes_of_the_Imperial_Guard