Post by admin on Jul 13, 2020 10:05:51 GMT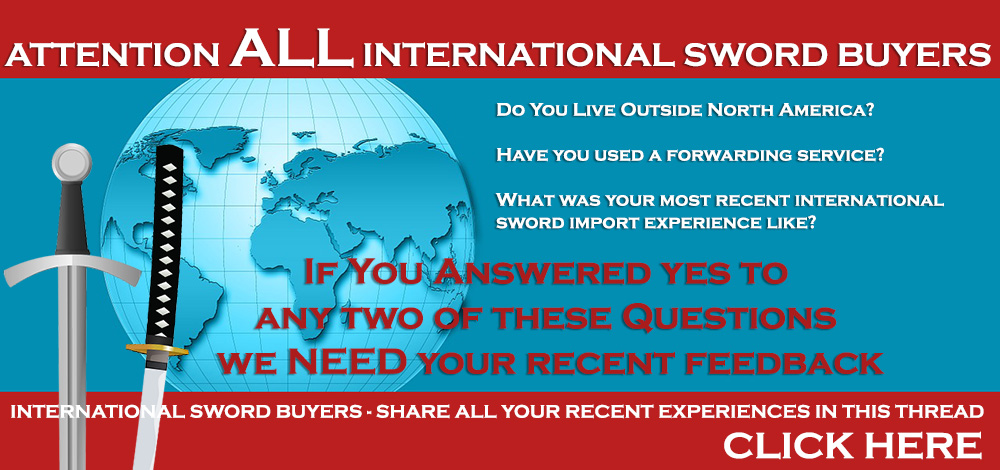 About a year and a bit ago, after several years of sporadic issues shipping swords from the USA to the rest of the world, things suddenly got a LOT harder super fast..
We raised the issue in
THIS
slightly controversial thread - but over a year later, the time has come for an update to see where the heck are we up to know?
What, if anything, has changed?
First off, I want to look at the current Mail Forwarders - how are they working for you if you are using them? And secondly, I want to hear about your most recent international sword imports, especially from the USA or Canada (though not from China, they can ship anywhere okay right now ).
MAIL FORWARDERS - Are there any that still work?
We are not affiliated with any of these companies, but on THIS PAGE on our site we suggest three possible companies to ship swords to THEIR US address and they consolidate the package and forward it on, usually at a very reasonable price. The current companies listed include:
Access USA/MY US

US Global Mail

Forward It
Any others you have used?
And what have been your recent experiences with the shippers above?
In this article
www.huffpost.com/entry/5-reliable-parcel-forward_b_7134628
it recommends the best forwarding companies, but all but one specifically prohibit the transportation of sharp items. Only the final one -
www.nybox.com/
- I cannot find their list of prohibited items.. So who knows..? Have to contact them and ask (but be prepared for them to say no).
In theory, Access USA CAN STILL ship sword - but in 2017 clamped down on Katana due to the Rayskin. They have a page where they list what they CANNOT ship:
www.myus.com/benefits/shipping/customs-help/restrictions/
Indeed, the only things that come close are:
NO Firearms, guns & accessories, including replicas
NO Ammunition, magazines & bayonets
NO Law enforcement striking weapons, including saps, batons & billy clubs
NO Skin or leather of snakes, alligators, crocodiles, stingrays, and other reptiles or amphibians
Nothing about swords or knives, just
bayonets
in the same sentence as Ammo and Magazines... And I personally used them for years when I lived in Australia and never had a problem.
US Global mail are a little more ambiguous, they list pretty much the same stuff as Access USA (I.e. No nukes, no human remains, etc) but have a clause 'no weapons'. And that, as we know, is an argument waiting to happen.. But, in the past, they have been reasonable and not defined swords as 'weapons' and more than a baseball bat..
At SBG's end, I am looking into a company called EUROSENDER:
www.eurosender.com/en/prohibited-and-restricted-items
But its semantics again - they do prohibit 'weapons' but are set up for companies and individuals:
www.eurosender.com/en/shipping-services-companies
Anyone have any experience with these guys?
USA2ME may be an option too:
www.usa2me.com/site/Mail_Forwarding_Restricted_Items.aspx
Under prohibited items, they specifically mention only firearms - only their last caveat, which is a coverall statement "Any item that is deemed illegal, dangerous, illicit by USA2Me.com" - but I don't think they would apply it to well made swords.

www.parcl.com/
May offer some promise as their motto is
'Anything to Anywhere'
and take a kind of community approach:
www.parcl.com/how-it-works/forwarder/
Worth trying perhaps?
Another company, "Parcels Forwarding" also does not mention sharp objects or swords as prohibited:
parcelsforwarding.com/restricted-items
Planet Express might be okay too -
planetexpress.com/faq/#items
only restrictions seem to be on military grade weaponry under ITAR regulations.
---
!STOP THE PRESS!
support.shippingeasy.com/hc/en-us/articles/205492376-Shipping-knives-with-USPS-UPS-and-FedEx-Overview
They have a PAGE about how to package and ship sharp objects like knives and swords. THIS may be the company that changes everything... Not only do they not prohibit sharp object, they explain how they should be packed! Is this too good to be true?
---
And then there is "rehsip.com" - with the most ambiguous restriction I have ever heard:
www.reship.com/terms-conditions.html
They list general military grade weaponry, etc. But end the paragraph they say "Basically, if it can be used as a weapon, we won't ship it."
So I guess they can't ship anything at all because I can't really think of anything that CANNOT be used as a weapon!!

Any other companies you guys have used recently with success?
We need to know - because for many, mail forwarding may be the ONLY economical way forward..
COUNTRIES SEEMINGLY BUSINESS AS USUAL (USPS)

Specifically regarding orders going from North America to some other part of the world (not China, they are back to normal - just badly backlogged and jammed up) what recent experiences have you had?
It appears that at this moment there are 6 countries outside of the USA that still allow USPS shipments:
Switzerland
Poland
The United Kingdom (though get ready for a customs war)
Australia (except Victoria, where a special permit is needed)
New Zealand
Germany (though the paperwork involved now is worse than ever)
Has anyone from any other country had any luck receiving a sword from Kult of Athena or another US seller (again, not China). I think they can still ship some items via USPS but mostly ship UPS express, and it can result is some really crazy charges..
For example, I tested the waters with a Polypropylene Dao worth 19EUROs. Only option to ship, UPS - and the cost? A little more than 5 times the cost of the actual item (which is small and lightweight!).

For a real Dao, the cost is EURO175 (around US$200). Big jump from $60..

So please, let us know where you are, how you ordered, how it went - and if you use or know of any forwarding services that still work properly - or any countries where USPS still ship to okay...
Thanks guys,
- Paul