Post by rhema1313 on Feb 12, 2021 20:51:15 GMT
Pugiones... Pugiones... two are in the making. One is for a client... The other one for the taking!
A Pugio is the Legionary's backup weapon. Longer than a Dagger and considered by many as a Roman "Short Sword" the Pugione, much like a Gladius is the backup weapon worn on the Left Hip or over the Groin of the Soldier. These Pugiones have a "Gladius" style hilt replicated and sized from known Roman Gladius Hilts. There were other Pugiones that had Metal Plated Hilts and full metal Scabbards.
Here is the progress of two blades being made side by side. One is for a client, the one on the bottom or right, will be available to finish.
The one the upper Left is for the client and is being made to specifics. The one pictured to the Right and the Bottom Right can be finished in different ways and is open for your interpretation.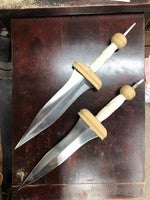 If you are interested in purchasing the Pugio... It is at a place right now where there is room for customizing it to your finished liking. And if you want a scabbard for it.. Let's Talk.
The blades are based on the following blades from PUGIO - GLADIUS BREVIS EST:
Fig. V/18: specimen preserving the pommel of closure. It represents one of the few clues of "tight insertion-subtype "A" technology in its secondary version.
Fig. V/19: "tight insertion subtype A" technology
#53 river Kupa, Sisak (Croatia) Arheološki muzej u Zagrebu – Zagreb (Croatia) II
#91 unknown private collection II house Hermann Historica (Munich-Germany), 44th auction
Progress on the Pugio
: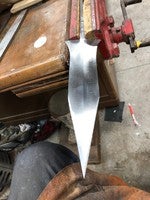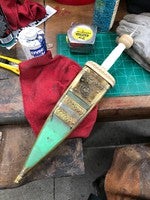 Filing in the point Fitting to the Scabbard, checking fit and overhang of the guard. The
"Green" that you see on the scabbard is protective tape to protect th
leather.
More Progress
:
The Pommel has been carved. The Pommel Finial And washer has been made and tight fitted.
The next pictures will be the finished Pugio and Scabbard.