Post by Jash on Dec 31, 2020 4:23:57 GMT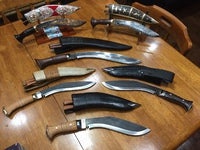 I know there are some really good Khukuri manufacturers out there now. This semi/sorta/kinda review of my first experience with KH Thamel is to help those who are on the fence with this particular company.
First, some back story:
Although I am no expert on khukuris, I am also no stranger to them. I have this tradition where whenever one of my close friends gets married, my wedding gift to them is a Kothimora Khukuri (for various reasons). Over the past 12 years I ordered 4 kothimora khukuris all from "Khukuri Palace", and was pleased with each purchase. When I found out another close friend was getting married this year, and of all my friends he is an actual knife collector, I figured it was time to order another! Long story short, I found out Khukuri Palace closed it's doors. 2 individuals helped me to find that out - Sanjay from KH Thamel and Ram from Nepalese Khukuri House. After which, I knew it was time to research another company to purchase from. Coincidently, the same 2 individuals above were recommended to me. It was hard to choose, but I ended up going with Sanjay from KH Thamel. Nothing against Ram, he was very willing to help me find everything I needed, but with the Covid restrictions and a Wedding Date limit, I figured it safest to go with KH Thamel as they had everything I needed. I would still recommend Ram and Nepalese Khukuri House based only on their customer service.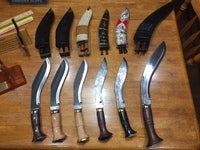 The order:
Shipping from Nepal isn't cheap... luckily I had 2 other friends wanting to go in on the order with me. We ended up getting
- 10" Kothimora with Dragon Engraving for the wedding gift.
- 10" Dhankute Wood with Dragon Engraving for a friend just getting into blade collecting.
- 10" Jungle Afghan with a custom blackened blade.
- 10" Kukri Whacker.
- 10" Panawal Raw Black.
- 14" Military Hanshee for myself, I mean, I couldn't make this order and NOT get something for yours truly lol. It was a difficult choice, but I liked the fact it was based on an older unique model, with the longer handle basically turning it into a "hand and a half" khukuri.
Shipping from Nepal was even more problematic with Covid. At that time the ONLY option was DHL, and of course their prices jumped up quite a bit. Sanjay. noticing his shipping estimate was much higher than his website estimate, offered to help make up the difference in the extra fees. Shipping was fast.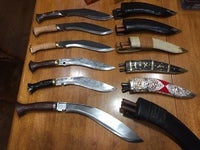 The issue:
4 of the 6 khukuris arrived in perfect condition! 2 were damaged in shipping. Of course, the 2 damaged were mine lol. I was sent "ready to ship pictures" of my order, so we knew they were in great shape beforehand. The Kothimora silver scabbard tip was dented in one spot, and also bent in another. The Hanshee had a worrying crack on the bottom of the handle moving towards the grip portion. I immediately notified Sanjay regarding these issues. For the Kothimora, I asked him if it was possible for me to try to fix it, as it seemed a minor issue to have to send back etc... He appreciated the gesture, but was adamant he wanted to remake one for me; knowing it was a wedding gift for a close friend, it had to be done right. The Hanshee was more worrisome, and he agreed it needed to be repaired or replaced. We both contacted DHL regarding the damage in shipping issue... both with no success, for over a month! On my side they kept telling me I needed to fix things with the shipper/seller. On his side they kept using the extra rush of Covid as an excuse. In sum, they were not willing to help ship the damaged 2 back, or reimburse either of us. I also looked into shipping them back myself, but it would cost more than the 2 khukuris are worth!! After some discussion, Sanjay and I figured the best thing to do was he will send me 2 replacements, and I'll try to sell the damaged 2 for whatever I can get for them, and send the money back his way.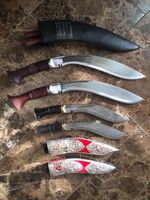 The resolve:
The 2 khukuris arrived yesterday! This entire ordealm since I started to try to get a hold of Khukuri Palace, took 4.5 months! But, these 2 arrived in perfect condition, and I could not be happier. Sanjay mentioned that he has 100% Customer Satisfaction, and this entire experience really proved that he goes above and beyond to achieve that statistic. Ignoring my subjective thoughts on the khukuris... just based on customer service and dedication to making sure I was happy with my order, I highly recommend Khukuri House Thamel. Sanjay went out of his way to fix a problem that wasn't his fault.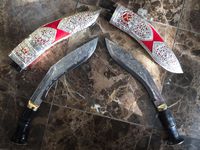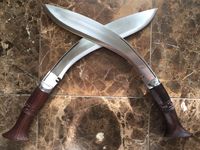 Thanks for reading! I hope this helps those wondering about KH Thamel versus the other Nepal Based Companies.
khukuriblades.com
PS - this post was more about the company than the khukuris themselves lol. I may say something about them later, but in the meantime please enjoy the pictures