Post by pgandy on Dec 27, 2020 18:00:13 GMT
This started 10 years ago when I discovered Ring Mesh shortly after joining the forum and there was a minor discussion about it at that time that caught my interest, sufficiently so that I ordered two samples. At that time they were selling the mesh in two sizes. Since then they have dropped the smaller ring size. Both sizes appeared comfortable and handled like cloth, the smaller more so. The smaller was more expensive but offered better protection; it was also heavier. Ring Mesh made the decision easy for me when ordering as they now have just this one size, and as I've said before anything over one confuses me. They offer a number of items made of ring mesh from coifs to leggings, including cut resistant gloves. I ordered their vest with a V neck. A sleeveless hauberk would be a better description.
www.ringmesh.com/LARP-CosPlay-Chainmail-s/3.htm
They do not promote ring mesh as a battle ready product and cater to LARP and re-enactment groups. It is not historically accurate if you worry about that thing but at a short distance is not distinguishable. I bought it without either of those in mind.
When I first became familiar with ring mesh there was a discussion on how cut proof or resistant it was. So I ordered a sample of each size to test for myself. My tunnel vision saw only the challenge "cut it". I placed the larger size, in terms of ring size and sample, size on a board. So as not to let the board act as an anvil I padded with several towels laying the mesh on top. I then cut using Condor's Engineering Bolo with a #7 cut dropping at the knees. A power cut for sure. The results can be seen in the photo below. And that ended my desire for ring mesh.
A couple of years back I began looking for street armour in light of the increased muggings and nothing seemed correct, that's when I revisited Ring Mesh and my previous test. It was one powerful cut intended to cut the mesh, but this is not what I'd encounter in the street. I looked at the most likely scenarios I thought that I be likely to face. I decided that the weapon most likely would be a folder with a slashing cut but did not rule out a thrust, but did not restrict it to that. Possibly a screwdriver. A machete but not for a mugging. A stick is likely. I saw a machete and sticks used in a recent protest, backing up my theory involving another matter, we had but a protest and mugging are not the same.
So with a folder the primary weapon and more realistic movements where I would be moving not rigidly standing and with less of a load on the knife than the previous test I went at it again. This time on a free standing filled plastic gallon jug with ring mesh for protection. All cutting was done with a 26" machete. This is more than a folder will deliver so if the jug will stand up to that there should be no problem against a pocket folder. I should point out here the free standing jug weighed only about 9-10# and does not truly represent a man's weight but was the best that I could come up with and I thought it more realistic than my previous attempt. I was unable to cut the jug where the mesh was present. Blunt trauma was visible as these were powerful strikes but the only cuts were in the unprotected area. I also tried a penetrating wound. I'll be the first to admit a better test could have been done than the way I did it. I thought that I'd chip or break the point on the knife and was reluctant to use a good one. Instead I used a paring knife from the kitchen. It was more expendable. The mesh showed no ill effects. The knife is pictured below.
So much for the mesh. As for the vest itself, I've been checking it out for wear ability. Mine weighs 1.57 kg and I find no discomfort to speak of. After a day of constant wearing I'm not aware of it. I ordered a V neck thinking it would be more invisible under my shirt or even my T shirt if I should decide to wear it that way. As can be seen in the photo no visibility problem there. The back just below the neck has a generous space that I would rather not be there. All in all I'd say the fit is reasonably good for not being present for a fitting. Ring mesh like mail is not critical to size as it expands and contracts easily. As for sleeveless; long sleeves were out to the question and I decided their short sleeve maybe too long. And if not too long I'd be inconvenienced by pulling the T shirt sleeves or the mesh's sleeves down when putting on or possibly while wearing. The mesh is of stainless steel so my clothes will not be stained as with the oils from my carbon steel mail. It can also be washed when it come to that. They say a dish washer will do it, but I'm sure she would complain. God is going to get me for that.
I'd say the mesh isn't full blown combat armour, didn't think so when ordering, so no surprise. I do think it will give reasonable protection in the street with good concealment and is definitely more practical for everyday, all day wear than standard mail for street use.
I now feel macho and can say that I wear steel underwear. How many men can say that?
I have no connection with Ring Mesh other than being a full paying customer.
As see in the street What is underneath Under a skivvy shirt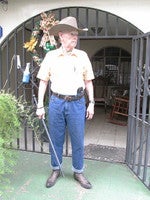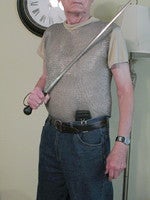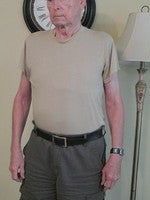 Some results of testing. In all cases I did not break the tape to remove the mesh. The force of the impact did that.
Knife Before cut After cut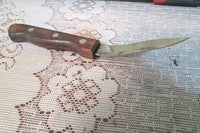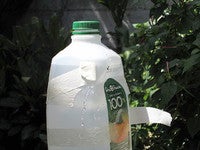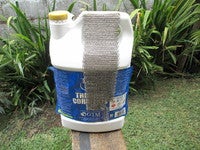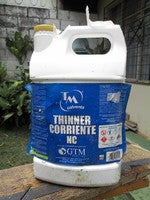 I see the last one was added as an attachment. That one was to show the blade was sharp and the result w/o ring mesh.