Post by tommyh on Nov 21, 2020 1:20:02 GMT
Introduction
I just sold my CRKT Hisshou on the Classifieds here, so I figured I might as well review it to practice my review-writing. They (and the vast majority of CRKT's hissatsu line, it seems) were discontinued some time ago, but you'll occasionally see them pop up for sale on eBay, so if you want one, that's where I would recommend looking. This knife was always a collector's item for me; even though it's a perfectly capable fighting knife, and CRKT even advertised it as being a knife designed for military end-users, it's just too big for anyone other than a soldier to reasonably carry this thing around and get any sort of advantage out of. It's really cool, don't get me wrong, but it's no EDC knife.
Full Disclosure


I have no relationship with CRKT. I've owned several of their products in the past, some of which I have liked, and some of which I did not. This review is not being made to try to convince a buyer, as it has already sold.
Historical Overview/Accuracy


Despite the fact that this is a modern knife and isn't trying to be a replica of any historical knife, it's actually decently historical. This is, essentially, an aikuchi style tanto with a shobu zukuri blade. Sori might be a little on the extreme side compared to its historical counterparts, but this is not outside the realm of historical plausibility.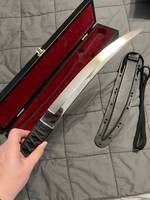 A little more on the hissatsu line generally: this line was developed by CRKT with the help of James Williams, who has done a lot of work with Hanwei. I believe the Raptor series is his brainchild, and iirc, he was also involved with Bugei. The line got started with the Hissatsu folder and fixed blade. Both are meant to be examples of the uncommon osoraku zukuri blade style, which features a kissaki that is about half the length of the entire blade. it's a cool aesthetic, though I don't know if it actually helps with penetration. Note that the Hisshou and its direct siblings (the Shinbu and Sakimori) are shobu zukuri, not osoraku. Ironically, neither is the Hissatsu fixed blade; at least when I bought mine, several years ago, I found out the hard way that instead of a geometric yokote, the osoraku look was accomplished with a cross-polish. I will say that it looks like the folder actually has a geometric transition, but needless to say I was disappointed. Regardless, the idea of a thrusting-oriented knife with no guard frightens me. I have a scar on my index finger from a very bad cut I got when I lost my grip on a Benchmade Griptilian.
But this isn't a review bashing the Hissatsu fixed blade, so let's get back to the Hisshou.
Stats


OAL: 18 3/8 in.
Blade length: 13 in.
"Tsuka" length: 5 3/8 in.
Weight: 1 lb.
POB: Did not measure this before I shipped it out, but it was pretty close to the (lack of) guard.
Construction/Fit and Finish/First Impressions


This is a nice knife. No doubt about it. It's also an expensive knife, so it better be. I don't remember what I paid for it back in the day, but MSRP, which is still on CRKT's website, was $375. The knife is basically one solid piece. The "fuchi" is molded plastic, and most likely is molded directly to the tang. It has ray skin, visible through the ito wrapping, but whether it is real or not I do not know. The ito is fantastic, by far the tightest I've ever felt on any Japanese sword, and seems to be impregnated with some kind of resin or wax to make it extremely durable. There is no kashira; the wrap sort of loops around the butt of the knife. It's simple, it's durable, and it's remarkably comfortable and secure in the hand, since you can really dig your fingers into those diamonds and not be concerned about the knife running away from you. The diamonds do not alternate, but the wrap is so stiff anyway that I doubt it would unwind if cut (if it even
can
be cut).
The blade is very pretty; the spine is v-ground, and the ji is a satin/brushed polish while the shinogi-ji is a mirror polish. it's a really pretty effect, though the transition between the two different polishes is sharper on one side of the knife than the other. There is a nice double fuller on one side of the knife. The logos seem to have been painted on, and came off quickly with a bit of Mother's Mag and Aluminum polish. They're still faintly visible if you look for them. A slightly more vigorous polish probably would have taken them off entirely, but I was satisfied with the point I got them to. The knife is incredibly lively and moves great. The balance isn't quite as far forward as the other tantos I've owned, but I never found it to be a detriment in cutting.
5/5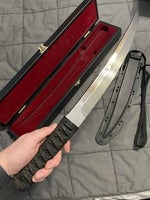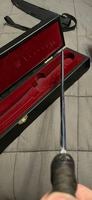 The sheath leaves a bit to be desired. It's a pancake style Kydex sheath and came with a very poor belt-suggestion-hole thing. It was garbage; it was literally a lower grade thermoplastic. I took it off and threw it away. The sheath was also too loose out of the box. The upside with Kydex is that I was able to heat it up at the mouth and give it that nice positive snappy lock that a Kydex sheath or holster should have. For mounting, I ended up using a piece of sageo to make a simple baldric. It actually carries and draws pretty well, if you want to carry an almost 20 inch knife for whatever reason.
4/5
as it comes out of the box, but easily upgradable to a 5 with a bit of heat and a cord.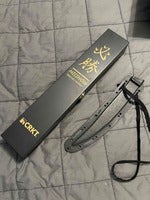 It also comes with a nice black display box with golden lettering on the outside and a red felt interior. Bit of an oversight on the interior, though: There's a cutout to fit the knife, but the cutout isn't deep enough, so when you close the box, you're inevitably leaving an imprint of the ito wrap on the felted interior of the lid. Not a big deal, but it wouldn't have been hard to just add a relief cut so that didn't happen.
Handling/Test Cutting


As someone who has zero real-world combat experience, I can't attest to how good this knife would be on the hip of a tier-one operator. But for backyard cutting, it's hands down the best knife I've ever cut with. I have had some knives that cut very well, including a Ka-bar that I reprofiled, but this knife cuts better. It might be the wrap's ability to lock your fingers in to make sure you have an ideal grip. But whatever it is, it loves to cut water bottles. I didn't try any harder targets, but I did use it to cut meat for food preparation one time just for fun, and it had no difficulties whatsoever. I could see this being used as a brush-clearing knife, though I don't know how well it would perform as a chopper based on its weight. Certainly, I would not want to abuse it because it's just too pretty. But I have no doubt the knife could take a lot more than I ever threw at it.
5/5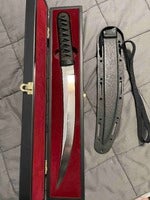 Closing Thoughts


It's a pity you can't pick up this knife or its siblings anymore. I always meant to get the Shinbu and Sakimori, but I was young and just starting my collection when I picked this one up, so naturally I went for the biggest option. In hindsight, I think I would have gotten the most use out of the Sakimori, since its sub-6 inch blade would make it much more carry-able. But that's still pretty big, so maybe there's no point in trying to be "practical" when picking one of the lineup. Not that it matters: when these come up for sale, you get what you get. If you're looking for something modern and "tactical" that also maintains that Japanese aesthetic, and you're willing to pay the often-inflated prices (I saw a Shinbu go on eBay recently for over $500), you will be happy with it. It's a pretty and tough knife, and whether you use it hard like intended or just have it to admire, it will not disappoint.