Post by Tiers1 on Aug 23, 2020 2:37:35 GMT
Ryansword is a company with a checkered history in the sword collecting community. They have been around for quite some time, and have had detractors as well as supporters over the years. I have recently been purchasing some items out of curiosity and a sword from Ryansword was among them.
Those who are familiar with the chinese sword production industry know that most sellers are not fabricators, but rather assembly houses...putting together blades, fittings, and scabbards purchased from the factories that specialize in those individual aspects. I believe these assembly houses also do a certain amount of finishing work, with sharpening perhaps included. Ryansword *appears* to follow the same model for the most part...their katanas and chin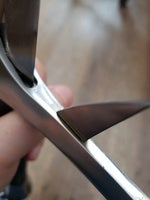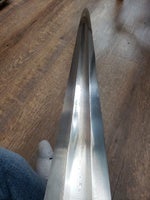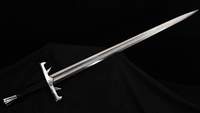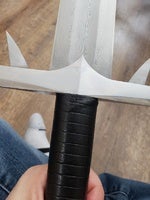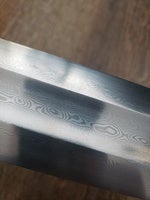 ese swords are very similar to what one can find on ebay from various seller. However, they do have a couple of items that I have not seen anywhere else, or are only seen very rarely from other sellers. The sword I bought is among those items- I have only ever seen it for sale from them. The overall design language does not remind me of the other China euros (Fred Chen, Hanwei, the place that does the Ronin euros) so it is either legitimately made by their own people or contracted as a special item.
Stats (from their site)
Blade Length : 85cm / 33.5" Handle Length : 23cm/ 9"
Width at Handguard : 5.5cm Thickness at Handguard : 6mm
Width in the Middle : 4.3m Thickness in the Middle : 4mm
Width at Tip : 1.5cm Thickness at Tip : 3.5mm
Handguard Length : 23m Blade Material : 1095 Folded Steel
Fitting Material : Iron Weight without Sheath : 1.75kg / 3.9lb
Shipping Weight : 2.5kg
$340
P.O.B- Approximately 2" in front of the crossguard
First off, I want to share that the customer service I received was about the best customer service I have received from any sword fabricator, custom or production. Messages were answered very promptly, the sword was shipped on time (there was a three week wait time for it) and took less than a week to arrive. They even sent legitimate pictures of the sword prior to shipment for approval. I would note that when the sword took slightly longer then expected, I was told the first blade had a welding flaw and their guy had to make a new one...if true, that would be evidence that they do have a few people working for them that make things just for them. There didn't appear to be any dishonesty at any part of the transaction so I am inclined to believe the statement.
On to the sword:
Let's acknowledge the elephant in the room- yes, this is a knock-off of the 'Kurgan' sword from the movie Highlander. I do not approve of that sort of practice, though via a thread on the forum it would seem they didn't copy enough of the design language to make it a legitimate legal issue. I apologize to those who don't approve of my morals in buying this sword. I liked the look of it and the overall dimensions.
The blade: The blade is listed as being constructed of 1095 folded steel, which I was told is their most durable option. Of course there would be no pattern if it was just 1095 folded in isolation so I am presuming there is something else in the mix, which is not listed. Guessing by the general conventions I'd say it is probably 1060 or equivalent. The blade has a pronounced taper which is what attracted me to it in the first place, as cutting videos have proven that this sort of curvature built into the edge does much to assist cutting. The tip is quite acute for effective thrusting- so an overall very effective profile. The blade is not especially artful in its shaping, in the sense that is has the appearance of a billet which had its shape created by not too many steps- fullers were placed and then the planes were ground in...so stock removal perhaps? I am not expert enough to say for sure, but that is the impression I get. Of course as we know, stock removal is in no way functionally inferior to forging. The blade is straight and everything is even. There is distal taper and the blade is fairly rigid for around 2/3 of its length before some flexibility is introduced as the profile thins. The planes forming the edge have thickness enough to make for a durable cutter but not thick enough to create a ponderish club, and the edges are exceptionally sharp and true convex with no secondary bevel whatsoever. The person who sharpened this really knew what they were doing, and took their time doing it. Also impressive was that the very acute tip arrived from China with no bending or deflection...which is a pretty common issue with many swords.
Crossguard: The crossguard is listed as being forged of iron, which if true is an excellent option as it has the toughness to resist cracking and shearing if struck. The guard has a mild fantasy shape via the two small horns that exist in addition to the traditional crossguard terminations. It is not immediately clear how these horns were attached, but they are very flush to the crossguard and one has the slightest heat discoloration towards its base, which may suggest it was welded on somehow. The crossguard has some dimension and is pleasant overall. Of note is that it isn't overally thick, likely in an effort to save weight. The blade to crossguard junction is done fairly well. It does not have the flush shape around the blade that would suggest the crossguard was made for this blade, but there are also no gaps at all visible between the tang and crossguard fitup. There was a slight amount of oxidation when received.
Handle: The handle is a simple leather cord over wood affair. It looks that their means of wrapping involved tucking the terminations of the cord underneath, which does introduce a little bit of sloppiness in appearance but isn't too bad, especially considering the price point. The leather, while of nice quality, is too slick, and lends itself to the handle sliding somewhat when swung. I also feel that the handle would benefit from some additional length, though the sword is still very comfortable to swing so long as the lower hand grasps the pommel. The handle is double pinned to the tang.
Pommel: The pommel is also listed as being forged of iron. It has a pleasant shape and is very robust. There facets are slightly offset from lining up symmetrically with the handle. Not sure if this was intentional or not. There was a very slight amount of oxidation when received.
Overall: The sword's construction is very attractive for the price, the patterned steel blade is appealing and the edge is exceptionally good. The construction is also solid and tight with no rattle. Though the pommel is screwed on, the tang is double pinned, so I don't see this coming apart easily. Though the sword does not have exceptional dynamics when swung, it is still lively when held with two hands- they probably struck a good balance between durability and usability. The customer service was excellent. My experience overall was excellent.