Post by edelweiss on Jul 28, 2020 16:57:38 GMT
A quick overview ensues. I broke down and finally ordered one. The Rose contracts of 1812-1813 are rare birds. I will list some of the exceptions that differ from the period swords, as well as somewhat endorse both the product and ebayer. First, let me put up these files I have shared in the past. I will further preface now that there was no Rose 1808 that I am familiar with. Credit to Richard Wagner for the pdf and Mowbray Publishing for the pictured article, also found on Oldswords.com.
RoseTHOUGHTS ON THE MODEL 1812 NON-COMMISSI....pdf
(241.9 KB)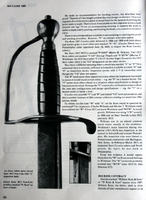 The reproduction and ebay images, sale. Advertised as an 1808 and "period correct", the date is not the only failing. From my notes and research, the plain vs grooved grip would make it more properly an 1812 contract sword. The pommel on the reproduction is a bit rounder and just a bit shy in size/diameter. To visually illustrate this, I will insert the auction images now, so one can easily compare to the originals above.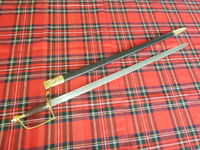 The sale went seamlessly and I have no reason not to endorse the seller. There is an obvious common affiliation with David of Canada's
The Royal Sword
For an India made item, I am favorably impressed. However, the misnamed provenance is not the only issue I see.
The blade is a hand's width longer than the original swords! This is a problem we have encountered in the past when the producers screw the pooch on the dimensions. In this case, the blade has a surplus of 3"-4". The blade grind is exceptional and I will get some more detail up in time. For now to suffice, there is typical reproduction distal and blade stock a bit thin to begin with. I do not have period sword data to work with but can associate the form with period swords I own. The blade is quite stiff and would be a terrific thruster. The 29" blade, to me, very much reminds me of my late period US m1840 musican sword but less lively (it is much broader). More data to follow but the ballpark weight is about 1 lb 13-14 ozs (my old spring fish scale, close enough for me). The pommel shows it was somewhat peened on a threaded tang (images to follow).
Honestly, I think some would have a ball with this one. While a little nose heavy, the pob of 7" is deceiving. I have handled high end migration period swords with similarly paradoxical statistics. The sword has merit on its own. The blade edge is actually sword sharp at the foible and the grind a flowing lenticular that would be blazing sharp with little work. Although I have ceased in cutting practices, this one is tempting me to make it razzzooooor sharp. There seems to be a batch a year from this seller. There are a couple left, as of this writing. The seller usually has more swords each spring and as mentioned, is affiliated with David of
The Royal Sword
www.ebay.com/itm/1808-Rose-Army-NCO-Sword/184289966778?
www.ebay.com/usr/paint2?
All else aside, it is a form that might have existed aside from the contract swords and for a reproduction, this sword may be appealing for less than two bills. I often chide myself for buying anything but period but I felt it was worth exploring and a subjectively worthy purchase. Much, much better value (imo) than any of the spadroon like offerings out there, including all the reproduction British 1796 infantry and US m1840 types. This is a blade 27mm wide. Distal and part 2 of this another day. It is plenty stiff and plenty to work with, either shortening or re-grinding but I am quite impressed with its "have at it" ability. The scabbard is typical of the India produced leather scabbards. The sword was shipped out of the scabbard but well wrapped. The carton was a tad short and one flap popped open somewhere along the way.
I will add to this soon (I hope) and at some point may put up something serious regarding early American swords but that should end up being a link to Glen's published works.
I'll end up for now in addendum. The Rose 1812-1813 contract swords are extremely scarce. I own a period contract Starr 1818 of this ilk, as well as a period French hanger of the early 18th century with similar attributes. The main difference with this reproduction in production execution is that the blade is longer than the sword it was meant to represent. Chop three inches off this blade, re-grind a bit and this would more mimic the period sword. I will re-iterate in closing that this is a dandy and quite pointy goodness

House worthy.
Cheers
GC