Post by admin on Aug 1, 2018 5:18:56 GMT
Hi All,
The forums are in need of a bit of an overhaul. And no, I am not talking about cosmetic stuff like a few new icons and graphics that I added to the forum a short time ago - it is something far more serious, so serious that it took up a goodly portion of this months
Sword Buyers Digest Newsletter..
If you aren't a subscriber or didn't see it yet - please read the following..

---
Whether it is photobucket pulling the plug on free image embedding that left hundreds if not thousands of posts and reviews completely gutted with empty placeholder images or blank spaces..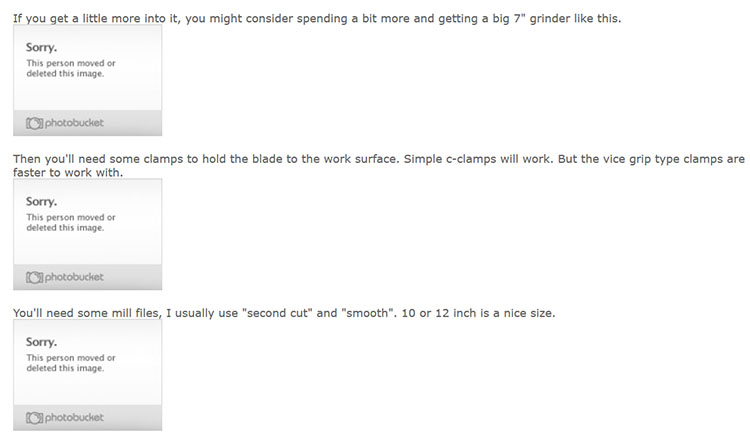 Or members either leaving and deleting all their helpful posts in a huff over some silly disagreement - leaving even stickied threads with only the replies saying "This is awesome stuff! Thanks very much!" - but the article itself is gone like this..

Or whether it is a combination of both these and other factors, the damage is plain to see if you attempt visit the very first review ever submitted to SBG which now looks like - well - like this..

And who even knows what to say about the WHOLE FIRST PAGE of classic old reviews..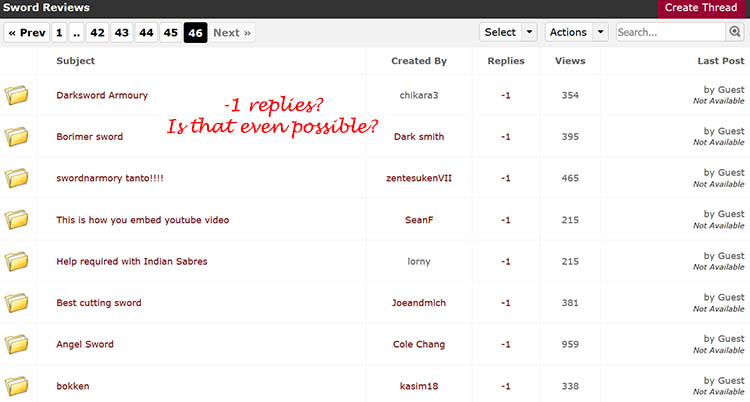 It is clear that unless something is done, eventually many of the best and most useful posts, reviews and information will be permanently lost forever..
In some ways, it is already too late. If you visit the review index now, around 60-80% of the reviews no longer have ANY images..

Well, something IS being done.
I have always been a little hesitant to heavily modify and update the main site as it can cause traffic issues and problems with google - but enough is enough - and traffic is already way down anyway, so there is little left to lose except all these good tidbits of information.
As such, it is time to save what is left..
So this month I will be focusing on bringing over the best and most representative sword reviews to the main site.
Indeed, I have already made some significant progress - here are 21 full length, highly detailed reviews that have been saved so far:
Hanwei Cutting Jian - James Fang
Dynasty Forge Willow Leaf Liyuyedao - Fox Martial Arts
Budget Yong Lo - Kvelduf
Devil's Edge Greek Xiphos - Faldarin
Del Tin 4th Century BC Celtic Sword - William Swiger
BCI Celtic Sword - Brian Wiess
Deepeeka Pompeii Gladius
Hanwei Practical Norman Sword - Bushido
Deepeeka Spadona - Aikidoka
MRL Create Your Own Sword - Alexander
Hanwei Sword of St Maurice - Bryan Heff
Ronin Katana Euro 3-2 - Aikidoka
Battlecry Agincourt - pgandy
Ronin Katana Euro 13 - Curtis Lewis
Hanwei Mercenary Sword - ndave
Hanwei Bastard Sword, Antiqued - Morsus
Atrim Competition Cutter - Aikidoka
DSA Einar - Sir Alan Adale
DSA Ranger - Ranger3333
Jeffrey Robinson Antediluvian Sword - Alexander
Fable Blades Blade of Evil's Bane - Verity
For the most part, the reviews are taken with the content completely unchanged with only minor cosmetic improvements (as many of the reviews only have thumbnail pics at the end), adding in cross links to reference relevant manufacturer links or articles, and even blending a few reviews together, or adding in events that occur later in the thread into a coherent whole.
But there is also a ton of good content that still remains in fragmentary form.
Quite often, there are tutorials or really useful replies and amazing stories spread out over many posts that many visitors may never read deep in enough on the thread to get to the good stuff. Furthermore, people really have no way of knowing if a link they click on is going to answer their question and give them the info they are after or if it its just a flame war or a few one liners of info.. (Facebook is worse of course, all you can ever see is what's hot and whats happening now... Good luck sifting back through it all to find something written years ago)..
Here are some examples of what I mean from posts and threads that contained tutorials from work in progress threads that have been compiled into full tutorials:
As these articles needed to be edited to turn them into basic tutorials, the original content will be left alone - but for reviews the like, later I will be removing the original content and replacing it with a link to the featured article on SBG - partly to avoid problems with duplicate content and google, but also to free up some much needed space for images on the forum (I don't have a problem with hi res images when they are needed, but no need to have an image 4000x3000 pixels if it is just of the cardboard box that the sword came in..)

Once we have archived most of the best content and articles, we will be working on further integration with the main site and the forums, plus there will be rewards and prizes given to people who have contributed the most and who want to become featured SBG reviewers or content creators.

It's a big task and long overdue, but I think worth it in the long run to keep both the forum and the main site vital and growing closer to my vision of what I planned for SBG from day one. So stay tuned folks! Time to turn them lemons into lemonade..
---
As you can see, some small progress has been made on this already - and today a couple of the mods and myself went in to the review index to update it with some icons showing what reviews have lost all their pics and which ones are now on SBG.
There is a bit of weirdness with the way the icons (which are actually smileys) are displaying right now, but if you were to go to the review index now you can get a sense of how much has been lost already..
Here is what the Atrim review section looks like now..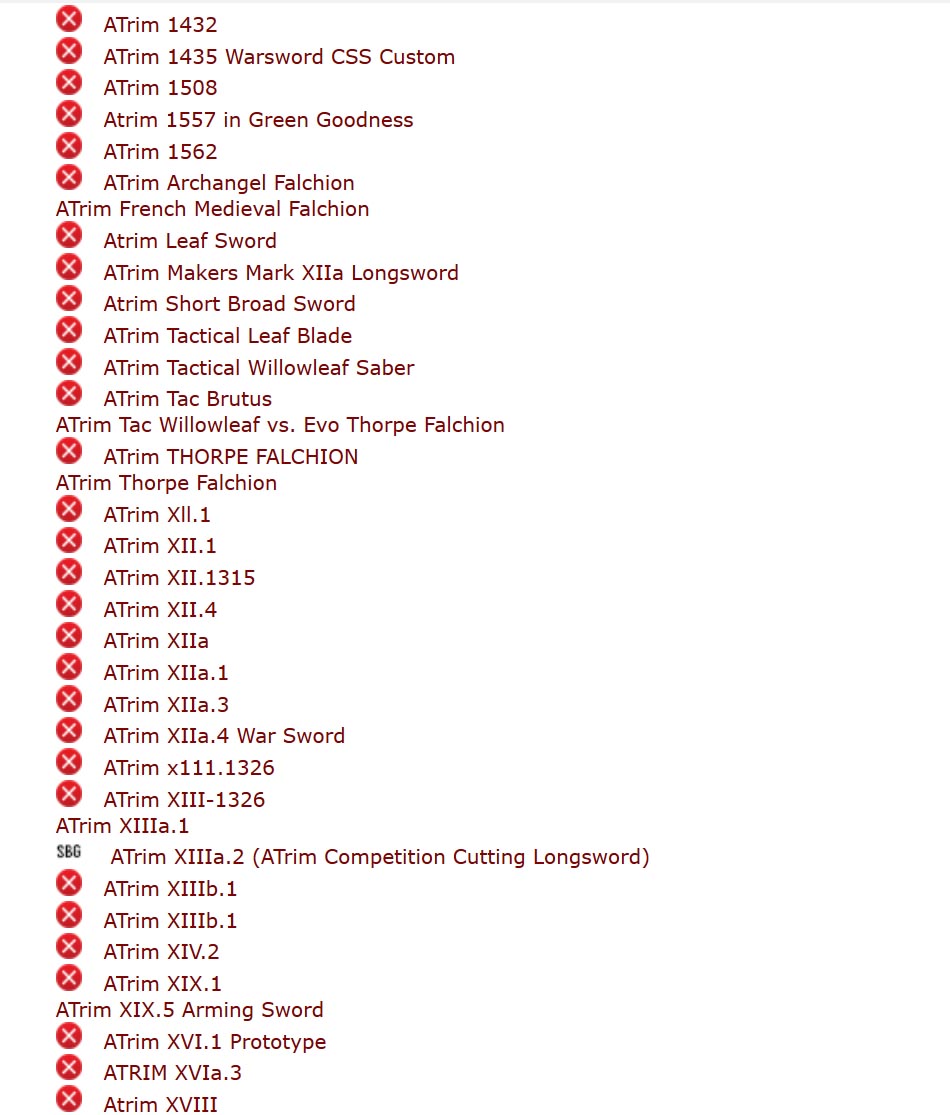 One review saved, 5 with pics and 30 decimated..
Even though it is early days, by transferring those 21 reviews we have reduced the load on the forums image storage by 1% - but its a start..
What you guys need to do..
Well, actually - nothing - you can keep on doing what you are doing and I will be working away updating stickys, adding in helpful links and consolidating the best of the best that is still there before it is too late.
But if you want to help out a bit, let me know in this thread any great and helpful posts that still have images that could and should be the basis of a 'cobbled together' tutorial or the like.

Additionally, If you want to and you have a review that has been effected and still have the images, it would be awesome if you could update your review with pics again and let us know in this thread or via PM so we can update the review index. But that is all option - and otherwise, please just bear with me and I will do all I can to ensure the forum gets some of its mojo back..
Thanks all
- Paul

---