Post by zabazagobo on Jun 13, 2018 19:01:21 GMT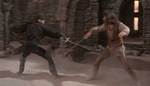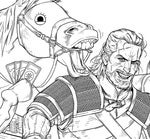 Fun choices, what made you settle on Italian rapier over the others? I've been considering about more seriously practicing with rapier lately and would be interested to hear what you enjoy the about the style and how it compares to others.

Broadsword and dagger would be a fun time (seems like you're a big fan of using a dagger in your off-hand), I should give it a swing sometime. What is it about using a dagger as a secondary weapon that you like the best? I usually prefer to use two similarly sized weapons for symmetry so I'd value your input on why you enjoy/prefer using a smaller weapon in your off-hand.

I started sword fighting through the SCA. The SCA focuses primarily it seems on Italian fencing, so that is the style I have primarily been trained in. In the SCA it seems the other styles are secondary and only used by a few specialists in the SCA.
I enjoy the point control and the finesse of Italian rapier. When I first started in the SCA there was rapier combat (mostly Italian) or Armored Combat (think medieval broadsword), and I chose Italian rapier more for the perceived intelligence of it over the smashy smashy (perceived)of Armored combat. I know now there is a lot going on tactics wise with armored combat then first perceived.
Dagger as a secondary weapon gives me control on the parry. That is my favourite part of it. Regardless of where on the blade I parry a sword I generally have control. I have found fighting Case (paired sword) my off hand is less co-ordinated and tires way too fast. I am faster on the parry and have more stamina with the shorter weapon. Also fighting with paired swords people (even those very experienced) will eventually put the two swords on the same plane. in that moment I swipe my sword across (sweeping both their weapons to the side), transfer the parry to the dagger and thrust with the rapier.
I can relate to your anecdote on the 'smashy-smashy' armored combat; I had the same opinion of longsword and sword n buckler styles for a while. I started off being exclusively interested in kendo and kenjutsu and eventually realized rapier was similarly tasteful and refined. So I quickly developed a liking to that system (although I do need to get more serious about it, it's such a fun art). Plus it's really interesting how rapier and katana techniques compliment each other. It was only after spending a good chunk of time over the last year learning more about longsword techniques that I've become an enthusiast of the weapon and it's style.
That's a good idea, transferring the bind to the smaller/lighter weapon (I'm an amateur when it comes to rapier). Given the way I practice swordplay with two equal length swords I don't often think of transferring the opponent's weapon from blade to blade once the parry makes contact, I usually just focus on neutralizing it while striking with my other weapon. When using a shorter weapon rather than one of equal length this seems like a very useful strategy.