Post by howler on Feb 9, 2018 2:18:06 GMT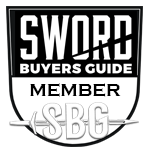 I condemned your thought experiment in a separate thread but you still don't seem to get it.

Now you are fly swatting the guy next to you, or your own arm. Nonetheless, you had to impart energy to do so. When Keating offers a disarm buy rolling around the opponents arm, presenting his edge to the other's arm, he is doing so with the base of a blade. That is the only, lateral/horizontal view you are sharing with your current presentation.
In a forward and linear path to your opponent with your flyswatter, you are really only offering a jab that might be easily avoided. Since the distance and time was lost as you rooster/reset your flyswatter, the shorter blade has actually entered your measure because it didn't have to travel as far while its point was directed at you. You rooster/reset while I move forward. You let fly again and I still have my distance/reach when I retreat to move out of your jab.
I am not arguing the geometry. nor momentum, velocity and mass of your claymore; simply that a shorter and lighter blade is quicker. Your only advantage is the initial reach and perhaps keeping that distance. Yes, a shorter blade must then accelerate a double measure to reach the same distance.
That all goes back to energy expended . Pretty simple to me. Even if I'm living in my own private Idaho.
Your over thinking. The weight (POB) is at the guard, so no meaningful weight penalty (you aren't using an axe, or even a neutral bar rod), though significant length advantage is potentially HUGE, which also increases impact damage due to velocity. Small knives are only advantageous in certain elements of the grapple (and our beloved phone booth).