Post by admin on Aug 27, 2017 3:23:31 GMT
Okay, 2nd attempt at writing this out – first one was lost after an unexpected browser crash, so let's see what I can remember..
First off, some background on the 'gods' and 'dragons' as what I wrote about the warrior monks does not necessarily derail what you guys were doing.. In many ways, it actually fits in there.. But I am getting ahead of myself.
The Basic concept of 'the gods' in Eletreus is simple. Druidism evolved into the 'Church of the All Father' (sun god) and with the elevation of the Paragon to demi-god status (who was himself a member of the Church of the all father) worship of the 1st Paragon. It is more or less the same beliefs at the core for all three – the main difference is that the Druids worship the Sun and Moon God/Goddess equally and believe them to be aspects of a single all supreme being. The Church of the All Father relegates the Mother Goddess to a secondary role, because she can be a bit dark and unpredictable at times..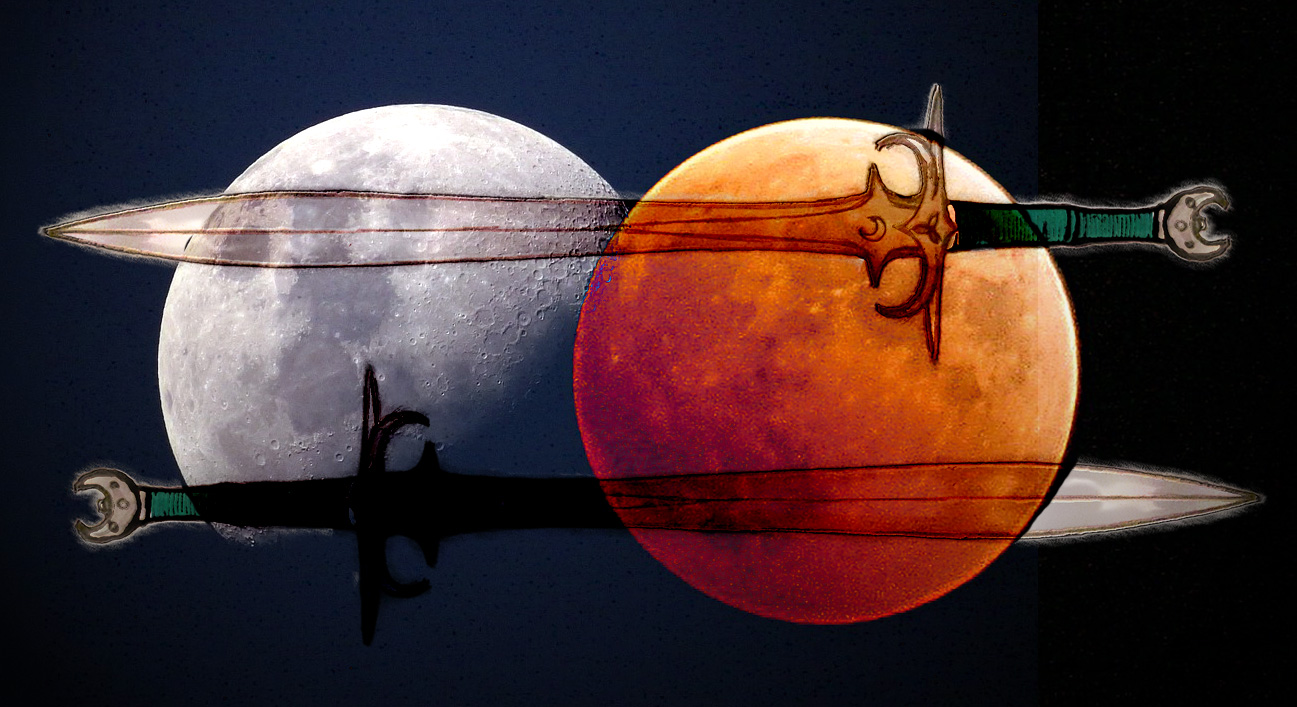 LIKE THE GODDESS, THE SWORD OF DANU ALSO HAS A DARK SIDE. IN THE HANDS OF AN EVIL PERSON, IT GETS REAL NASTY...
OTHER GODS AND BELIEF SYSTEMS
While the Druids/Church of All Father/Church of the Paragon all have the same root belief system – there are other beings who have elevated themselves to demi-godhood. The Northmen worship ancient chiefs who became demi-gods and were also subverted by the Fallen during the War in Heaven (more on that in a moment). The Thane rejected the gods early and later embraced the Fallen ones.
And then there are the Ancient Dragons – Great Wyrms. Only 2 remain, but soon after the sun and moon goddess created the world, they also created the Dragons and were shocked when the Dragons, started warring among themselves.. (this is the Dragonage, and the War of the Dragons, when the world only had plants and animals).
The Dragons that were killed off during this period became inter-dimensional beings. So in theory, they could still be the source for magics..
During this war, the Gods created the Watchers, Seraphim and other angelic beings to quell the violence and stop them from tearing the world apart.
There is more detail over on the dedicated site, but a brief timeline from the age of the Dragons is as follows:
• Elves arrive from another place, attracted by the forests, rivers and natural world.. They are not native to Eletreus but are welcomed by the Sun and Moon God.
• More 'visitors' arrive, this time the Qahoori Nomads. Both of these events occur about 2000 years before humans are created.

THE MYSTERIOUS AND ENIGMATIC QAHOORI NOMADS
• Humans were created by a 'visiting' trickster god, who makes humans as a mockery of the gods – as the gods natural form is human in appearance. The insinuation is that he does this on every inhabitable planet he can find – some guardian gods like the sun and moon god take umbrage and just kill them. The Sun and Moon Goddess of Eletrues took pity on them, and instructed the Watchers to – well – watch over them. Elves try to teach them too, but they split into tribes..
THE WAR IN HEAVEN
Shemhazai rebels, and a War between the Angelic beings begins – Shemhazai and his group are now known as the Fallen. This War almost destroys humanity – and the fallen twist the living things into abominations and monsters to help them fight their war. This is the origin of Orcs, Hobgoblins, etc (though not Goblins, which are the wicked children of the dark aspects of the Moon Goddess).
The War ends when Shemhazai is cast into the Abyss, but full of rage at his defeat, he enters the cursed sword, the Brand of the Fallen, and over thousands of years it makes its way to the world, creating the first DeathKnight.. The Angelic beings create its antithesis, and the war in heaven continues, but in a different form..
WARRIOR MONKS (ADEPTS).
Now these guys do not derail the magic system, they fit within it.. They are also important to ensure that magic does not overshadow swordsmanship, so it combines the two. After all, we want to keep the focus on swords, right..? ;-)
This is a bit of a long story – but the gist is as follows. Lhasa was founded before the war in heaven when the Gold Dragon found about 100 survivors who split from the early tribes, and took one wrong turn too many in the Badlands.. Having lost his own offspring during the Dragon Wars, he decides to adopt them all, and guides and protects them. Just before the war in heaven begins, increasingly taking on human form, he marries a human princess from Proto-Escia.
During the war in heaven, he more or less sacrifices himself to save his people, and they escape the worst ravages of the war as a result. But it takes a huge toll on him and he falls into a slumber, which continues to the present day. However, after the wars are over, a mysterious being arises known as the Half Dragon Prince, and he teaches any who will listen deep secrets of meditation and internal energy manipulations to achieve Enlightenment.
At the location where he 'set up shop' is now the Shaoshi temple (where the prince is still there, but has been meditating for hundreds of years and appears as a stone statue) and their powers are basically a variant of Anima Mea but limited to their own bodies.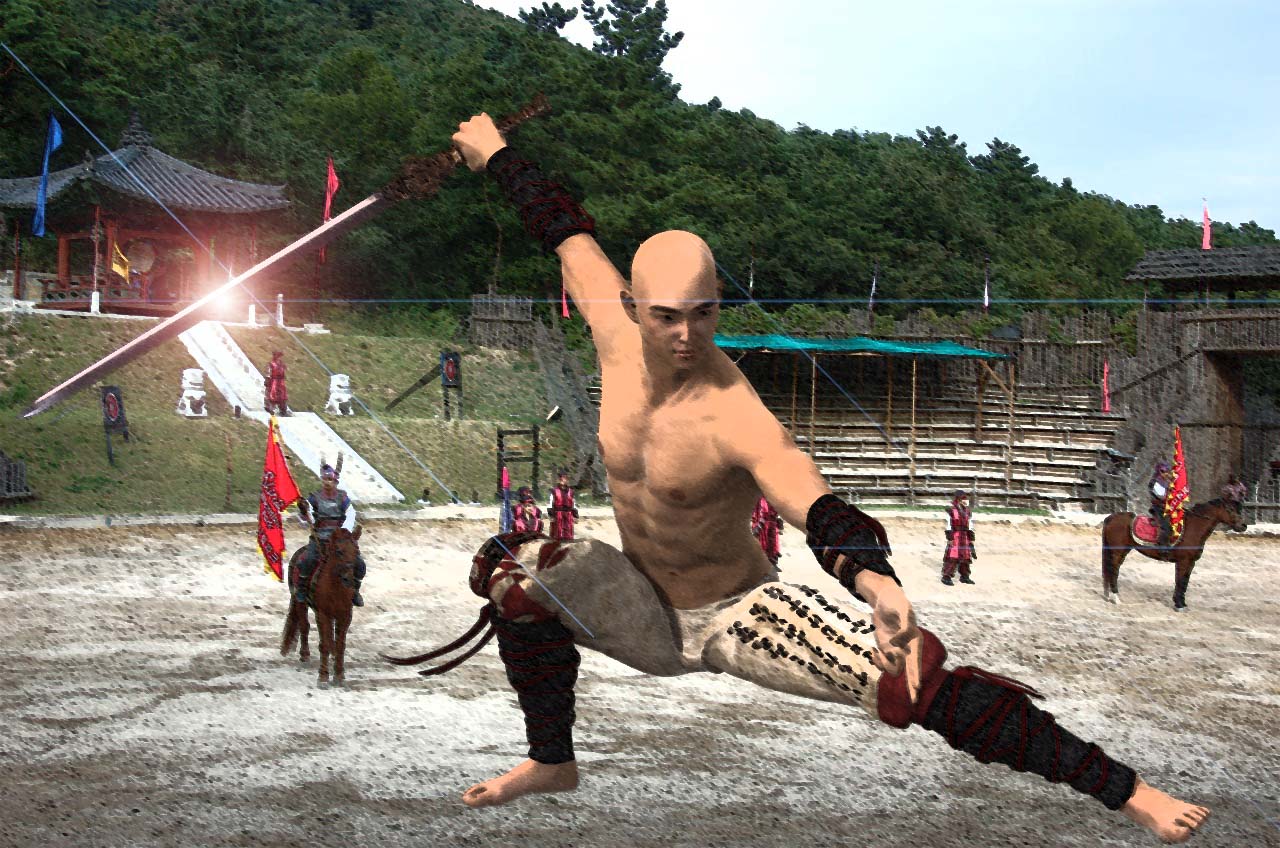 A SHAOSHI ADEPT TRAINING WITH HIS ENERGY SWORD
I wrote this better the first time around, but basically – these adepts cultivate their 'Qi' to be able to achieve superhuman feats such as temporarily suspending gravity, being able to transform their hands so they become as hard as steel, etc. If/Once mastery is achieved (and is a long hard road that few actually attain) they receive or make an 'Energy Sword' – which is kind of the reverse of a normal magic sword.
To elaborate, most magic swords in Eletrues bestow powers ON the wielder. Some take time to unlock, but it is a top down set up. The Adept Energy Sword is bottom up – it has NO inherent powers, but simply acts as a focus for the Adept to channel his own energy/mana. In the hands of a non-adept, an Energy sword is completely mundane. In the hands of an adept, it becomes as light as a feather, as fast as quicksilver and as strong as stone – and its potential is almost limitless..
AND NOW (DRUMROLL), MY FEEDBACK ON THE MAGIC SYSTEM
So with the basics out of the way, here are my thoughts on each aspect of the magic system 3.0
ANIMA MEA/VESTRA
– This is fine as is, and as noted, ties in with the Lhasian energy use.
PRIMING SPELLS
– I really like this concept! Perfect as is.
CANTRIP SPELLS
– I think this needs to be split up a bit. Fireball, etc are evocation spells as I see it. Instead, I propose we have greater and lesser Cantrips. Lesser Cantrips might be minor illusions, folk magic and divination by wisewomen, etc. It should be the most COMMON form of magic, for every true mage there should be a couple of hundred people who can learn some lesser cantrips. Greater Cantrips should be a catch all for what is currently listed as alternative and only usable by full mages.
A NOTE ON MAGICAL TALENT:
It should be that, except for extremely rare cases or dramatic events, you are either born with magical talent or you are not, and 99.999% of the population are in the 'not' category. So the magi from Noktarikon go out and search the lands for potential students, reimbursing their families (they can refuse, but most would want to go). Mages are powerful and rare, but minor magic is fairly commonplace.
SCHOOLS OF MAGIC
Arcane: Basically, mages, right?
Divine: Clerics and priests. Yup, makes sense.
Spiritual/Talismanic: This would also include making magic swords. I like the distinction, someone who makes talismans and magic blades would not necessarily be casting 'magic missle' and the like..
Alternative: As stated, I think this can go into cantrips and be replaced with 'Adepthood'
Psychic/Psionic: Nice, so in theory someone you might call a Warlock could be focused on Talismanic Magic, Psionics and minor cantrips perhaps? While a mage would have lesser and greater cantrips, Arcane and possibly Talismanic? I do like the idea of some people not being magicians, but having innate powers. This would probably be more common among certain groups such as the Tuath.
ADVANCED SCHOOLS OF MAGIC
Biomancy: Yup.
OVERTIER: Yes, yes, and yes.
CATEGORIES OF MAGIC
Abjuration: fine as is. This is also used by the Warrior Monks in a different form.
Conjuration: Yes, but this should include elemental control as the first step. Before you conjure a flaming fire elemental, you would practice to control one first. So I think that the Elemental control caretegory can be collapsed into Conjuration.
Evocation: As stated earlier, some of the Cantrips really belong in here. Again, the Warrior Monk Adepts would use a variant of this. The energy rarely leaves their body except in the classic 'death touch' or as a blast of raw mana.
Deceptive: Yup, sounds good.
Necromancy: Yucky, but fine as is.
ADDITIONAL IDEAS
Two things stand out that I think should be addressed.
Turning Undead and Astral Perception/Projection
TURNING UNDEAD
This is a D&D term, so we need something original, but the idea is not really limited to D&D. Evil Clerics should be able to attempt to control undead, while good ones should be able to make them run away or destroy them with a sliver of raw solar (sun god) power.
ASTRAL PERCEPTION/PROJECTION
This is a classic component of the Shadowrun magic system (probably the best and most realistic I have seen in any RPG) they have Mages and Shamans. The main difference (other than outlook and roleplaying of course, as mages tend to be scientific – and shamans. Spontaneous) is that Mages Conjure Elementals and Shamans conjure nature spirits.
But BOTH have access to the Astral planes.
Astral perception is more or less just 'opening ones eyes' and allows the magician to see the astral plane. He can read moods, auras, and see invisible things, etc. The danger is that it allows invisible things to see the magician too, and may be attracted to it and can, because he/she has partially opened him/herself up to the Astral plane, be attacked by things that otherwise would not be able to cause harm..
Astral perception would is also available to partial mages (magical adepts) – so may be bundled with lesser cantrips and psionics.
Astral Projection is of course, leaving ones body in Astral form. Magical weapons also have an astral presence, so can be taken along for the ride. Movement is at the speed of thought, and a mage can almost instantly travel to a place they have been before, but will get lost and confused if they try to explore somewhere new. They can also take on a ghost like form and speak to people on the physical plane.
I think that these powers should be included if possible – and modified accordingly. Mages should have the full set. Priests probably don't astrally project, but can astrally perceive, as can some adepts and practitioners of cantrip magics.
I think this captures the essence, if not the wording of my original (lost) post. As always, it is open for discussion, but the Adepts of Lhasa and Escia are needed as they fit into a later narrative and allow for sword saints, supernatural blademasters, etc.