Post by bfoo2 on Sept 28, 2016 4:53:51 GMT
A while back I made a post about two variants of the famous British 1796 Light Cavalry (1796LC) sabre: The Prussian Artillery Sabre and the Indian 1896 Mountain Battery sword (
here
). Today I added yet another 1796LC variant: The Swedish 1831 mounted artillery sword.
Despite having loads of variants, I have yet to lay my hands on an actual 1796LC (if anyone wants to change that, let me know

). I hope this writeup will have some useful information and handling insights nonetheless.
Thanks to
Uhlan
and
edelweiss
for links to reference materials
here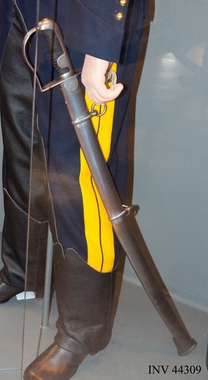 Image from the Swedish Museum (who are much better photographers than I)

My own offering
Background:
a)
The British 1796 Light Cavalry sword
One of the most iconic swords of the Napoleonic era, the 1796LC bears a distinctive broad blade with very little profile taper. Coupled with a foible that is almost paper-thin and extremely sharp, this sword is a formidable cutter. I think I'm right in saying that the broad cutting blade is unique to the 1796LC and its descendants- it hasn't been used since. Due to the aggressive distal tapering (blades would often start ~10mm thick at the hilt and end paper-thin at the tip), these swords were incredibly light and well balanced.
Pino wrote a good
article
a while back about the 1796LC (unfortunately he no longer seems to be with us these days). I have nothing more to add, except for some information about the Indian 1896 Mountain Battery variant mentioned and linked-to earlier.
b)
Everyone loves a good idea: the 1796 immediate family.
I do not know for sure how the 1796LC was initially received by the British Cavalry. However, I imagine that they were well-liked, for the design was copied in the years following its introduction. Here are the examples I can think of off the top of my head:
-Prussia: M1811 "Blucher" saber. An almost exact copy of the British offering, primary difference being a thicker and stronger hilt of slightly different shape. This one spawned kids that were still running around during WWI. See Pino article for more details
-America: M1812 "Starr" sabre. I'm not sure about this one, but I'd bet it was inspired by, if not copied from the 1796LC. It looks like a 1796LC with a clip point and generally more lazy fullering (often see half-fullers or no fullers at all). I vaguely recall reading that American forges were not as refined/competent as European ones at this time and that their blade quality suffered for it… but I cannot remember the source so consider it speculation.
-Sweden: M1808 Artillery Sabre. This is where the Swedish story starts. It's a bang-on copy of the 1796LC except that they did away with the wire wrap on the grip (more on that later)

Swedish M1808. From the Swedish Museum
The Sword: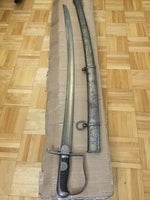 Apparently the Swedes liked their M1808 Artillery sabers and soon they came up with this variant. The chief difference appears to be the blade. It has a less aggressive curve and a secondary fuller (narrow and deep) above the main (shallow and broad) fuller. In this respect it is similar to the French 1822 swords of the time so perhaps this change was inspired by that.
a) The blade:
As with the 1796LC, the blade is broad and ends in the distinctive hatchet-point. The fullers are well-defined and overall craftsmanship is excellent. The foible of the blade is once again paper thin and incredibly sharp.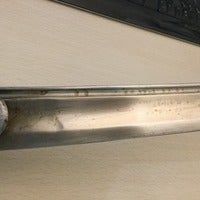 Fullers. Near the hilt (langets barely visible)
Fuller terminus
The blade foible is really, REALLY thin
The one thing that surprises me is the length (cue "that's what she said" comments). The original 1796LC is around 32 inches. This beast is a full 35.5 inches! I think this is the longest sword that was designed exclusively for cutting. To put that into perspective 35.5in is in the ballpark of late-19th century "hand-lance" type swords (British 1908, M1913 "Patton").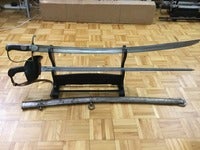 Thanks

Dave Kelly

for the Patton

b) the grip:
Similar to the 1796LC, but appears to be a bit more "square"
I'm not sure if I'm correct, but It seems that the Swedes never bothered with wire wrap. All the examples* of the M1808 and M1831 I could find have no wire. The wire also appears to be absent from the 1869 and 1893* models. I would be temped to conclude that the Swedes did not put wire wrap on their swords. Perhaps because the wire wrap and leather did not go well when stuck in the cold? I don't know but if anyone has more information please add it!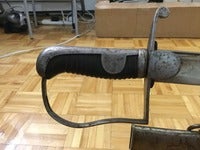 *Examples searched through on google and from the collection of the Swedish Museum (thanks Ulahn)
digitaltmuseum.se/search?query=sabel
**The 1893 Officers sword has the wire, but I have yet to find a trooper's that does.
c) Markings:
unit markings are stamped on the spine. In this case, it's "1 AR. B. No 75" (1st Artillery Regiment, Sword. Number 75). The scabbard has marking for the same unit (1st Artillery Regiment) but it belongs to sword number 55, not 75. Seeing as these are pretty rare and the odds of mixing-and-matching scabbards through eBay or swap meets is astronomically small, I can only assume that the mix-up was due to a lazy quartermaster. There a numbers "10" and "88" on the hilt, but I do not know what they mean.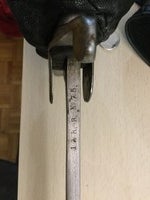 _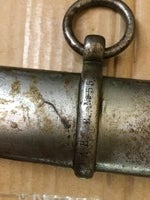 Handling:


I wrote about my experiences with the 1896MB before. It's the closest I've come to a 1796LC. I found it to be almost too light. One feels as if it's being controlled by the power of thought and will rather than the power of muscle.
This one is more of the same. Seriously. Even a 10-year old kid would be a danger waving this thing around. That being said, it does take a LITTLE bit more effort than the 1896MB. But I actually like that. Instead of feeling like I'm waving around air, I'm getting feedback from the sword. Not enough to slow me down- just enough to give me confidence

The broad grips really help too. I also like the fact that like most members of the 1796LC family, it is built like a tank- completely solid, dependable and something you can wave around with confidence.
I am seriously impressed by this sword. Bear in mind that this thing is almost 36inches long and yet it moves effortlessly.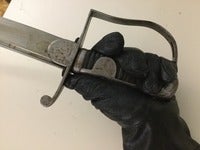 Conclusions:
It's a little-known yet fully-deserving descendant of the venerable British 1796LC. At 35.5 inches long, it is an impressive cutter. As I mentioned before, I've never handled an actual 1796, but I can't imagine it being much better than this one.
Statistics:

Blade Length: 35.5in
Point of balance: 7 inches
Weight: Touch under 2lb*
Thickness at base: 8mm
Thickness at foible: thin. Very thin.
*will update and correct once I get a better scale (I ate too much pizza and broke my bathroom scale huhuhu)
7 inch PoB. 35.5in blade. Under 2lb weight. I guess those second fullers did some magic...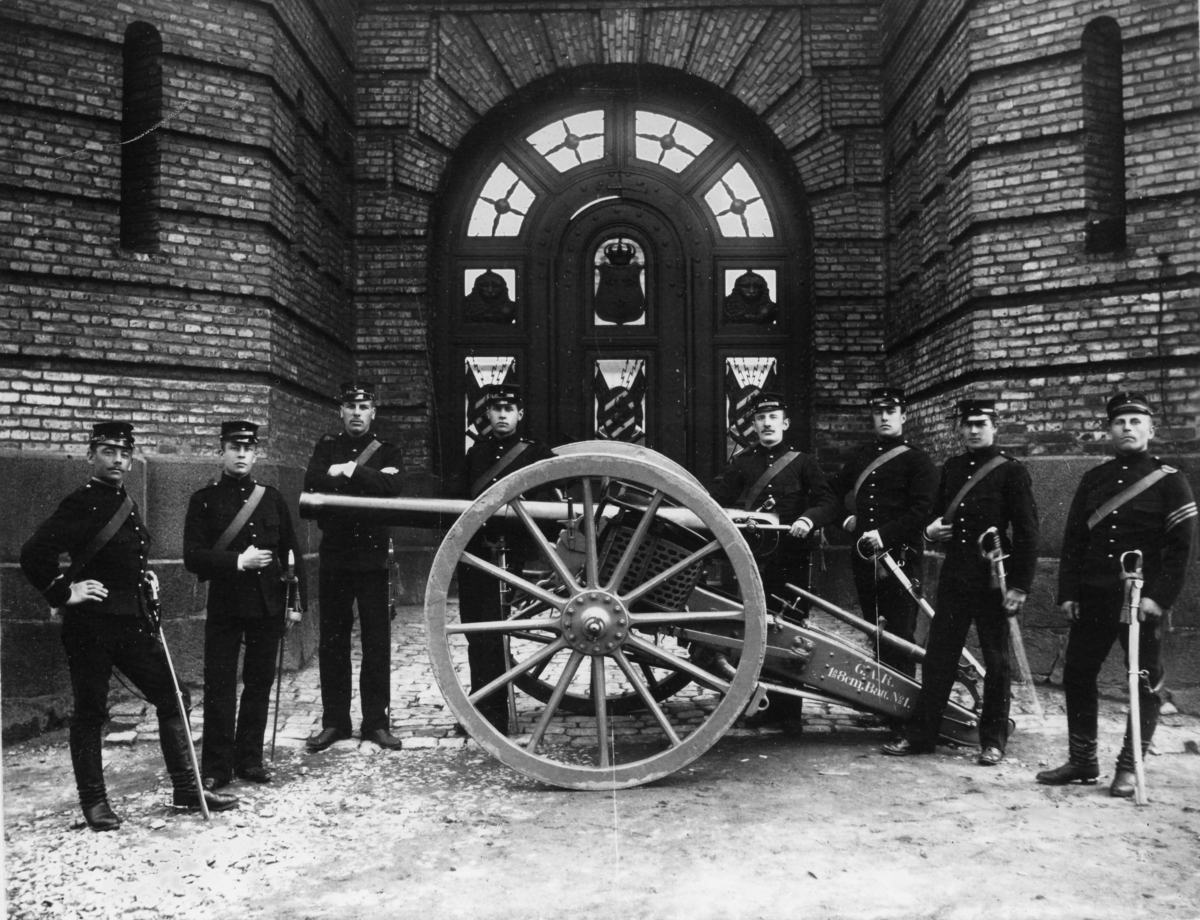 References:


The Swedish Musem:
digitaltmuseum.se/search?query=sabel
svenskablankvapen.se/artilleri.html
www.schweden-kavallerie.de/
www.foxtail.nu/bjorn/vm_1831_eng.htm