Post by the6thdeadlyvenom on Nov 13, 2015 3:27:33 GMT
Introduction


Now I told St-Nihonto in advance that I would be reviewing this sword on this site so that he would hopefully put his best foot forward, just as I did with Huawei. Huawei definitely did put their best foot forward. St-Hinonto? Well let's just say that if this is his best foot then his other foot must be a wooden peg. I'm unimpressed...

Full Disclosure

I purchased this sword from EBay. I am not affiliated with ST-Nihonto and I paid full price. I made him aware I would be reviewing the final product for this site.

Initial Impressions


Typical China ship job. The styrofoam and tape mummified coffin, usual average silk sword bag and a cheap $5 sword stand that I'll probably toss out.


Blade comes well oiled and wrapped in plastic.

So firstly I asked for a custom job. The blade was to be T10 unfolded mono steel differentially hardened Shinogi Zukuri with Kamasu Kissaki and bo-hi. As seen in this auction:
www.ebay.com/itm/221789769523?_trksid=p2057872.m2749.l2649&ssPageName=STRK%3AMEBIDX%3AIT
He got that right. Next I requested a traditional tsuka with a full Same wrap in red Samegawa with Tsukaito wrapped with black leather in Katatemaki style. Custom Fuchi, Kashira and Tsuba and a Cha-isshime Saya with natural Buffalo horn Koiguchi Kurikata and Kojiri. I also asked him to send me pictures BEFORE shipment to verify that my requests were met. Three different times I reminded him about the pictures. No pictures were ever sent and a shipping notice was sent to me after it was already on the way and too late. Aaaah now for the shipping, the delivery time.

This was shipped via EMS from China to America. It arrived today. Exactly 20 days after he shipped it. No it didn't sit in U.S customs for all that time. It arrived in U.S customs 17 days after shipment and was delivered to me 3 days later. Now where it was for those previous 17 days I have no idea. Mind you the sword I ordered from Huawei was also shipped via EMS from China to America and arrived to my door 7 days after shipment.

Now were my requests met? Well some were...
T10 Mono DH Shinogi Zukuri, Kamasu Kissaki with bo-hi? Yes
Full Same wrap in red? Yes (Same looks cheap though)
Tsukaito in black leather? No! (cheap feeling synthetic silk)
Tsukaito wrapped in Katatemaki style? Yes (Very poorly wrapped, more on that in a sec.)
Custom Fuchi Kashira and Tsuba? Yes, not the ones I wanted though and they are cheap poo
Cha-isshime Saya with natural unpainted Koiguchi Kurikata and Kojiri? (Yes and it's cheap, more on that in a few)

Statistics

Condition: Brand-New Blade Sori(Curvature): 0.86 Inch / 2.2Cm
Overall Length: 40.9 Inch /104 Cm Blade Material: Clay Tempered T-10 Steel
Nagasa Length: 28.0inch / 71Cm Blade Shape: SHINOGI-ZUKURI
Handle Length: 10.6 Inch / 27 Cm Blade Edge: Hand Polished
Handle Material: Genuine Ray Skin + Hard Wooden Blade Width (Near Kissaki): 0.91inch / 2.3cm
Tsuba Material: High Quality Copper Fittings Blade Width (Near Habaki): 1.26 Inch / 3.2Cm
Saya Material: Hard Wooden With Natural Lacquer Kissaki Shape: Diamond Shaped Kamasu Zukuri + Bo-hi

Components

Blade

The blade is nice enough. Not spectacular but I am happy with it. You guys can tell me for certain but I believe the hammon is enhanced, acid or some crap, but it's definitely passable and with a better polish could be stunning.. I think.. The hammon is boring and average and although it does not run off blade the greyish area between the softer spine steel and harder edge does. Not crazy about that.
It's average sharpness, slices paper. Haven't swung it yet.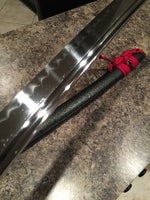 Tsuka
The Tsuka is where this whole deal just derails.. The Tsuka core seems well assembled. Not potato fat but no nice "waist" like Huawei's. It's just kinda straight and average. Everything is tight, no tsuba play at all. The Kashira however is F'ing crooked and it's not quite on all the way.


covered mekugi



The only mekugi not completely covered on just this side



Another covered mekugi

The Same is indeed red and it is a full wrap. It looks a little on the cheap side to me.

Tsukaito is not leather as I had requested and so much the better. This whole deal needs a re-wrap anyhow. It is cheap synthetic silk (at least Huawei's fooled me at first believing it could be authentic silk). It is obviously synthetic because it feels and looks cheap. Crap.. Next it is wrapped in Katatemaki. With uneven poorly folded diamonds and somehow both sides of both Mekugi are almost completely covered by the Tsukaito wrap. I'll likely have to remove the Tsukaito completely to get the Mekugi out to remove Tsuka. Oh and one knot is reversed at Kashira. Just clearly no time or effort or even common sense put into the wrap job at all. Seriously what the hell is going on at the kashira? This is ugly uncomfortable to hold and just lazy.


Seriously?


Lazy..


Are you kidding me??? What the He11 is this??


Fuchi/ Kashira / Tsuba
Custom Fuchi Kashira and Tsuba are not what I had requested. So much the better as the quality or lack thereof is so bad I'd just have been replacing them anyway. They're utter poo. Supposed to be copper but I believe they're some alloy crapola. Ugly... This is lovely. When you order from him at the bottom of page he has customization options. He has fuchi kashira tsuba and menuki sets all grouped together and numbered. You pick a set. What I love is that initially when I was assembling the order I wanted the fuchi kashira and tsuba from one set and the menuki from a different set. He told me that I had to pick all fittings from one set and couldn't mix and match. So I picked one group. He used different fuchi kashira and tsuba than I wanted. Looking at his page the set with the tsuba kashira and fuchi he used would have also included menuki that are dragons. Yet my sword has menuki that are flowers.. So he switched the tsuba fuchi and kashira on me and then used different menuki from that set after telling me he couldn't allow that.. WTF??


Habaki is decent, brass and has a decent gap on both sides. Doesn't fit with Saya well at all.



Another covered Mekugi

Saya
The Saya does not fit the Habaki well.. . At first I thought it fit better but upon really handling it it's ok but not great. It doesn't rattle but if you turn katana upside down blade falls right out! It is Cha-Isshime as requested and the Koiguchi Kurikata and Kojiri are indeed unpainted natural buffalo horn but.... The clear coat on them flakes off if you look at it. It's like the cheapest lightest most un-adhered coat of laquer ever. It literally scratches and flakes off around the area of the scratch from just rubbing on a counter. Ridiculously cheap... Also the Sageo is ok but kind of shoe-lacey as I've heard others describe cheap Sageo. Shoe-lacey is a perfect description.


Hard to see it here but the clear coat is flaked away all over Koiguchi. More comes off every time I handle it. Kurikata is no different..

Conclusion

All in all if I had seen and handled this sword ahead of time I wouldn't want it to begin with. And if I HAD to buy it, the most I'd have paid would be $150 max. So that I could keep blade and Tsuka core, toss everything else and have the Tsuka professionaly wrapped in leather with quality fittings. Instead I paid $350 and will still have to do all those things. Not a happy camper and would not ever risk another sword from St-Nihonto. I'm having SERIOUS buyer's remorse. That said, I've already purchased a second Katana from Huawei however. Truth be told it probably also doesn't help that I just recently got my first sword from Huawei for less money that absolutely blew my expectations out of the water. Had I received this one first and the Huawei second maybe I wouldn't feel as disappointed. I feel like I got a bargain and more than my money's worth with the Huawei and honestly I feel like I got slightly swindled with the St-Nihonto. The Tsuka is what really Chaps my culo. From switching Kashira Fuchi and Tsuba to a different set then switching menuki from a still different set after telling me I couldn't, Switching the leather to cheap synth-silk and the ridiculously lazy freaking "wrap" job and the crooked Koiguchi, reversed knot that sticks out a half inch and uneven diamonds and 1 mekugi covered on both sides by Tsukaito and the other has one side covered and other side almost so. I know that was a horrible run on sentence buts it's late and I'm mad and I don't care.

** UPDATE
So I had contacted ST-Nihonto and voiced my displeasure with the final product I received. I asked to return for a full refund. He agreed to a return for full refund but asked if I could please consider a partial refund to avoid a return. I have no problem with this as I do like the blade and with a proper wrap and fittings it would be a worthwhile addition to my collection. So I asked him how much he had in mind as a partial refund. He insulted me by offering me $25USD!! LOL! After doing a triple take at my monitor I replied that if that is the most he'd be willing to offer, I'd just rather return for full refund. He apologized and asked how much I thought was fair. Not wanting to be too hard on the guy and blaming myself for placing the order to begin with knowing that I'd likely not get exactly what I wanted I said I'd take $75. Bottom line is that although that will certainly not cover a re-wrap and proper fittings that puts what I received at a price that I don't feel like I got ripped at. So he agreed. Now I find out how he has maintained a 100%+ feedback profile. He responds saying that he will gladly refund only after I have left him 5 star positive feedback and ended this request with "thank you for your help and understanding". Now I don't have a problem doing this. The fact is that even if he's tricking me and not planning on refunding me after I leave feedback (which I don't believe he is doing mind you) I could still file a claim with Paypal and get a full refund anyway. It's just his way of making sure nobody sneaks in - feedback after a refund in a transaction in which the purchaser was dissatisfied by holding said refund $$ hostage. Again I don't care and so long as he was willing to give me $75 back I had no intention of leaving him - feedback (probably just no feedback at all) but it is enlightening as to his ability to maintain a flawless feedback profile. Just goes to show you Ebay feedback doesn't mean as much as you might think. Stick to this forum and other similar ones for the real straight dope! Out!