Post by TheMu on Jun 24, 2015 12:05:03 GMT
Introduction
About half a year ago I started practicing IHEMATWHMBI (informal hema training with hmb influence)

. It was fun to try experimental techniques and do "freestyle" sparring with different weapons. Now we are starting to practice some actual longsword techniques and for that I needed a feder. After doing some research and asking some advice I and my wallet decided to order a feder from Viktor Berbekucz. Production time was 2 weeks and price 180€.
www.schwertschmiedeviktor.de/en/swordsmith
Historical overview
I'll just put a link to wikipedia here:
en.wikipedia.org/wiki/Feder_(fencing)
Initial Impressions
Sword was well packaged and product was in good condition when it arrived. I noticed the handle was loose but I didn't think that was a problem because the pommel is threaded. This feder can also be ordered with peened pommel. Sword felt heavier than I expected. Blade felt more stiff than I had expected. It felt very much like a real sword. I didn't think that would be a problem because I ordered it with "stiff" blade. I was told it'd work better and because my training partners also have stiff blades. This feder is also available with "flexible" blade. Both are of course flexible. Stiff is just more stiff. "Flexible" flexes under 2,5kg thrust and is quite wobbly as I've heard. "Stiff" flexes under 6-8 kg thrust and it feels more natural. I was pretty happy with this one.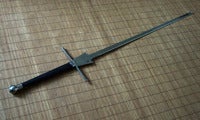 Statistics
Blade: 96,7 cm
Handle (with pommel): 34 cm
Overall Length: 130,5 cm
Guard Width: 23,5 cm
POB: 9 cm
COP: roughly 70 cm (from guard)
Weight: 1460g
The Blade
Blade is made of 51 CRV4 steel. It flexes well and reverts straight. Blade takes only minor scratches in blade to blade contact. Blade geometry is nice and clean. After "ricasso" the blade is 2,7 cm wide and it tapers to 1,6 cm at the tip. thickness is 4 mm in ricasso and it tapers to less than 2 mm at the tip. I'm not sure if the blade flexes as it should. It doesn't flex from the first third as I thought it should. Someone with more knowledge please share your thoughts. Blade feels really good in blade to blade contact.
Tip is rolled.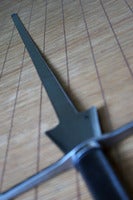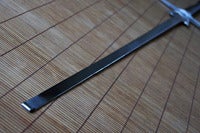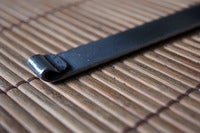 The Handle
I had to put wooden shims to the handle, because tightening the pommel didn't help. Handle was still noticeably loose. Now it's good. Othewise the handle is great. I'm used to thicker handles but this feels really nice even if it's quite slender. Leather feels really good. The seam is sticking out, but it doesn't bother me at all. Handle is "dissassembled version". Pommel is threaded so the feder can be dissassembled and thus easier to maintain and carry.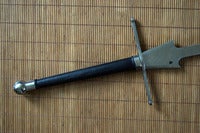 The Guard
The guard is pretty basic crossguard. It seems it's softer metal than the blade. The collar is solidly attached to guard so the handle construction is really strong. In every way a good guard.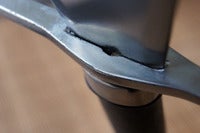 The Pommel
The pommel is pear shaped. First I thought it would feel strange because it's round and not oval. But now when I've used it, I love it. Really nice and comfortable shape. It's like a ball joint.

As I mentioned before the pommel is threaded. There is threads in the pommel and there is a threaded nut to secure everything in place. Construction seems to work really well.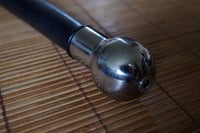 Handling Characteristics
It's a first time I'm holding a feder so take this with a grain of salt. This feels very much like a real sword as I've mentioned before. It's lively and a joy to swing. It's not "light as a feather" as the name federschwert would suggest. It has mass and blade presence, but it's not cumbersome. When sparring we must use more protective gear than I would have hoped, but it's not a problem. I relly like the feeling of this feder, but I thought it would have been a little bit more lively and have just a little bit more flex.
Conclusions
I'm happy with this. it's pretty much what I expected. Loose handle is a minus. I've only had one sword in a dozen that has had no issues, so it's not a big deal. It's my first feder so there is a lot to learn for me. Feel free to ask if I left out something important from this review.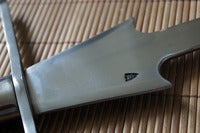 Pros
- Great overall quality
- Fair price
- Short production/delivery time
Cons
- Loose handle
- Maybe just a little bit on a bulky side...
The Bottom Line
I don't think I should recommend a feder because as I mentioned before this is my first one and I don't have enough experience, but I'd recommend this anyway.

Great overall package for a beginner!