Post by Lukas MG (chenessfan) on Feb 18, 2015 11:14:39 GMT
Review Excalibur Micro 335 Nightmare
Hey guys,
TheMu's review of his Cobra crossbow reminded me that sword reviews aren't the only thing one could review here and since I just got a new crossboy myself some days ago, I figured, I'd write a little something about it.
It's the new Excalibur Micro 335 Nightmare!!
Excalibur is a Canadian Company that has a stellar reputation for producing the best recurve limb hunting crossbows out there. The Micro is not my first Excalibur, I've had a Phoenix since 2011 and was always very satisfied with it. The only thing that kinda bugged me about it was the limb size, overall span is 36". The Micro fixed that problem for me, it's only 25" wide.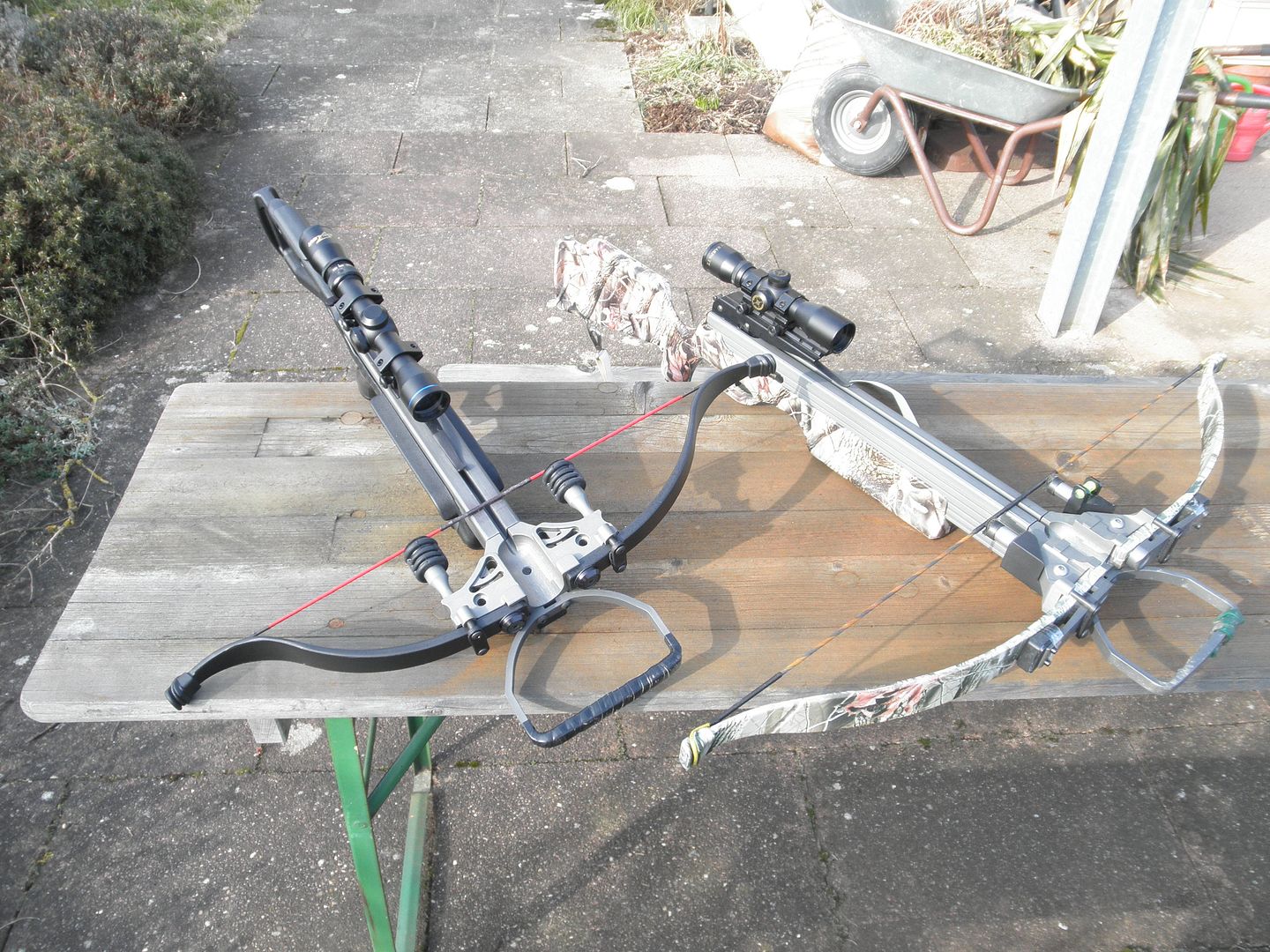 Anyway, some stats, pulled from the Excalibur website:
Price: 900$ MRSP
Velocity: 335 FPS


Draw Weight: 270 lbs.


Power Stroke: 9.5"


Mass Weight: 5.2 lbs.


Overall Length: 32.5"


Arrow Length: 16.5"


Arrow Weight: 350 Grains


Stock Type: Featherlite


Finish: Textured Black Tact


The 335fps were obtained using the minimum weight arrow (350gr), I use 400gr arrows on mine which should give me about 320-325fps (don't have a chrony). In general, 335fps is right in the middle of Excalibur's speed spectrum, there are several bows that shoot faster (fastest is 405fps) and several that shoot slower.


Built quality is excellent, it all feels very solid though there is the danger of stripped threads since the hardened steel bolts screw directly into soft aluminum. Some bolts also have tiny little hex nut inlets which just BEG to be stripped, that's really the only thing I can fault about how this bow is put together.
Being of recurve design, all Excalibur bows are very reliable and easy to tinker with. No picky cams and need for a bow press. Strings can be changed in a minute and the bow can be decocked without shooting it (something very important to hunters which I am not but it's worth noting anyway).
Basically, the Excalibur is the AK-47 of crossbows with the precision of the AR-15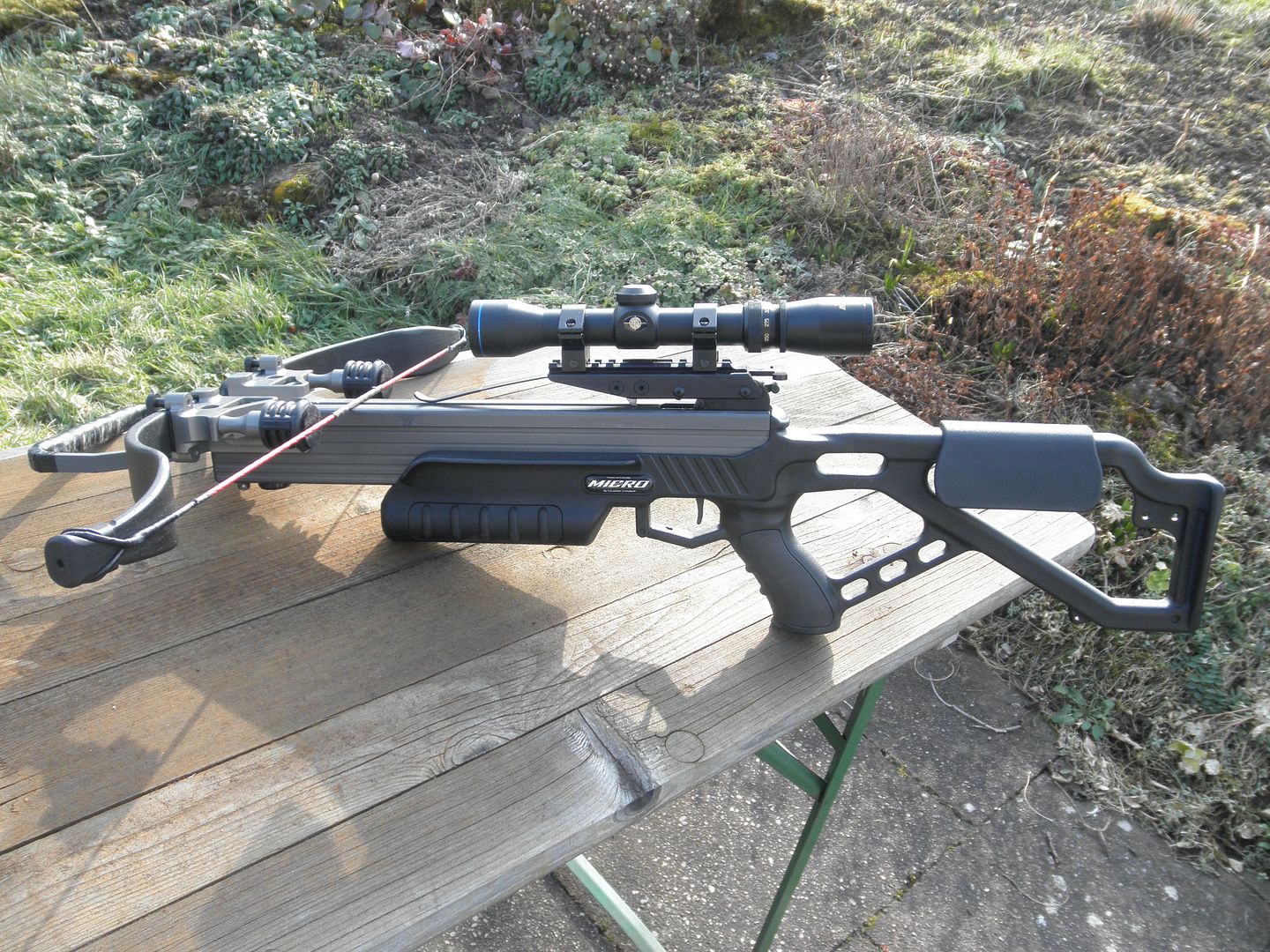 One draw back is the draw weight (pardon the pun). It is 270lbs after all. The rope cocker cuts that in half but it's still a piece of work. Correct form is mandatory if you don't want a disc in your back to pop out. Not recommended for people with back problems. Those can get a cranking device though which makes it absolutely effortless to cock.
Overall, I absolutely adore this thing. It's just so handy. Very smooth to shoot as well and as all Excaliburs (or high end crossbows for that matter), it's incredibly accurate. I mean shooting-in-the-same-hole accurate. From a decent bench rest, it's no feat at all to have 2" groupings at 50m and there are plenty of videos on youtube of people nailing ballons or such at well over 100m. Shooting free hand it's obviously harder, that's where the shooter needs to step in

That one here is 40m of a rest: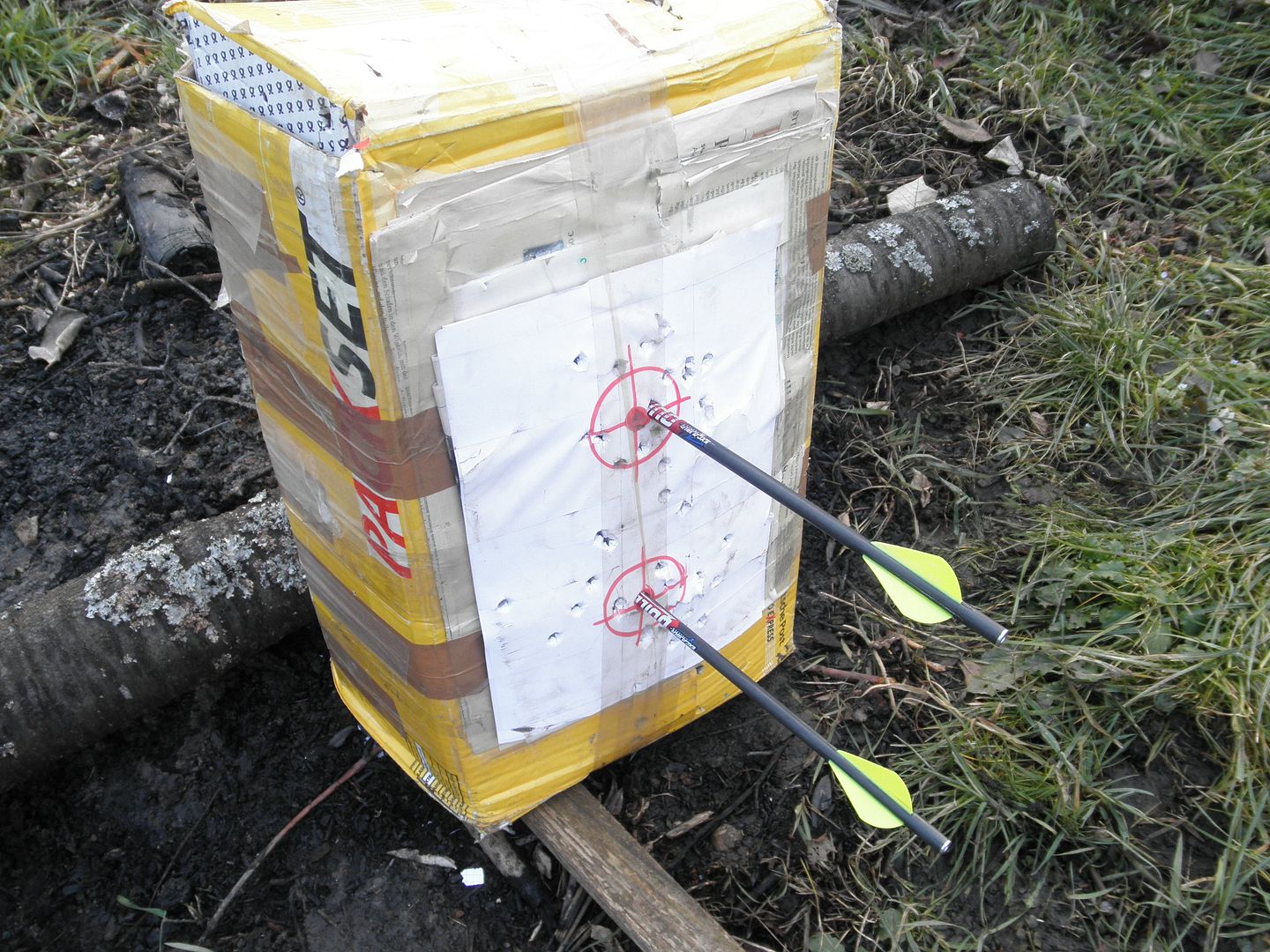 Not only is it a lot more accurate than I am, it also packs one hell of a punch. I can never resist shooting stuff other than my shooting bags so I got out some DIY armor I had tinkered around with when I was a kid. It is 1mm mild steel riveted to a canvas layered with linen.
This is the result of a 40m shot with a regular field point: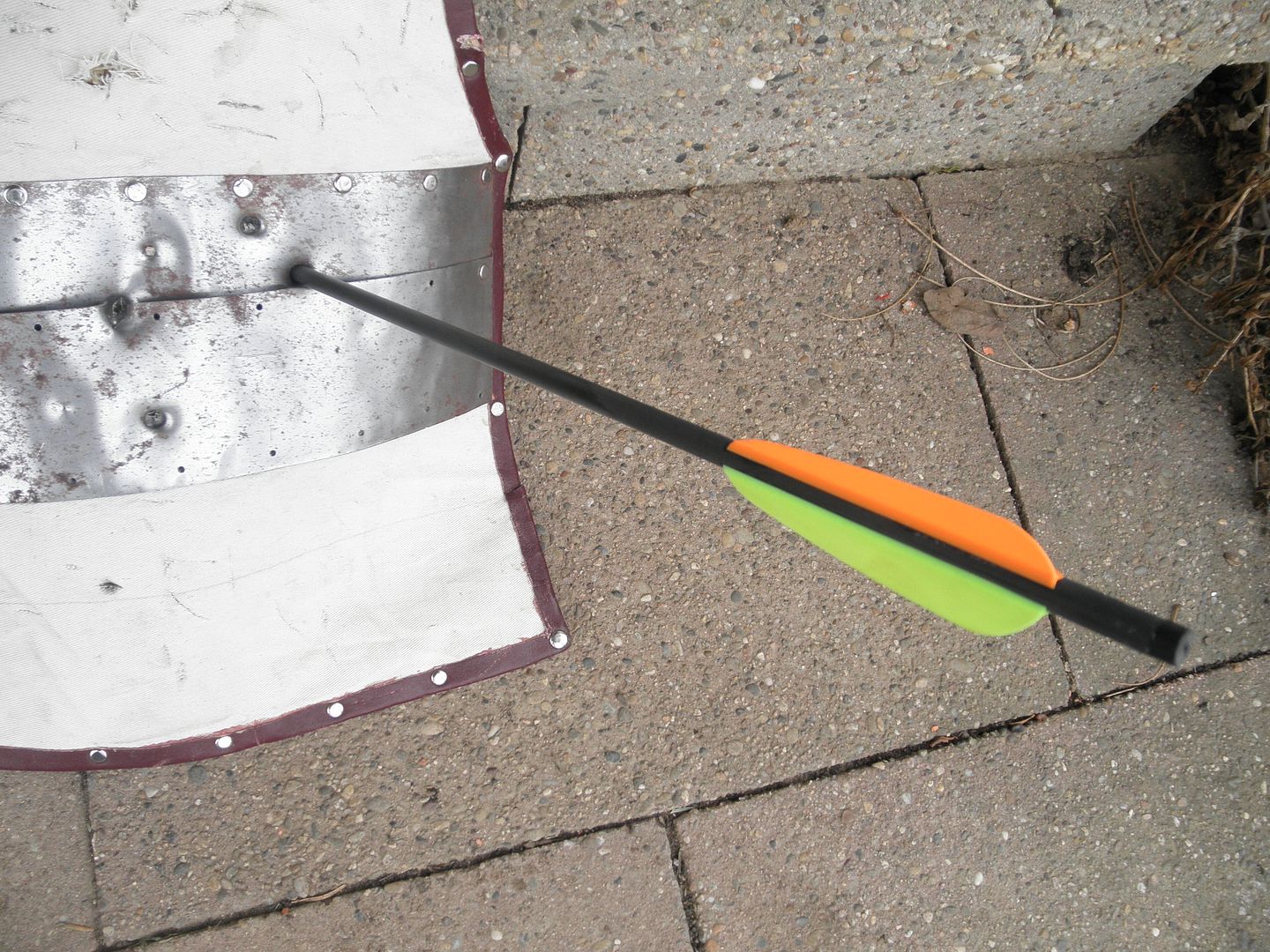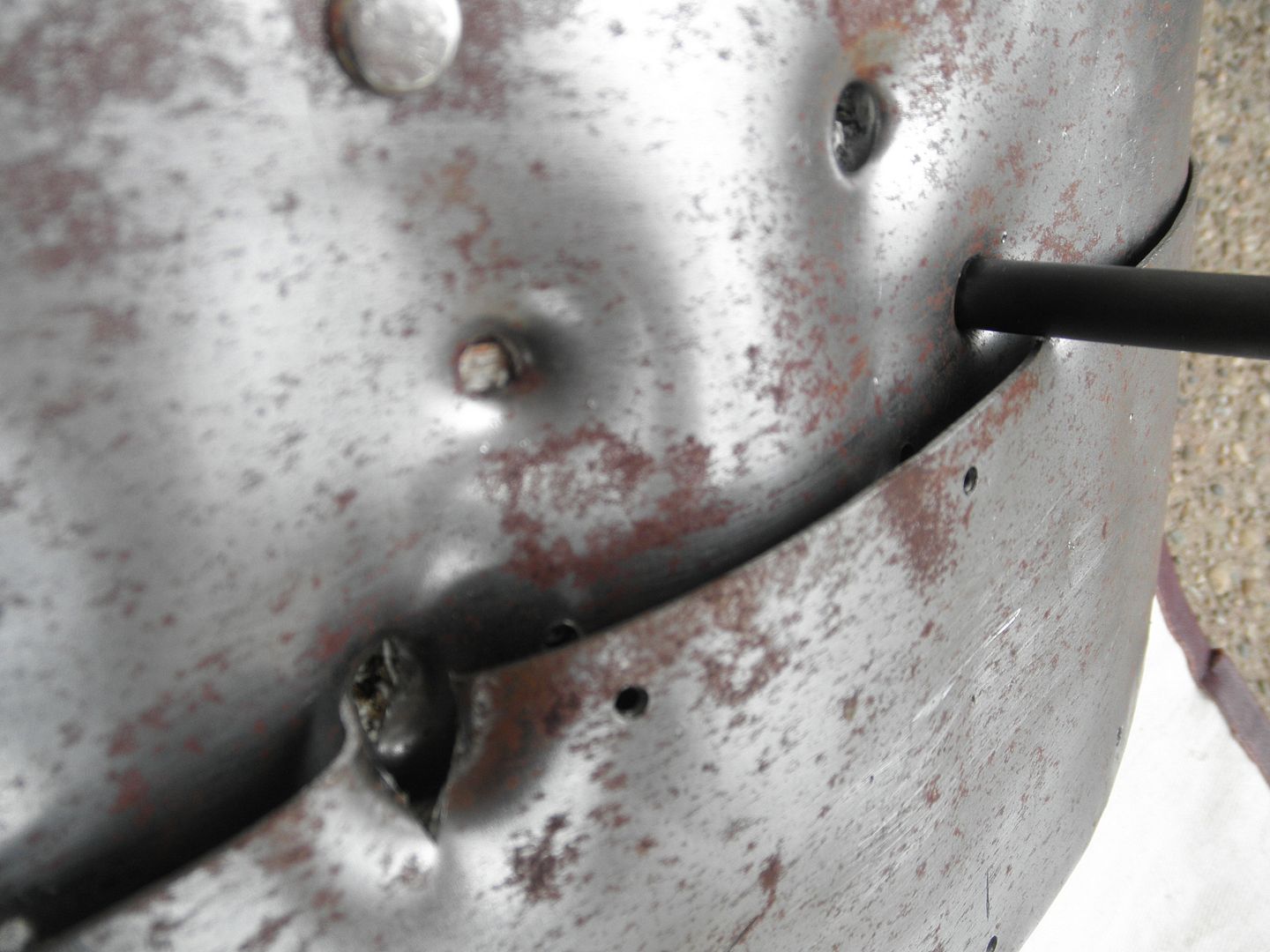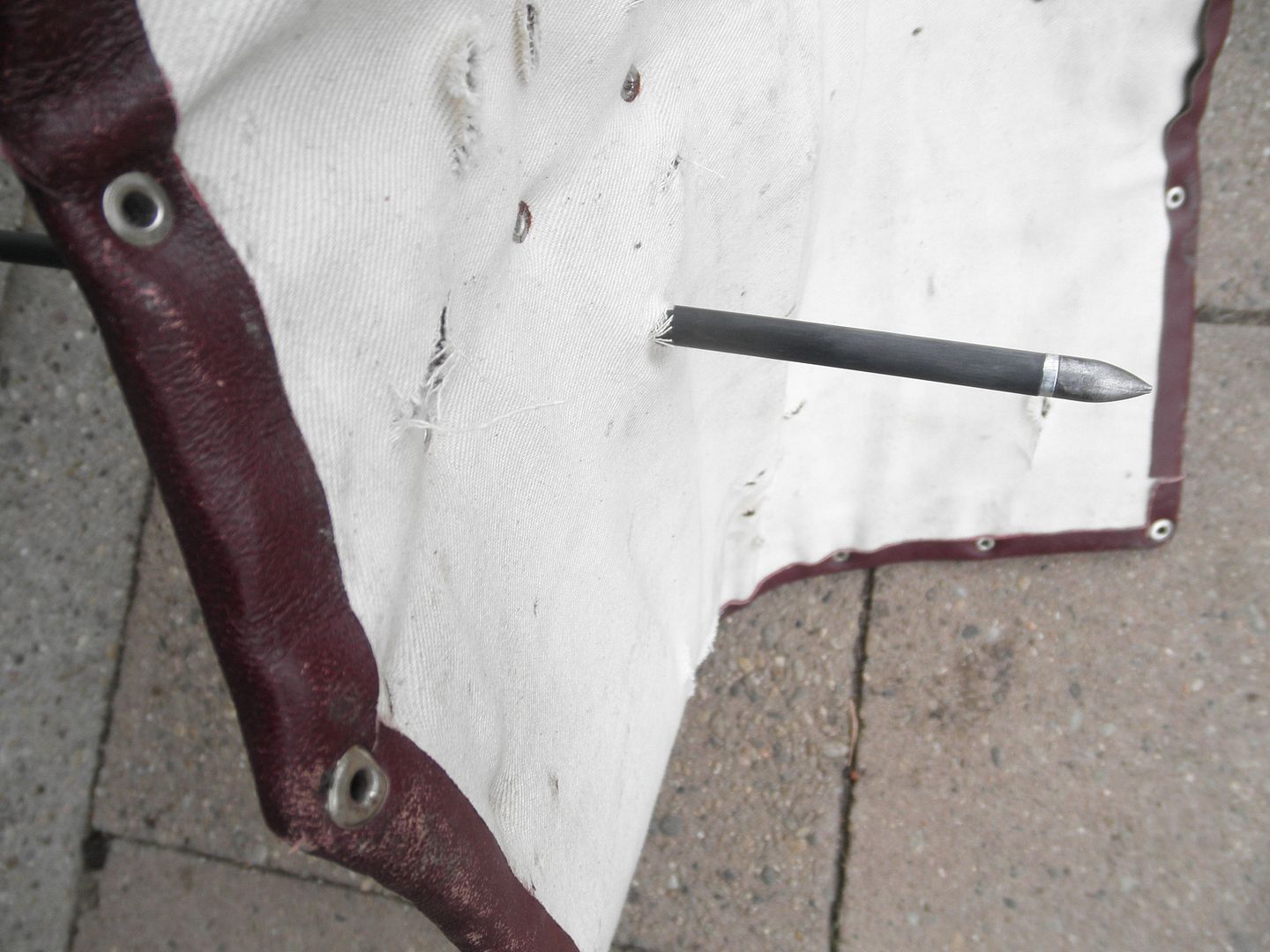 I mean, holy cow! Punched right trough like it wasn't there! If it hadn't been for the shooting bag right behind it (in which it also went), it might have penetrated farther. I also took a shoot at it with a DIY broad head but unfortunately for the head, it hit right where both plates overlap. Still cut through both plates but didn't make it through the canvas.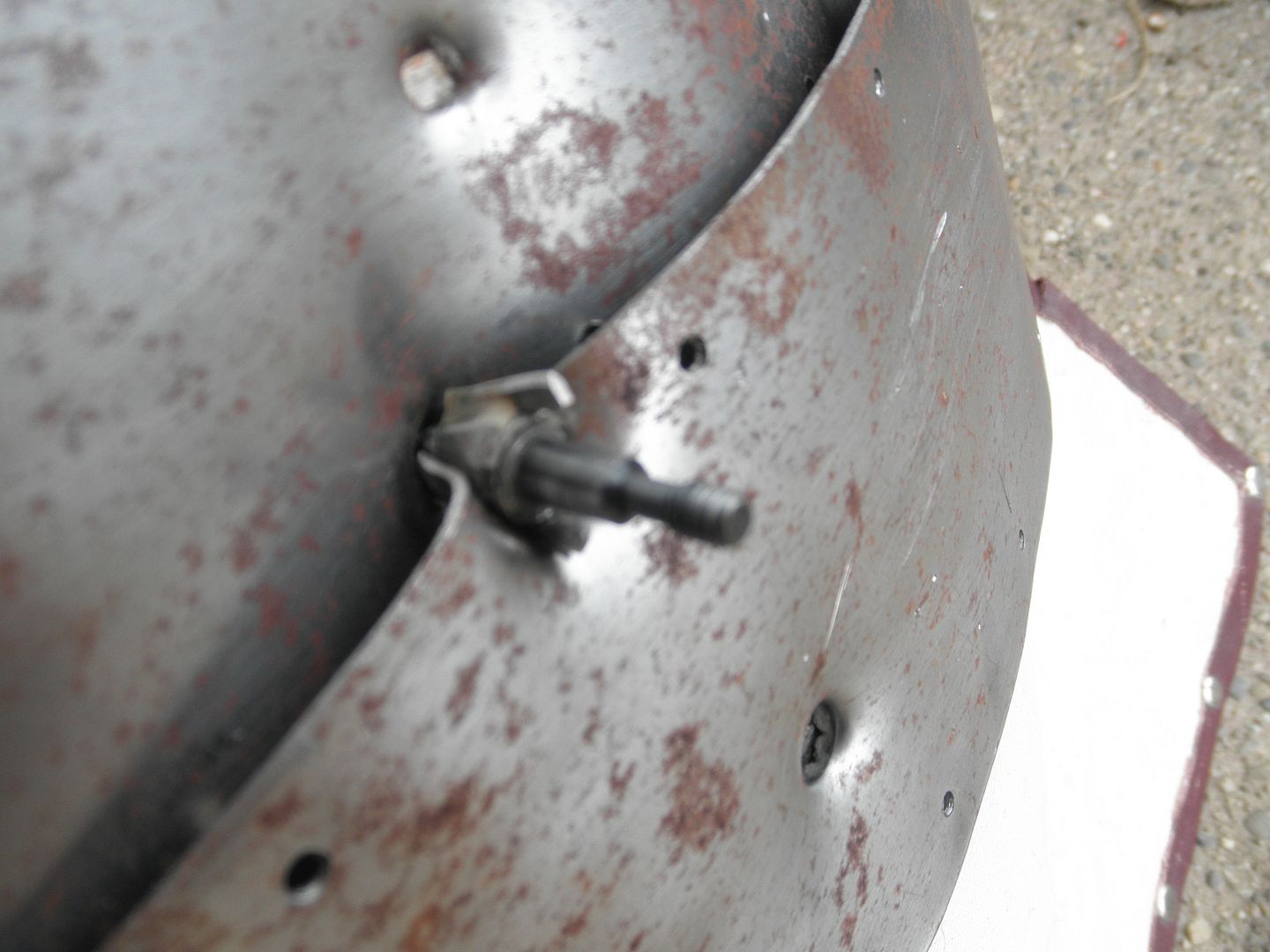 EDIT: Took another DIY broad head to the armor and look at that, it went right through this time.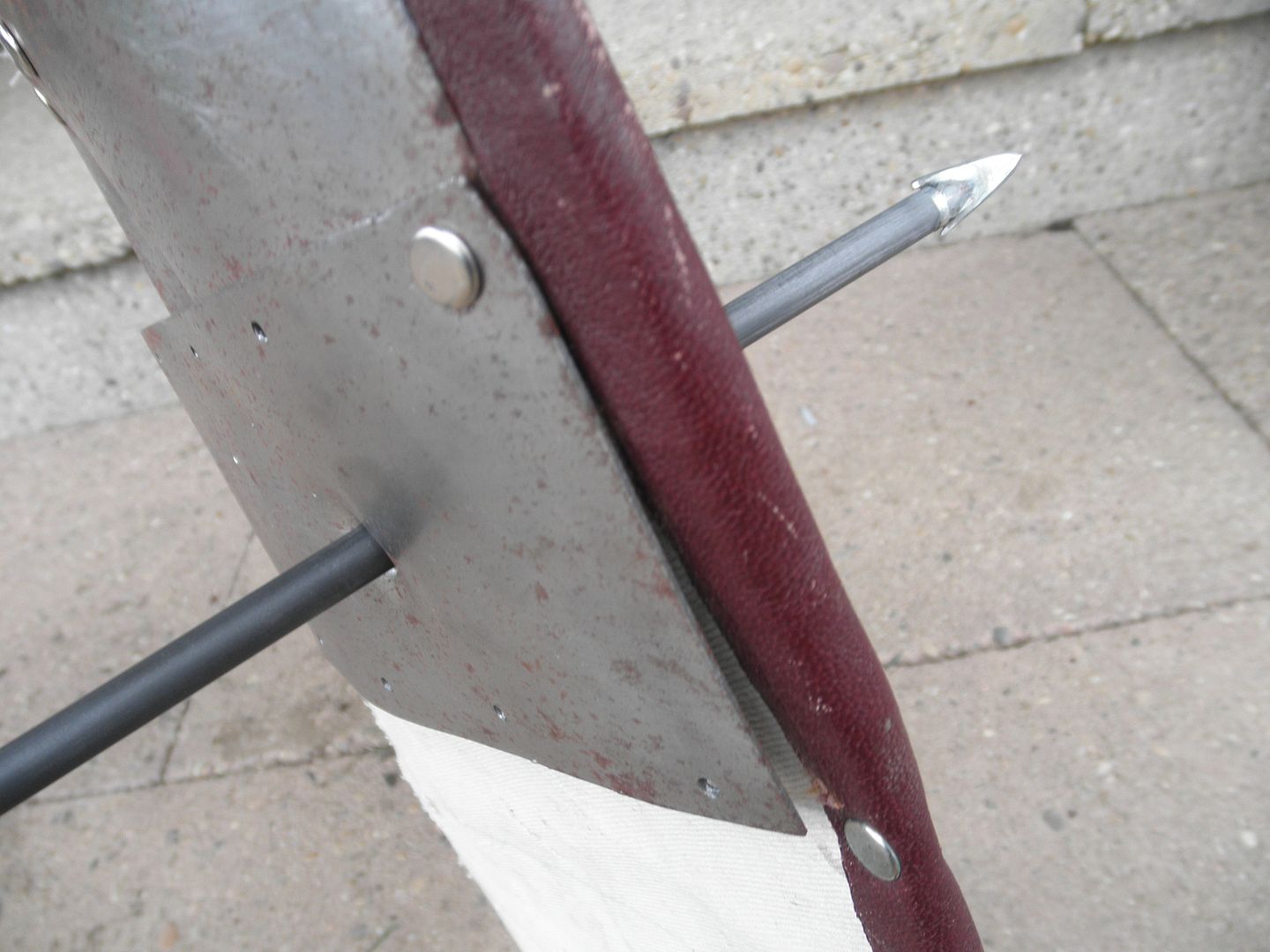 I'm really impressed by these heads. They fly well and penetrate both hard and soft targets very well. They took little damage, though the epoxy bond fixing the blades to the slit in the point gave way on both and the blades can be moved a bit. Could be fixed in two minutes.
Anyway, I hope you enjoyed this spontaneous little write up.
Thanks for reading!