Post by Brian of DBK on Oct 12, 2007 2:39:21 GMT
Musashi Pro Series Poison Ivy
musashiswords.com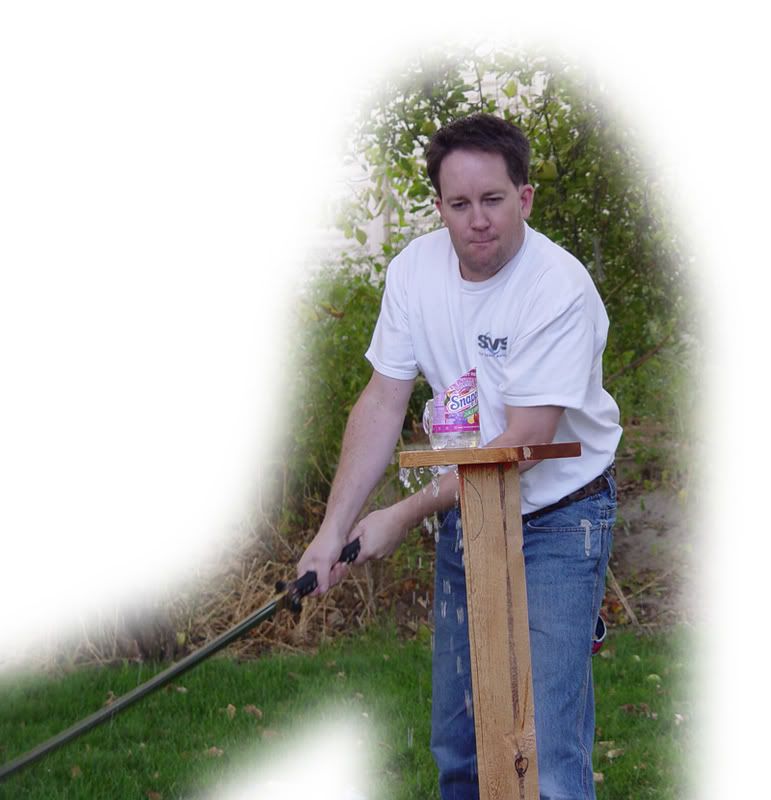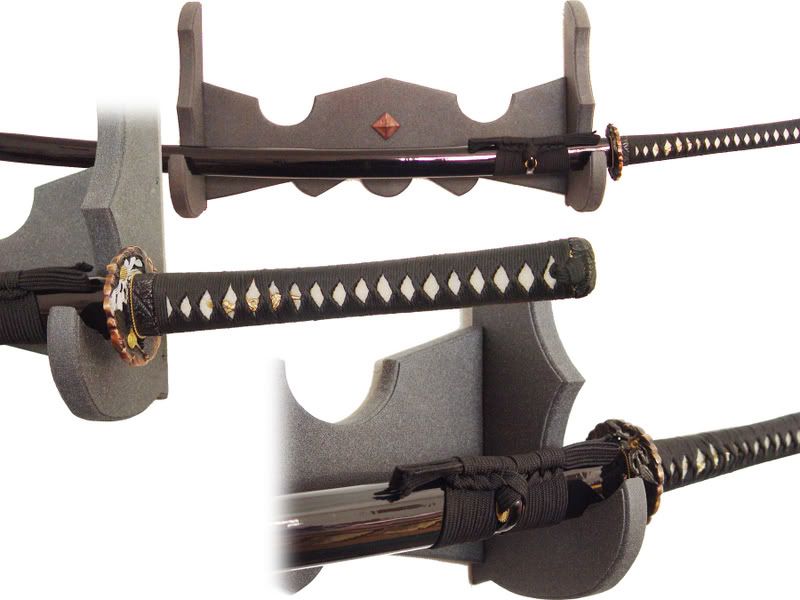 Created by master smiths from the forge of Sword Artisan Chris Zhou. The steel is entirely hand forged, working out impurities and evenly distributing the carbon for a consistent hardness. The steel is then quenched in water to improve it's overall durability and strength. The Katana feature genuine ray skin handle in cotton braided cord wrap. The saya has a beautiful black lacquered finish while the fittings are done in black with tones of gold. The Tusba was blackened then polished to create a contrast, highlighting it's natural alloy making this sword pleasing to practitioners and collectors alike. Sword measures 43" inches with the scabbard and 41" inches without. The handle 11" inches with a 29.5" blade.
When I unpacked this sword, I knew it was going to be a nice upgrade from my $60 Hiro by Musashi. Right away you see a quality upgrade from the lower end of the Musashi line. For the longest time I just kept this baby on the wall, enjoying the fact she was untouched. But I couldn't resist...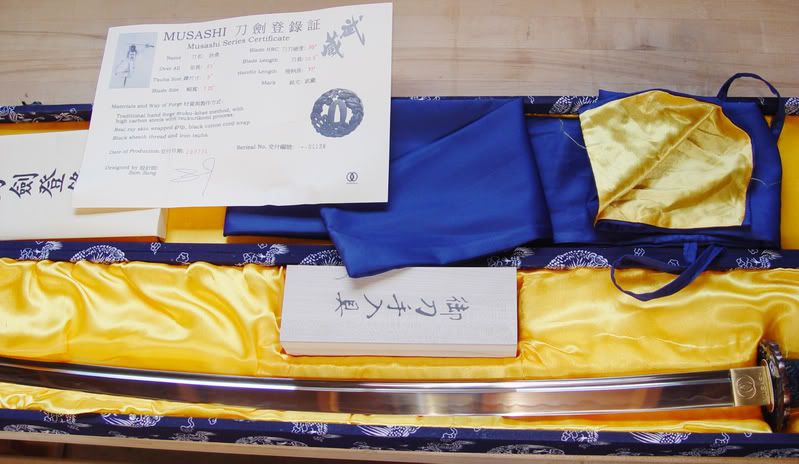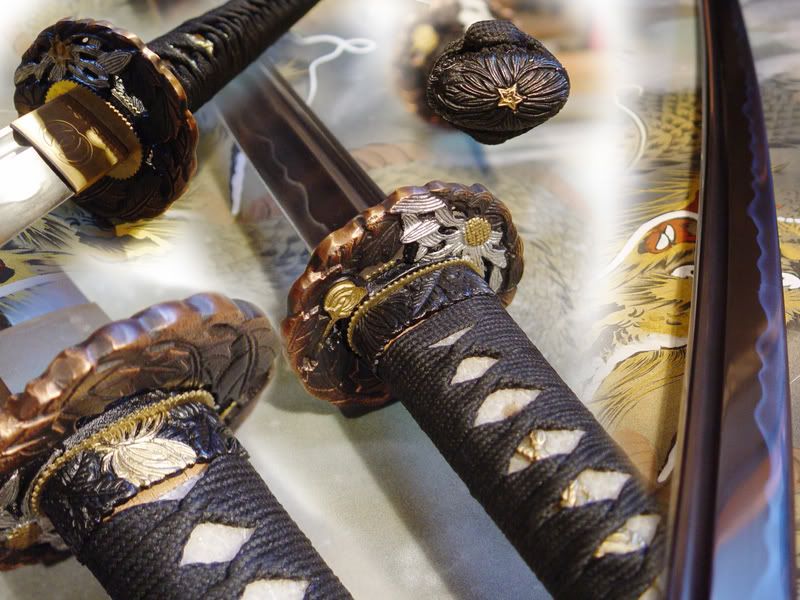 DESIGN, FIT & FINISH
The design is definitely unique, and everything is tight with nothing loose. My only complaint would be that the wrap (and ray skin) didn't go all the way up, and it left a little wood exposed as seen in the pictures.
The Blade
The blade is 29.5", and approximately 1.5" longer than the bottom series. The balance point is a little farther forward, but it feels quick and balanced. The fittings are much tighter, and when you run a thin rag up and down the blade you don't feel the bumps like you do in the cheaper series. The hamon is very natural looking, and a pleasure to look at.
The Grip
The tightly wrapped grip with cotton cord wrap, instead of a cheap wrap is much more assuring when gripped for use. It feels durable, and isn't loose. Musashi puts a lot of effort into their swords, and for the price you can't get any better.
TESTINGCutting
I did a variety of bottle cuts from small hard plastic bottles, to flimsy milk jugs. To no disappointment, it cut with ease. I experimented with rolled up newspaper (several inches thick), and free hung it from a tree. I attempted to cut into the bottom half, and a experienced a foul jarring. I half expected to look down and see a bent katana, but nothing. The newspaper cut clean roughly 3/4's of the way through, but because it was free hanging the force of the impact sent is swinging away. So I tried a couple more, and I got the same effect. The blade came out fine with no evidence of foul play. Nice! After cleaning the blade up with all the cutting I did (including a minor test to destruction), the only evidence of use is the blade has a few light buff scratches from the plastic, and the grip wrap looks a little used. No nicks, chips bends, sets, or otherwise ill effects. Excellent!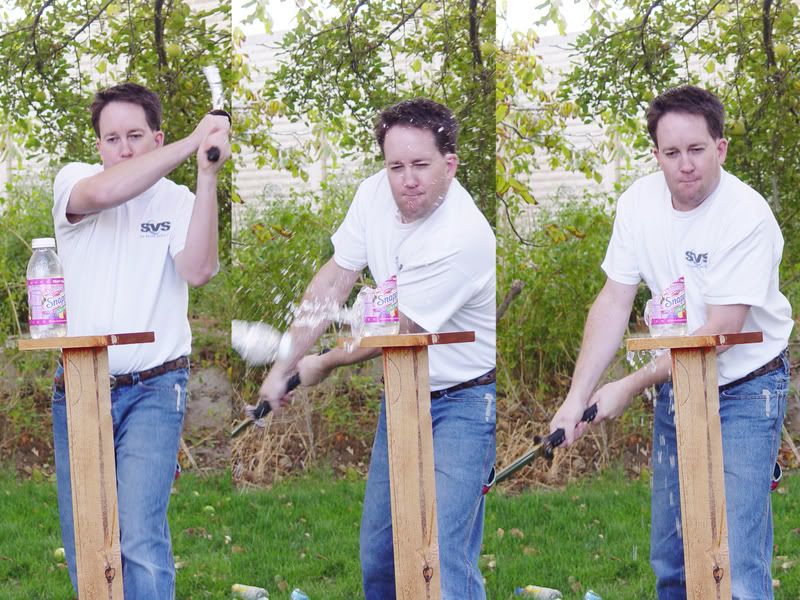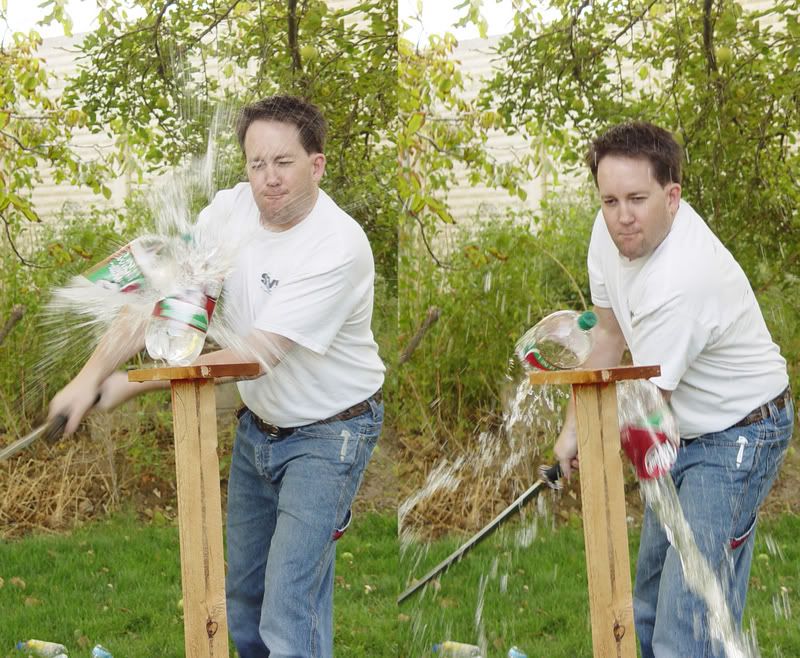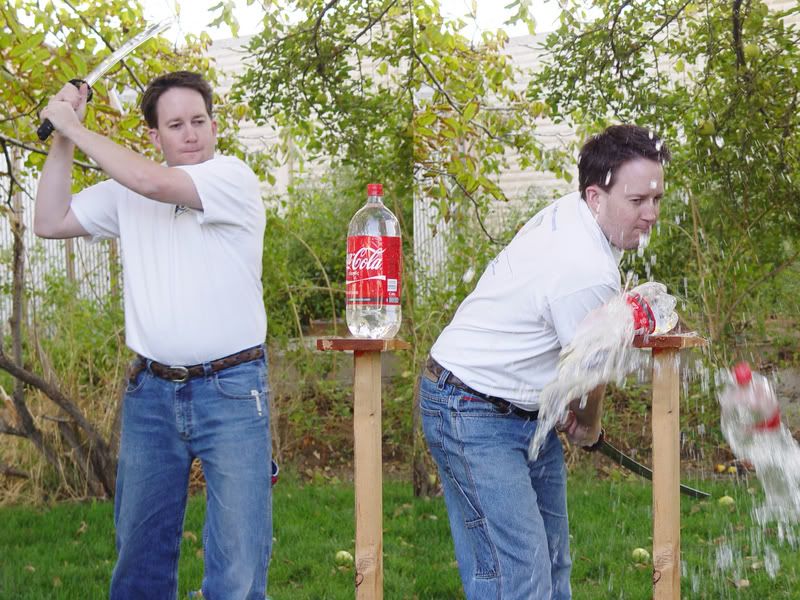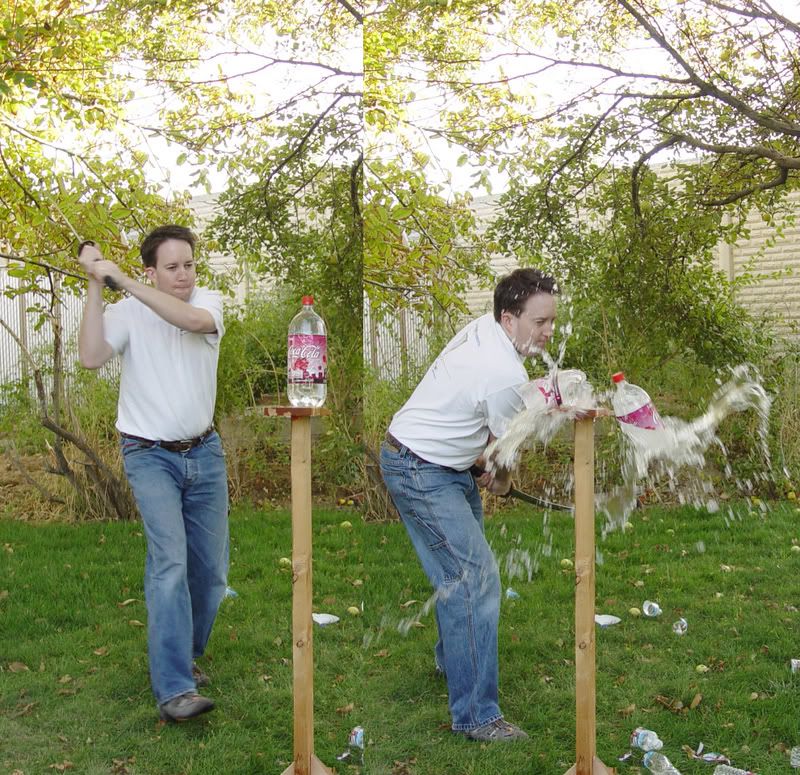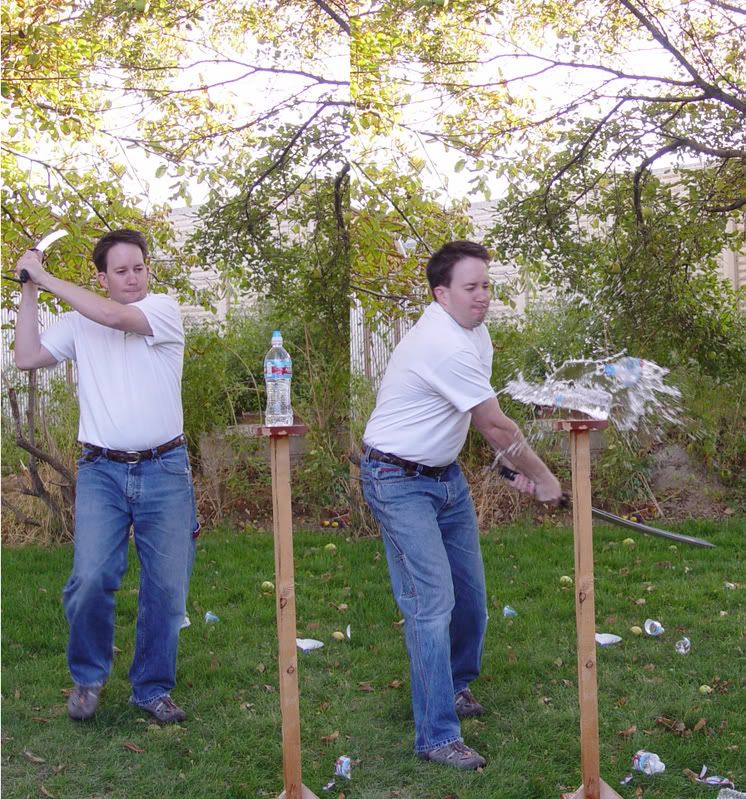 Edited for your viewing enjoyment...
CONCLUSION
If you're looking to step up to the next level, this one will make you feel like you went up even further. Nice to look at, nice to handle, and very dependable. I like having a sword that has proven toughness, which is part of getting to know a new sword. I would definitely buy one of these, over having three of the low end swords. Having said that, I even feel this sword would be a bargain at the $300 price. I would definitely own another Musashi.
RATINGS
Historical Accuracy: I'm no expert here, so I leave this field alone
Fit and Finish: 4/5 (-1 for the wrap & skin coming up short)
Handling: 4/5 (I would prefer the weight more towards the handle, but it is in it's own a very balanced sword)
Structural Integrity: 5/5 (After a long round of cutting with some heavy hits, and a thorough inspection, everything is right as rain.
Value for Money: 5/5 (GO BUY THIS NOW)
OVERALL: 4.75/5 (Excellent)